Money concerns stop students entering b-school but can be addressed. Get 16 actionable tips to overcome the "too expensive" and "cannot afford" hurdles.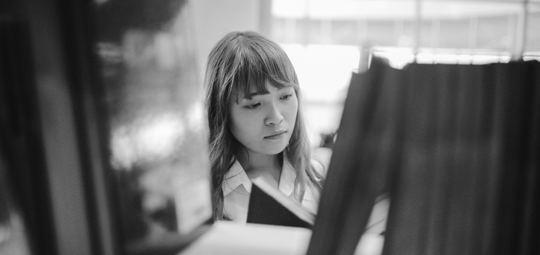 Money matters—at least that is what undergraduates say. According to findings from the GMAC Undergraduate Survey, money is the number one reason they are uncertain about or uninterested in continuing their education after graduation. Paired with mounting concerns about employment prospects due to COVID-19, universities have a large challenge ahead of them. Business schools looking to overcome this recruitment barrier therefore need to unlock the nuances of what undergraduates really mean when they talk about the cost and affordability of graduate school.
Cost and affordability are not one in the same
Undergraduates that are uninterested in or uncertain about pursuing graduate school because of money-related reasons typically fall into one of two categories: those that think it is "too expensive" (35%), and those that say they "cannot afford" it (19%).
While nuanced, the semantics of these two phrases—"too expensive" and "cannot afford"— reveal a helpful distinction. Respondents that say they "cannot afford" graduate school are referring to reasons related to their personal finances or perceived ability to access the funds to pay for graduate school. Whereas, those that do not want to continue their studies because they feel it is "too expensive" have entirely different money hesitations. They may have the money (or at least believe accessing it is realistic), but they are not convinced that graduate school is worth the investment. In other words, the perceived value of a graduate education does not warrant the cost for them.
Given this distinction, how can universities overcome these common objections? For starters, universities need to adopt different communication strategies for each of the two distinct groups. No matter the communication channel—be it the university's website, social accounts, a virtual event, a candidate interview, a newsletter to student influencers, or other—universities must ensure they address the core of each objection in their communications, marketing, and other recruitment efforts.
How to overcome the "too expensive" hurdle
According to survey results, 35 percent of undergraduates are uncertain about or uninterested in graduate study because "it is too expensive." To overcome this objection and tap into this large candidate pool, universities must prove their value. They must convince candidates that studying for a master's degree is worth the financial investment.
A great way to do this is through proof of ROI. By helping candidates see both the monetary and personal gains that business master's programs deliver, universities can help candidates justify their investment.
Business schools can achieve this by sharing information, resources, and tools like:
Salary calculators and worksheets that help candidates perform cost-benefit analysis and quantify the opportunity for financial gain

Formulas for determining ROI, including a list of all the variables candidates should consider like tuition, living expenses, the opportunity cost of business school (versus work), and increased salary potential

Clear communications that present students with the total cost of a program, so there are no "hidden costs" (note that international candidates may not understand per credit costing models, for example)

Testimonials from alumni and successful professionals that illustrate the long-term benefits of master's study, such as career advancement and an unrivaled professional network

Recruitment and marketing efforts, like digital campaigns and influencer programs, that demonstrate and explain how graduate school education provides undergraduates with more (and more fulfilling) career options. (With 33% of undergraduates saying they "can get a job without it" and that it is "not needed for the career they want," business schools can benefit from bridging this education to employment gap.)

Career planning workshops that leverage career counselors and other university staff to help undergraduates understand and figure out how to achieve their career goals, and the role a business master's can play

Interviews or virtual "fireside chats" with influencers like alumni, faculty, students, academic advisors, and others to build awareness about the non-monetary benefits of graduate school, like enhanced confidence, soft skills, and professional clarity

Research and data highlighting what employers look for in hires, and how graduate school facilitates this

Interactive exercises and tools, like Career Explorer, that help candidates understand how a degree can help them reach their professional aspirations
How to overcome the "cannot afford" hurdle
Nearly one in five (19%) of undergraduates who are uncertain about or uninterested in graduate study say it is because they "cannot afford" it. However, convincing this group of non-believers that a graduate education is within their reach is less about proving the value of the degree and more about educating them on how to pay for it.
To help students overcome this financial barrier, universities could offer prospective students support and advice on the following:
Federal, state, and private loan options

Grants, scholarships, fellowships, and assistantships that are available through the university

Materials to help working undergraduates demonstrate the value of a business master's program when talking to HR or their manager about employer sponsorship opportunities

Scholarships provided by foundations, industry groups, or associations

Education, support, or advice around managing personal finances to help undergraduates make better informed decisions and start thinking about graduate study soon (simultaneously reducing top-of-the-funnel barriers for graduate school recruiters)

Program options that afford students greater flexibility to work and study, such as online and part-time study options

Out-of-the-box financing solutions like crowdfunding (or peer-to-peer funding) where sponsors provide capital to support a candidate's postgraduate degree via a loan, donation, or in exchange for a future product or service
Turning non-believers into graduate school believers
Make no qualms about it, cost and affordability remain the number one reasons undergraduates are uncertain about or uninterested in pursuing graduate school. To overcome this recruitment hurdle, universities must approach these nuanced objections across all communication channels, from the website and social accounts through to events, candidate interviews, and newsletters.
Among those uncertain about master's study, the main money reason given is that it's 'too expensive'. Addressing this hurdle requires business schools to prove the value of graduate school and convince students that it's worth the financial investment. Beyond ROI worksheets and salary calculators, it includes being transparent in pricing, that schools promote and emphasize the personal return, and create campaigns that include undergraduate career advisors and employers. The overarching goal is to help candidates justify their investment to themselves–and their parents.
A less common, yet still important, barrier to b-school concerns affordability. It can be lowered by providing support and advice to help candidates identify and seize funding opportunities from governmental and non-governmental sources, and by helping them manage personal finances while in undergraduate studies so that they can make better informed decisions when it comes to master's study.
In addressing these two money concerns, business schools stand a better chance at turning non-believers into graduate school believers.
___________________________________________________________________________
Read more
This article is part of a four-part series.
For more on this, and other topics, check out the GMAC Advisor Blog.