How is the demand for MBA and business master's programs shifting in the context of COVID-19? GMAC's annual Application Trends Survey uncovered nuances of the global demand for graduate management education and identified growth variations by program locations and types. One of the key takeaways is that decision-making, for schools and candidates, in this pandemic-induced economic downturn is about hedging risk and managing uncertainty. The reconfiguration of the enrollment funnel in terms of a higher number of applications and a lower yield shows that the 2020 application season for business schools was unlike any other.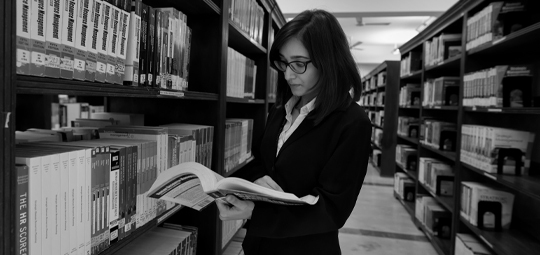 Applications for graduate management education (GME) increased by 2.4 percent based on the weighted absolute change analysis of 731 programs that responded to the 2019 and 2020 Application Trends Survey. This is a reversal from a decline of 3.1 percent in the applications last year.
This reversal of trends is in line with a well-established dynamic in which the demand for b-schools increases during economic downturns. The Guardian notes, "Demand for MBA courses tends to be countercyclical….When recession looms, as is now the case, the opportunity cost of taking a career break to update skills and build a professional network at business school reduces greatly."
Access the webinar
with a global panel of admissions professionals discussing the highlights of the report
Many b-schools responded to the uncertainty by adopting flexible admissions approaches, including extended deadlines and deferral policies. As a result, the number of applications increased. Schools also hedged enrollment risks by increasing acceptance rates. However, translating the increase in applications into actual enrollments was a challenge for many schools. However, the 2020 application season was unlike any other, resulting in a reconfiguration of the enrollment funnel. The pandemic-induced economic downturn coupled with the disruption of travel and on-campus classes necessitated that business schools and candidates make choices during times of continuing uncertainty.
For candidates, GME offers a pathway to emerge from the economic downturn with better career prospects. While more candidates applied to b-schools; however, deferral rates also went up due to concerns about online learning, travel, and visas. For example, a previous GMAC poll of prospective students indicated that international candidates were more likely than domestic candidates to ask for deferrals rather than start a program online. Related data from Bloomberg confirms that international students in the entering class of elite US MBA programs declined by 14% from last year. This decline resulted in a lower yield for many b-schools.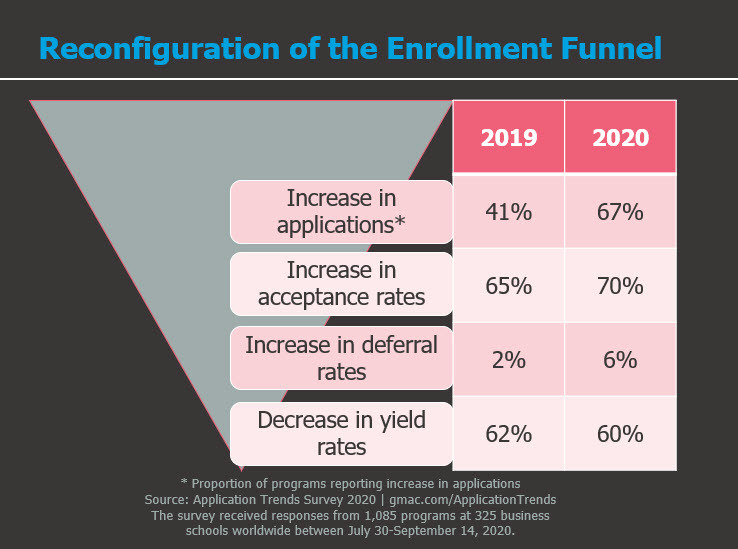 Overall, 2 out of 3 (67%) programs reported an increase in 2020 applications compared to 2 out of 5 (41%) in 2019. Median acceptance rates were slightly higher (70%) than 65% in 2019. Overall, median deferral rates increased from 2 percent to 6 percent in 2020. As a result, median yield rates reduced from 62 percent to 60 percent. In sum, the pandemic-induced uncertainty impacted the decisions of b-schools and reconfigured the enrollment funnel.
The data collection for this report concluded in mid-September and focused on the 2020 incoming class. Hence, it does not capture the impact of the US presidential election on international candidate choice. However, it is safe to predict that the outcome of the 2020 US presidential election will interact with pandemic uncertainties in a unique manner to further reconfigure the enrollment funnel for the 2021 application cycle. In other words, various elements of the enrollment funnel such as application volume, acceptance rates, deferral rates, and yield rates will continue to shift as the context choices for candidates and b-schools evolve. More importantly, this funnel may look different by regions and programs.
In sum, one of the defining characteristics of the 2020 application season is the reconfiguration of the enrollment funnel as b-schools and candidates hedged their risks and managed uncertainties. The data shared in the report illustrates how the global landscape of graduate management education continues to evolve and confirms the importance of continuous monitoring and understanding of trends to shape enrollment strategies.
***
About the Survey:
The 2020 Application Trends Survey data was collected between July 30 and September 14, 2020, and garnered responses from 1,085 programs at 325 business schools worldwide. The 2020 report, set in the context of COVID-19, benchmarks application trends by regions and programs and offers insights into the global demand for graduate management education. The annual survey of business school admissions offices worldwide provides timely insights into understanding candidate pipeline and behavior. This survey benefits admissions, recruitment, and marketing professionals by informing their future strategies and practices. It covers the following dimensions:
The global demand for graduate management education
Impact of COVID-19 on admissions, marketing, and program management
Differences in application trends for domestic and international students
Data on application, acceptance, and yield rates by regions and programs
Application trends related to MBA programs, including full-time, part-time, flexible, executive, and online
Application trends related to business master's programs, including Master in Management, Master of Accounting, Master of Finance, and Master of Data Analytics
Definitions:
Acceptance Rate is the percentage of total candidates (including deferrals) accepted into the program divided by the total number of completed applications.
Yield Rate is the percentage of candidates that will enroll divided by the number of accepted candidates.
Deferral Rate equals the percentage of candidates that will defer divided by the number of accepted candidates.
***
Related posts