Business schools are exploring various scenarios in response to the impact of COVID-19 to meet their enrollment goals. How would prospective graduate management education candidates respond to a scenario of starting a program in an online format? The latest GMAC™ survey snapshot indicates that candidates are more likely to defer if the program begins online.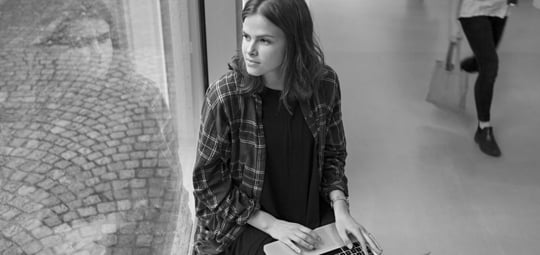 Business schools around the world have responded to the COVID-19 pandemic, rapidly implementing measures to help meet enrollment goals, including deadline extensions, new admission rounds, and hosting virtual events.
As we inch closer to the start of the academic year, business schools are actively exploring several scenarios to determine how students will be able to start courses. One of the scenarios is to begin classes online, and then move students to the regular on-campus program later in the fall, or at the beginning of the winter or spring term. However, the critical question is: how will prospective students respond to this scenario? Are there segments of graduate management education (GME) candidates who are more likely to accept and enroll than others?
To address these questions, GMAC is monitoring and analyzing the shifting journey of GME candidates. In the April survey snapshot of prospective students who were applying for enrollment in 2020, we focused on the likelihood of their decision to—accept and enroll, defer, or decline—if they were accepted into a program. In subsequent question we asked about their decision-making process if the fall term begins with online learning.
Preference for on-campus experiences remains strong
Overall findings from the survey snapshot suggest that a majority of GME candidates are likely to accept and enroll (84%), if admitted to a program starting in 2020. Only 2 percent report that they will decline the offer, and another 14 percent indicate that they will defer.
However, the preference to accept and enroll weakens if students are required to start classes online. One in three respondents indicate that their preference is to defer admission (36%), and another 59 percent report that they will accept their offer and enroll. This suggests that the choice for on-campus learning experiences remains stable, with a segment of candidates who would rather defer instead of starting a program with online learning.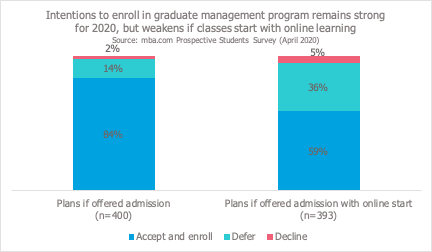 International candidates are more likely to defer
To gain a deeper understanding of candidate preferences, we segmented data by citizenship and by program type preference, creating four unique groups. In this section, we examine the likely decisions of these four groups if they are accepted into a program for 2020.
Overall, candidates (international and domestic) preferring a business master's are less likely to report deferring (10%) as compared to candidates preferring the MBA (17%). One of the reasons that some candidates would make the choice not to defer if offered admission could be that those who prefer a business master's have less or no work experience, and are more likely to go straight to graduate school in times of increasing concerns about the job market.
Within candidates preferring the MBA, international candidates who are offered admission (20%) are more likely to defer as compared to domestic candidates (14%). International candidates preferring a business master's indicate similar patterns, with 15 percent reporting that they will defer admission, compared to 4 percent of domestic candidates.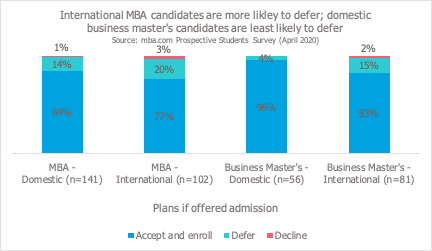 Online learning is likely to trigger deferral requests
To gain a deeper understanding of the impact of an online format, we asked GME candidates about their likely decision if the program they were accepted to starts with online learning. This section analyzes responses by four groups of prospective students.
Overall, irrespective of citizenship or program type, GME candidates are more likely to defer (36%) if a program starts online as compared to on-campus (14%). Candidates preferring the MBA are more likely to report deferring than candidates preferring a business master's program.
Moreover, international candidates preferring the MBA are least likely to accept and enroll among all four groups if a program starts online. In the new snapshot, 43 percent of international candidates preferring an MBA report that they will accept and enroll as compared to 48 percent who indicate that they will defer if a program starts with online learning.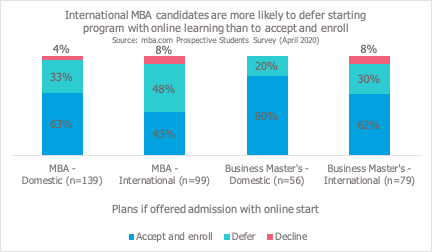 Conclusions
As business schools consider various scenarios to start the academic year while managing candidate yield, they need rapid insights to gauge candidates' potential responses. This survey snapshot provides initial indicators that the yield of GME candidates is likely to suffer due to deferral requests, especially for international candidates. Also, candidates seem to be less keen to accept and enroll if programs begin online, suggesting that candidates considering on-campus programs are less likely to be swayed towards online learning. As business schools consider adopting online learning as one of the scenarios for the launch of programs in the fall, data suggests proceeding with caution and evaluating it against other alternatives—such as delaying the start of the program—in the context of their applicant pool.
---
Are you looking for more information on GMAC's response to the new coronavirus (COVID-19)? Find the most up-to-date information on the GMAT™ Online and the Executive Assessment Online exams, plus receive updates related to other assessments, test center closures, the GMAC Annual Conference, the MBA Tour, and more here.
Do you have any questions or suggestions related to this blog or other GMAC Research? Please click here to reach us.
About the Survey
This blog series is a part of the GMAC initiative to monitor and respond to the rapidly evolving impact of COVID-19 on graduate management education. The analysis reported in this blog is based on nearly 400 responses collected through the mba.com Prospective Students Survey in April 2020. The number of responses for segments of candidates (e.g., international vs. domestic) vary. The data for candidates preferring MBA and business master's programs includes all modalities/formats. In this analysis, international candidates are defined as candidates whose preferred study destination is not their country of citizenship. These findings are reflective of trends captured on mba.com and should be interpreted with caution in the rapidly evolving context of COVID-19.