Canada has been a beneficiary of attracting global talent into its business management programs on the foundation of welcoming immigration policies and an expanding economy. According to GMAC's Application Trends Survey, in 2017, seventy-five percent of the programs in Canada reported an increase in applications as compared to 41 percent in 2016—a clear indicator of a surge in demand for Canada after the US election. However, COVID-19 and the upcoming election in the US have the potential to reset the equation. Maintaining the momentum may require schools to double down on communicating the value of studying in Canada and delivering on the promise of positive experiences.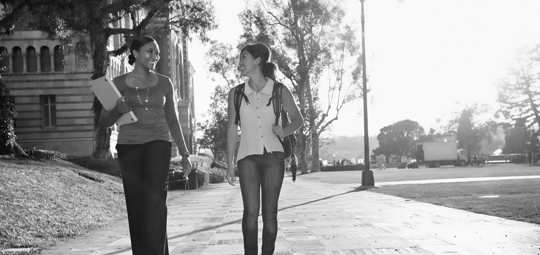 One in five students at Canadian universities is studying business and management, according to the Business Schools Association of Canada. This proportion further increases to one in four students at the master's level, according to OECD data. Clearly, business management remains a popular field of study in Canada, especially at the master's level.
Over the last decade, Canada as a study destination experienced significant growth—driven by its growing economy and welcoming immigration policies. These factors make it especially attractive to international candidates. According to GMAT test-taker data, the proportion of candidates from the Asia-Pacific region sending scores to Canada increased from 8.5 percent in the testing year (TY) 2011 to 14 percent in TY 2019 (the Testing Year runs from July 1 to June 30). In the same period, the proportion of candidates from Africa increased from 9.8 percent to 23.4 percent. At the country level, the proportion of Indian candidates sending scores to Canada doubled from 11.6 percent in the TY 2011 to 23 percent in TY 2019, and Nigerian candidates increased from 19.5 percent to 37.2 percent.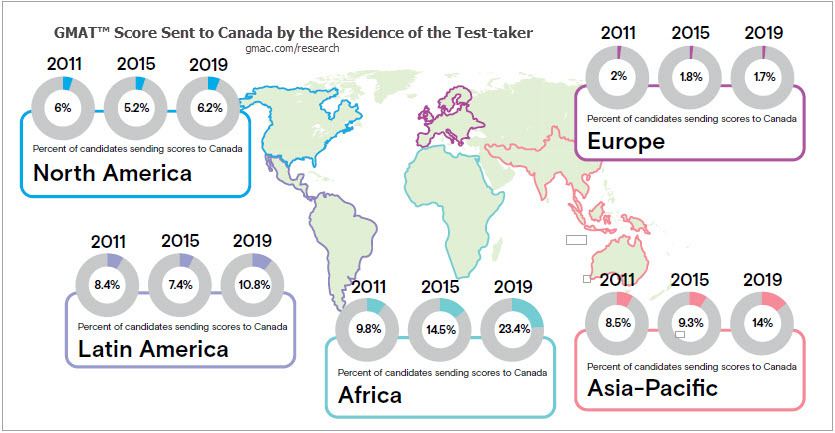 The outcomes of the 2016 US elections and the subsequent anti-immigrant policies and rhetoric has redirected some of the demand towards more welcoming destinations, including Canada. This shift is evident from the GMAC data on applications to business schools [Note: 2020 Application Trends Survey releases on November 10, 2020]. In 2017, 75 percent of programs in Canada reported an increase in applications as compared to 41 percent in 2016—a clear indicator of a surge in demand after the 2016 US election.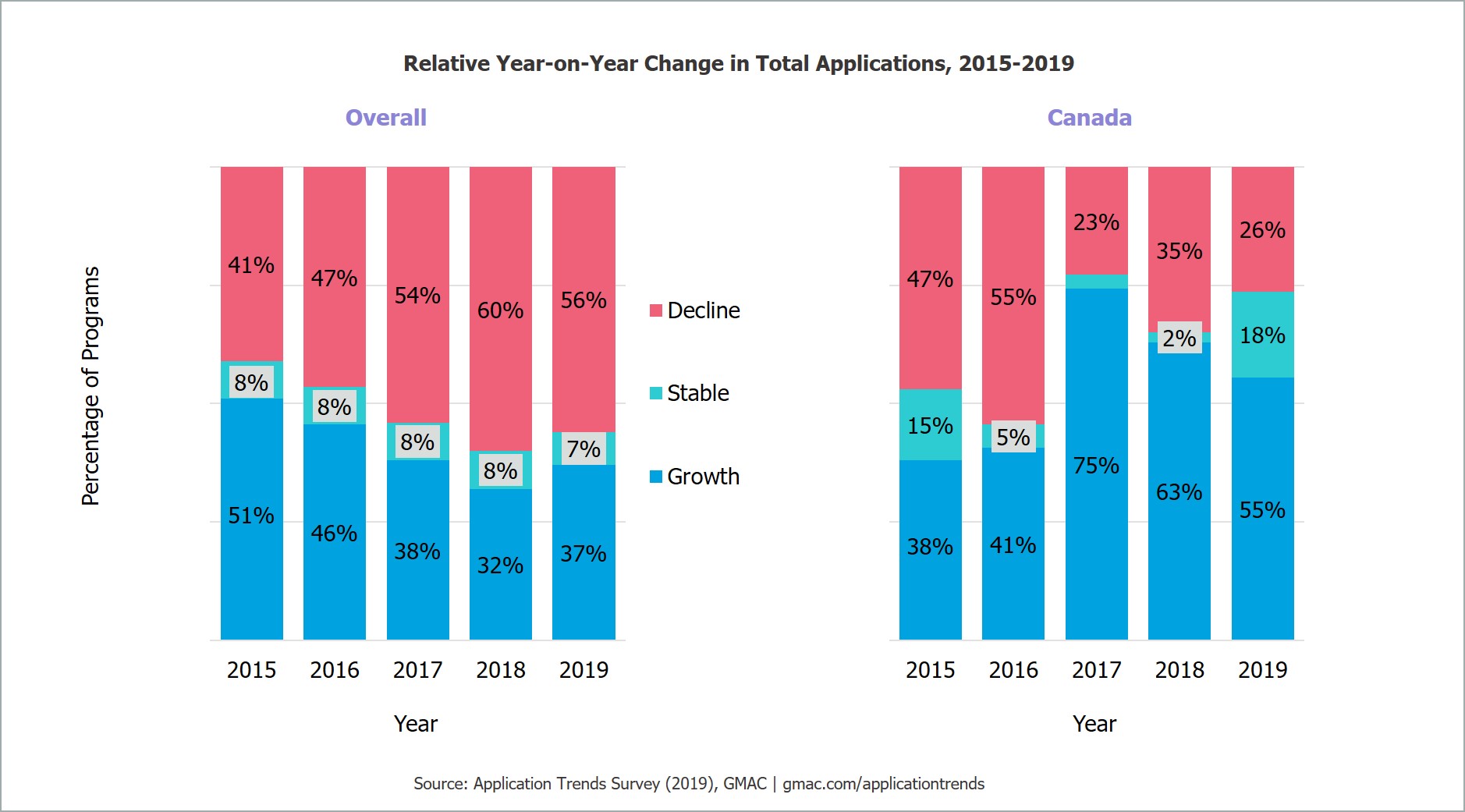 However, this momentum decelerated. By 2019, the proportion of programs reporting growth had decreased to 55%. The geopolitical tension between Canada and China after the conflict with Saudi Arabia could be partially responsible for dampening demand. But, graduate management programs at Canadian business schools seem to be faring better, with only one in four (26%) reporting a decline in applications compared to over half (56%) of all programs worldwide that participated in the survey. With the 2020 US Presidential elections around the corner, the attractiveness of Canada for international candidates may get another boost or a blow—depending on the results.
Access the webinar
distilling the highlights of the 2020 Application Trends Survey—along with a panel discussion featuring admissions professionals.
Another way to analyze the demand for graduate management education in Canada is at the program level. GMAC data shows that MBA programs still command a premium despite the increased launch of business master's programs. Of the total GMAT score reports sent to Canada in TY 2019, sixty percent of the score reports were sent to full-time, 2-year MBA programs (37%), followed by full-time MBA programs of less than 2 years (23%).
There are also differences at the source country level. The vast majority of Indian candidates (81%) sent scores to MBA programs (2 years or less than 2 years). In contrast, two in three reports sent to Canadian master's in finance programs were from Chinese citizens—indicating a different program preference from the rest of the world. Eighty-four percent of Canadian citizens sent scores to MBA programs, with a quarter going to part-time programs.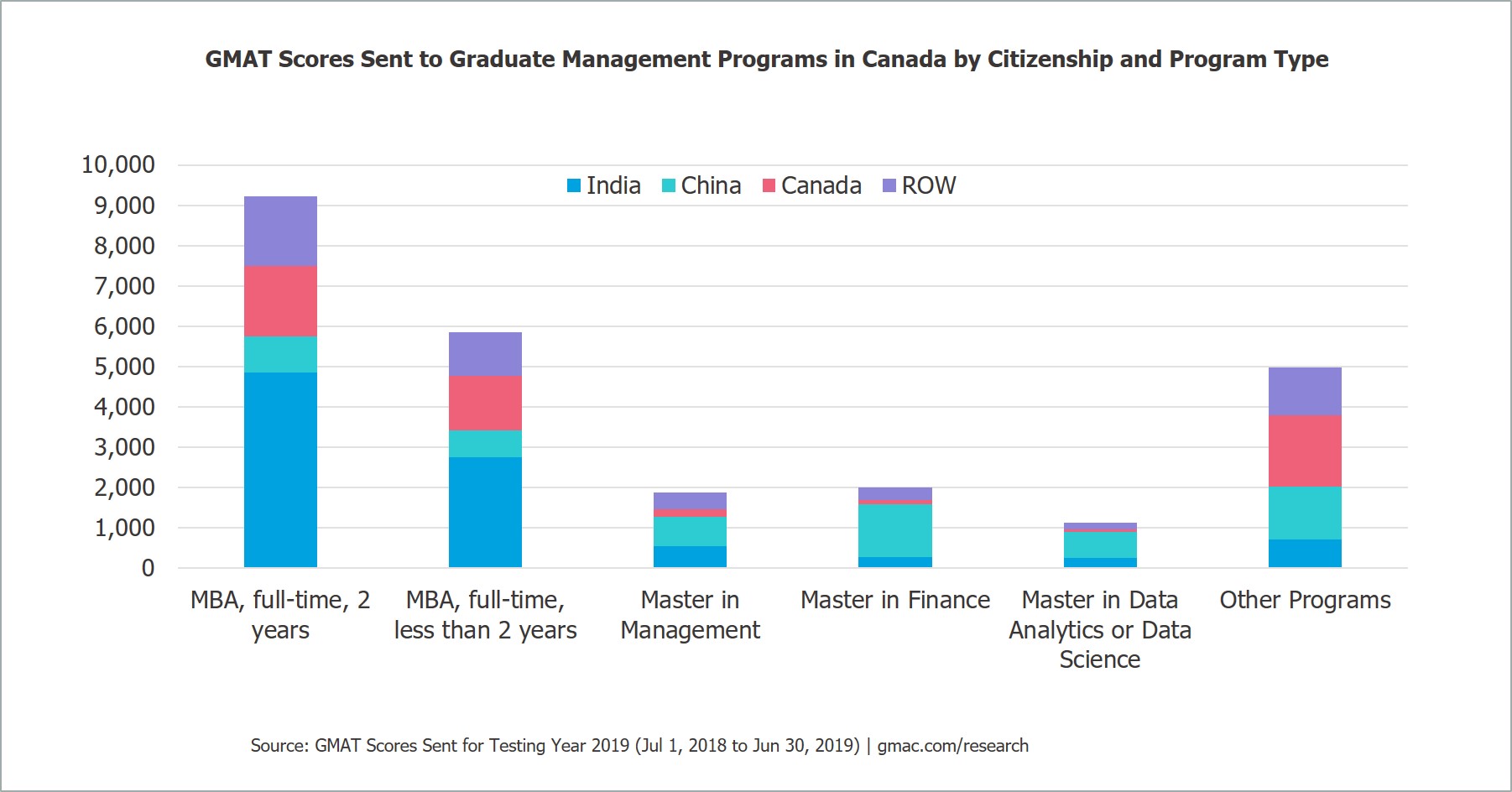 Based on these trends, we can see how choice patterns of graduate management education (GME) candidates are influenced by external factors, including geopolitical climate, immigration policies, and economic context. So, it should be no surprise that COVID-19 is also influencing candidate choice. Since the start of the pandemic in March 2020, business schools worldwide, including in Canada, have faced uncertain impacts on many aspects of their operations, including enrollment and learning models.
GMAC had been tracking and sharing candidate insights on their COVID-related concerns and how they are shaping candidates' preferences for programs and destinations. While travel and job market concerns are consistent for international candidates preferring to study in Canada, the US, or Western Europe, there is a marked difference in concerns about visas and social reactions to international students in different countries. For example, 41 percent of GME candidates preferring to study in Canada report that they are very or extremely concerned about the social reaction to international students compared to 29 percent of those preferring to study in Western Europe.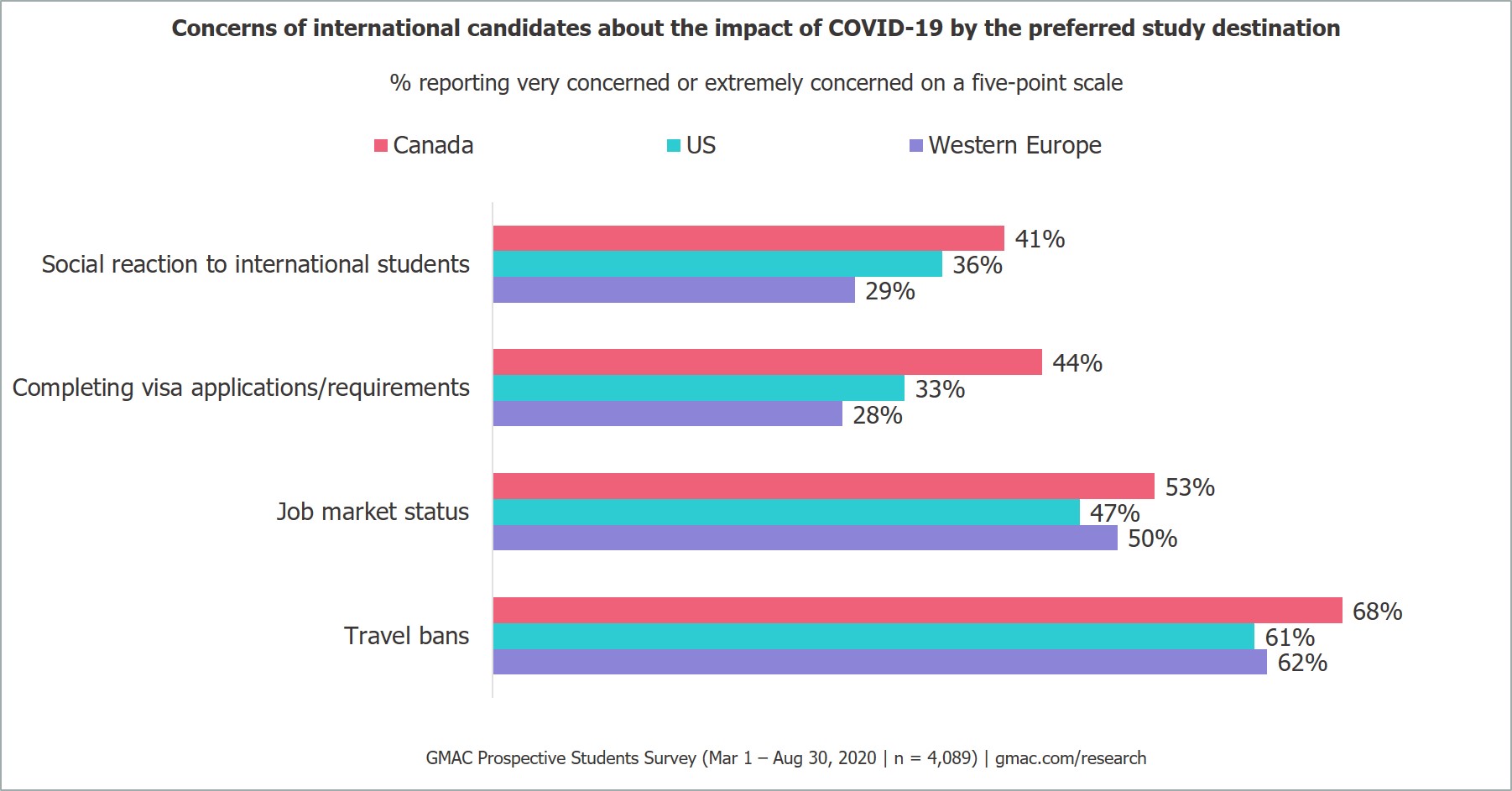 These differences in the perceptions for studying in Canada indicate that more concerted efforts by institutions and policy-makers are needed to sustain the attractiveness of the destination. One such positive development relates to work permit eligibility for international students. The new measures offer flexibility for international students who are beginning their programs online from abroad without losing eligibility for a post-graduation work permit. Students who have enrolled in a program between 8 and 12 months in length, with a start date from May to September 2020, will be able to complete their entire program online from abroad and still be eligible for a post-graduation work permit.
In sum, Canada benefits from attracting global talent to its business management programs. However, the combination of COVID-19 and the results of the US presidential elections can reshape the attractiveness of Canada as a destination for prospective business school students, especially in the near term. The way forward for b-schools is to deepen their understanding of candidate behaviors and expectations so that they can align their recruitment and retention strategies to deliver positive experiences.
***
Related posts:
Impact of COVID-19 on Prospective Business School Students
Europe: Impact of COVID-19 on Prospective Students
The Social Justice Imperative for Graduate Management Education