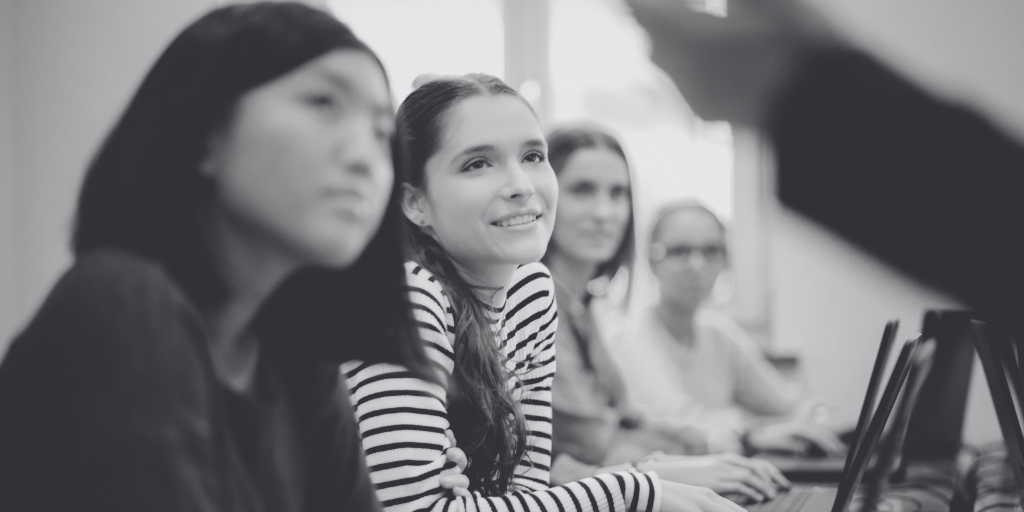 It is no secret that women are still not at parity in the business world. Only 8.8% of Fortune 500 CEOs are female, and women at the executive level earn 95 cents for every dollar earned by men, according to Forbes.
While there have been improvements to female MBA application rates, the Graduate Management Admissions Council reports that 40% of prospective graduate management education students are women, compared with 58% of men and 2% of non-binary candidates. A recent GMAC Connect webinar, in conjunction with the Forté Foundation and GMAC Tours, gave a deeper dive into some of the ways that both organizations are helping to further move the dial on female business school applications by examining both the motivations for women attending business school and how to remove the barriers to doing so.

Over the past 20 years, by forming an alliance that includes companies, 56 business schools, donors, and influential women in business, the Forté Foundation has awarded more than $400 million in scholarships to support around 15,000 women to study MBAs. Thanks in large part to its efforts, female MBA enrollment has increased from 28% in 2001 to a record 41.4% at its member schools in 2022.

Barriers to Women Applying to B-school

Krystal Brooks, director of development for academic partners at the Forte Foundation, said that research into barriers to MBA application found that preparing for GRE/GMAT tests and financing were the two biggest obstacles for women. She suggested that from an admissions standpoint, business schools could address these issues by communicating the financial reality of an MBA, its ROI, and the scholarships available to prospective female candidates. Additionally, admissions teams could highlight role model students or graduates who've taken the test more than once, or not had their test scores considered during their application, to help remove stress around GRE/GMAT for women.
Key Considerations for Female Applicants When Choosing a School

Each year, Forte identifies a cohort of around 1,000 women for the MBALaunch program, which tracks and supports those planning on applying to an MBA over the following year. Krystal highlighted that the main factors that determined school choice for the 2023 MBALaunch participants were (in order): ranking/reputation, location, company connections, the school's alumni network, and funding. These factors were important to more than half of female candidates. Surprisingly, compensation was only of importance to 45% of female prospective candidates.

Also of interest were the reasons for the MBA delay from the 2022 MBALaunch participants. Almost half of those surveyed delayed application due to changes in opportunities at work, be that promotion or a new job. Again, concerns about being ready for GMAT/GRE was a factor, indicating a lack of confidence.
Addressing Confidence Issues like Imposter Syndrome
Danielle Boland, MD of GMAC Tours, which hosts around 90 events per year in 50 global cities, shared research undertaken by GMAC and partner organization, Clusters Insights & Analytics, into career ambitions among prospective MBA applicants. One key statistic shared was that career is significantly more important among women in the US, compared with men. Despite this, knowing how to work out their next career step was a major barrier to career progression among women in the USA (as well as in India and China). Danielle explained that lack of time and money were the number one reasons for women not to consider further education, but also highlighted that lack of confidence was also particularly high among women.

In a strategy to support more women to reach their career goals via graduate management education, Danielle explained that GMAC Tours recently introduced Women in Business Breakfasts in collaboration with Forté, which women could attend ahead of the main MBA Tour event.

"It was positioned to women as a way to connect them with an empowered community of women candidates on the same journey and as a way to avoid imposter syndrome by kicking off the MBA Tour in a safe space and having the opportunity to have their questions answered," said Danielle, adding that the events have been a resounding success and will now be replicated across the series in cities across the world including in San Francisco, Washington, DC, Mexico City, Toronto, Bangalore, and London.

"The women attendees at our school partners told us that this was a really unique opportunity," said Danielle. Visit our website to find out how your school can participate in a women's breakfast.