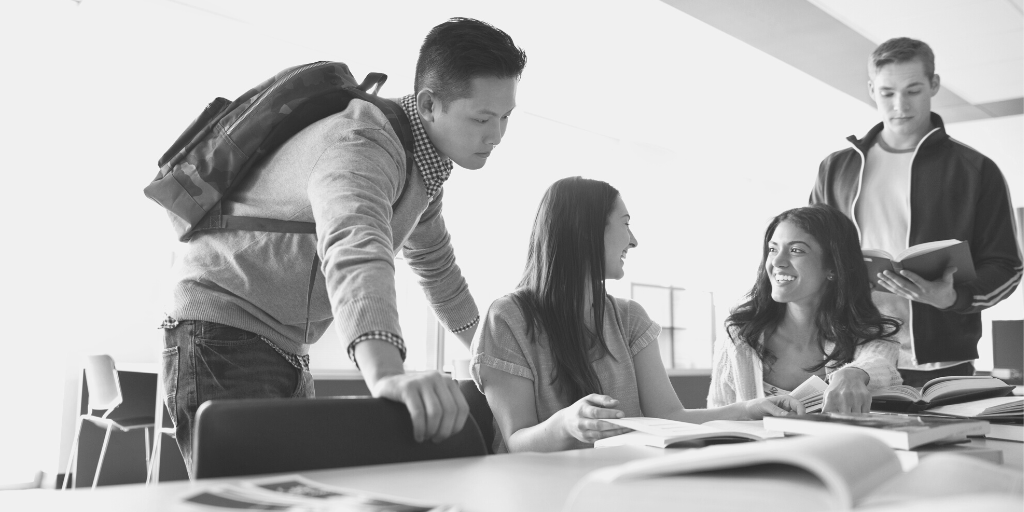 What attracts students to a STEM-certified program at a US business school? What is their student profile? What about post-GME career prospects? What's in it for the business schools? A new GMAC research brief does a deep dive into the STEM-certified programs, including an explanation of what they are, details of their rapid growth, and who wants to enroll in them.
There's more food for thought for school management in this article with insights from Russ Morgan, Senior Associate Dean for full-time programs at Duke University's Fuqua School of Business.
But first things first. Why this buzz around a US STEM MBA aka MSTEM?
Why Is MSTEM in the Limelight?
In the US, STEM-certified graduate management education (GME) programs increased by a whopping 65 percent between 2017 and 2020. They are also emerging as the favorite flavor of international students; nearly half of them now prefer STEM MBA, according to the GMAC Prospective Students Survey.
Conceptualized as a cross between the core management paradigms and electives on transformative technologies and analytics-based decision science, the STEM curriculum is a response to the demand by businesses for bespoke analytical thinkers in managerial roles. For international students seeking an F-1 visa, it facilitates streamlined documentation and easier and faster visa processing.
However, the magnetic pull for these students is the extended optional practical training (OPT) stay of additional two years over and above the standard one-year stay. This feature gives more time to students – three years in total, to pay for their STEM MBA which is more expensive than the traditional MBA. Besides, the longer training period offers extended industry exposure and experience. As one STEM GME student put it, "the extended OPT is a rock-star feature." Endorsing this, Russ Morgan said that it (extended OPT) is attracting the best international talent to the US and allowing that talent to continue working in the US. The cascading impact will be the country's self-sufficiency in managerial talent to lead American businesses globally.
Already 367 STEM MBA Programs in the US, and Counting
In comparison, just 222 such programs were being offered in 2017. The below chart sheds light on the burgeoning numbers.
STEM MBA Programs and STEM MBA Conferrals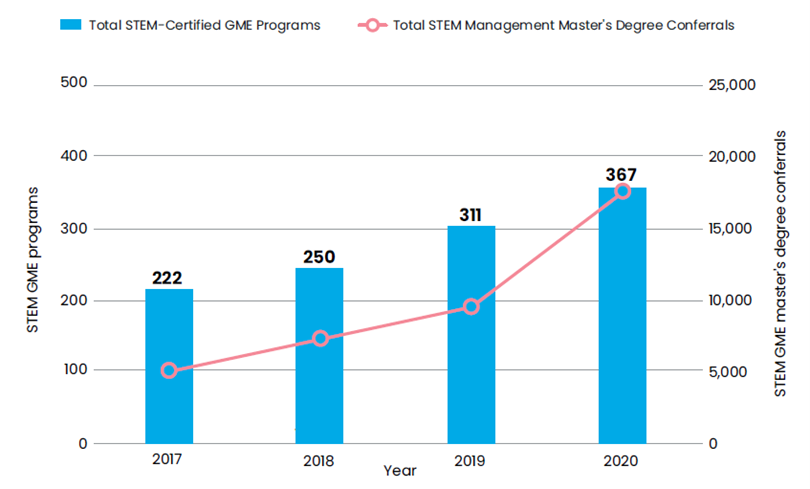 Data from National Center for Education Statistics (2021)
According to Russ, schools are now agile in adopting STEM strategies with unique differentiators to attract international students. For example, he said, Duke University's Fuqua School of Business is holistically embedding the STEM OPT designation in the entire program, rather than limiting it to specific electives or concentrations. This blanket coverage offers the extended OPT benefit to all STEM disciplines.
To each, their own. As business schools implement newer STEM GME curricula and pedagogies, their numbers swell across the country in a bid to bring supply on par with international demand.
The Stem MBA International Student Profile
GMAC's 2022 Prospective Students' Survey has several markers:
Nearly half of the STEM MBA aspirants wish to study in the US, followed by Western Europe (23 percent) and Canada (11 percent).
74 percent of STEM students select their host country based on the reputation of its education system, and over 50 percent of the aspirants make this selection based on the OPT or its equivalent training period. So, the extended OPT is indeed a "rock-star feature" for US schools.
At 39 percent, students from Central and South Asia form the largest MSTEM cohort, followed by East and Southeast Asia (15 percent), Africa (12 percent), and the US (12 percent). This chart gives the full rundown:
Citizenship of Students Preferring STEM-Certified Programs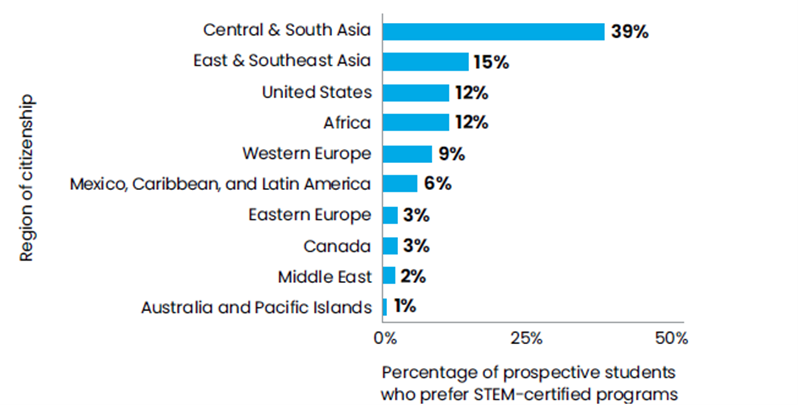 Data from GMAC's 2022 Prospective Students Survey
62 percent of STEM MBA students are male while 38 percent are female
It's a young world – hardly 18 percent are in the 30 and up demographic. This data leads to another critical finding – 66 percent have nil or less than a year's work experience
35 percent wish to work outside their country of citizenship
38 percent aspire for a job that offers international travel
Students are focused on four areas for a bright post-GME career – finance and accounting (53 percent), products and services (53 percent), consulting (52 percent), and technology (51 percent)
The Writing on the Wall
The international STEM MBA student is below 30 years age, is dominated by male students, and has a positive bias toward the US as their host country mainly due to the extended OPT. 54 percent of them come from Central, South, and Southeast Asia, 35 percent of them wish to settle in the greener pastures (host countries), students are focused on BFSI, manufacturing, services, and technology domains for a post-GME career, and with a penchant for international travel, they dream of a trans-continental job.
Post-GME STEM Careers
With decision-makers increasingly hedging their bets with tech-empowered analytical tools, every business will be a technology business in the near future. Resonating this notion, Study International says that 3.5 million STEM jobs will need to be filled by 2025. Who else, other than the able and willing technocrat managers would fit the bill? As Russ said, "these are the people who have technical training and area expertise, while also having the necessary understanding of market forces associated with technological advancement needed for strong leadership." These data points give a clearer picture:
Post-GME Career Choices by Job Industries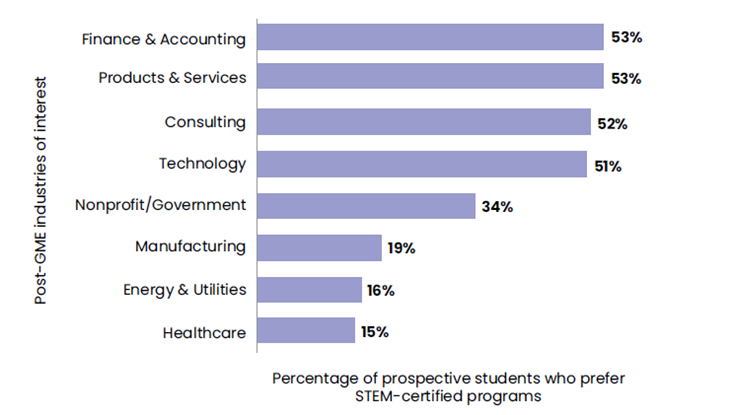 Data from GMAC's 2022 Prospective Students Survey
Post-GME Career Choice by Job Functions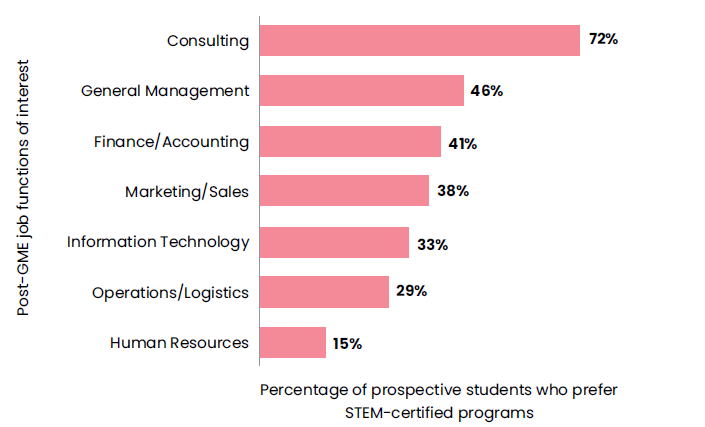 Data from GMAC's 2022 Prospective Students Survey
Conclusion
The rapid scaling of STEM-certified GME in the US can be attributed to the international students' rising inflow. The prospect is quite attractive – the standalone advantage of extended OPT, the fertile US soil to nourish their post-GME careers, and plum careers on a platinum platter. On their part, the schools are in a flurry to increase supply, while improving and enhancing delivery benchmarks. The going is good at both ends of the STEM GME spectrum. As the digital transformation of businesses becomes irreversible, the game-plan now is to create and maintain a balance between demand and supply of managerial talent, in the US and worldwide.
Read more in GMAC's new research brief: The Rise of STEM-Certified Graduate Business Programs in the United States.