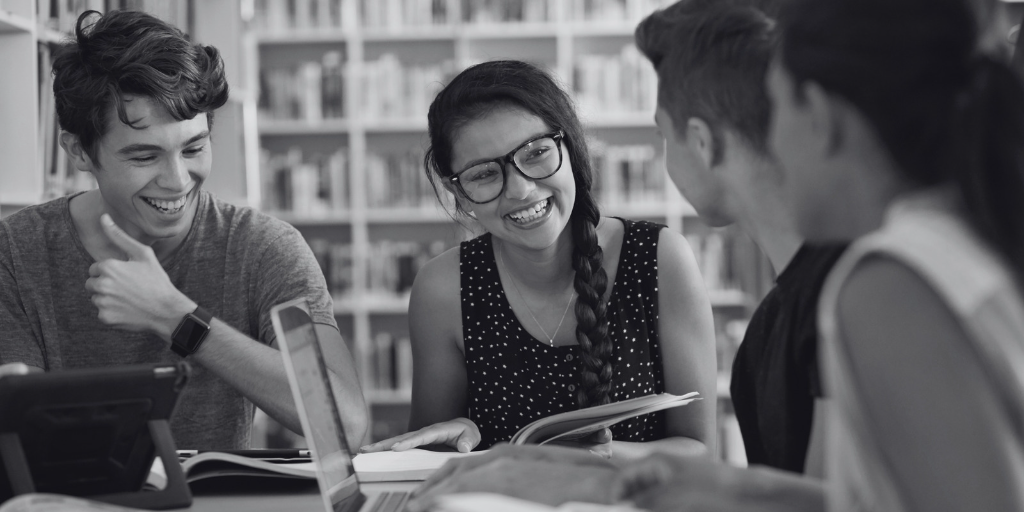 Generation Z­­—people born between 1997 and 2012—currently make up around 50% of the candidate pipeline for graduate management education*. Those aged between 18-24 are of particular interest to business schools as they're still shaping their early careers and ideal candidates for postgrad Master's programs or to be guided toward an MBA application.
Despite being a key target demographic, among attendees at a recent GMAC webinar, more than two-thirds of business schools were yet to have a specific Gen Z communication strategy in place.

To help your school to reach Gen Z, here are some easy ways to tweak your school's blog and social presence to catch their attention and draw them into your candidate pipeline.
1. Speak to their values
Gen Z are value-driven and want business degrees with purpose. Environmental and social issues are highly important to this generation, as Carrington Crisp's Tomorrow's Masters survey highlights, 71% of prospective business master's students say they want course content that reflects global challenges. Furthermore, 73% want to be taught ethical leadership, and 77% prioritize diversity and equality. A quick win is to highlight course content that chimes with such values on your school blogs and social feeds. This will pique Gen Z's attention and show how yours is a school that aligns with their values and future aspirations.
2. Embrace the social media platforms that Gen Z love
You'll already know that Gen Z are digital natives: born into a world where the web and smartphones were already ubiquitous. This generation spends up to six hours per day on their phones, mostly on social media. As many as 40% of Gen Z use Instagram or TikTok for search rather than Google—and they comfortably access a number of platforms. So, if you want to get in front of them, you'll need to have a presence on the platforms they favor. There are geographical differences to consider: for example in the US, YouTube, Instagram, and TikTok are the most-used platforms for this demographic but to attract students from China, platforms such as WeChat and Weibo are favored. In India, Facebook remains a strong channel.
3. Make your content accessible
Gen Z are famous for having short attention spans. But as McKinsey says: "For a generation adrift in an overwhelming sea of content, it's less about paying attention [for Gen Z audiences] and more about what breaks through the noise." When trying to reach Gen Z in your social content or school blog, it's essential to get your messages across quickly, as this TikTok produced by Esade does. However, your audience will also click through if there is a clear, immediate benefit to them of doing so, such as in this London Business School application guide.
4. Use your current students for an authentic voice
Gen Z are not just content consumers, of course. Most people in this demographic are comfortable with creating content too. This presents an opportunity: make sure your school's official hashtag is shared widely and you'll soon see authentic content stream into your channel from current students. There is a huge audience for business schools: as of early 2023, on TikTok, #businessschool has 200 million views, #mba currently has 371 million views, and #mastersdegree has 181 million views. The dream is when your student becomes an influencer with a large following, such as @cherie.brooke of the Stanford MBA program.

5. Celebrate diversity
Most business schools are keen to have a diverse cohort, in terms of previous experience, nationality, gender, industry, and career aspirations. But for Gen Z, diversity also means living in a non-homogeneous society. In the US, Gen Z is the most diverse generation to date – in terms of race, sexuality, and gender. Across the globe, social diversity among younger generations is similarly either a reality or emerging. With this in mind, any communication with Gen Z needs to recognize social diversity, through inclusive imagery and student representation in your content.
6. Reassure your target students
Gen Z have grown up during a highly volatile time. Uncertainties brought about by Covid, climate change, and the cost of living crisis affect many of this demographic. Mental health issues including anxiety are rife among 18-24-year-olds, and this generation often needs support to make decisions. They want to know that coming to business school will lead to positive outcomes, so make sure that you emphasize the return on investment (ROI) of your school and the support you give students to achieve career success.
* According to the response to GMAC's Prospective Student Survey