GMAC's annual Application Trends Survey of over 1,000 programs worldwide uncovered nuances in the demand for graduate management education and identified growth variations by regions, schools, and candidates. A combination of factors—including regional contexts, barriers faced by candidates, and strategies adopted by business schools— influenced the enrollment outcomes. Looking ahead, a survey snapshot of prospective students suggests business schools need to continue to innovate and adapt to the candidates' shifting journeys.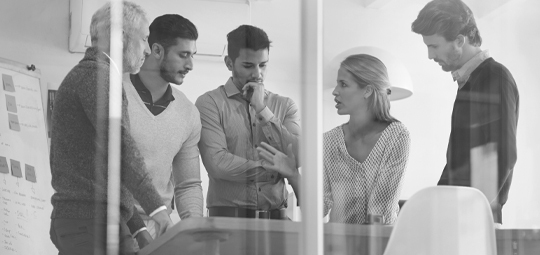 Nearly two out of three graduate management programs participating in the Application Trends Survey reported an increase in applications for the 2020 incoming class. This survey data, based on responses from over 1,000 programs worldwide, reaffirms that prospective students value graduate management education (GME) as a career accelerator in times of uncertainty.
However, variations by regions, candidates, and schools are essential elements to consider. For example, 2 out of 5 GME programs in Canada (39%), Europe (39%), and the US (45%) reported "significant growth" (21% or more) in applications from domestic candidates as compared to 14 percent of programs from a vast and diverse Asia Pacific region. In terms of international candidates, 41 percent of GME programs in Europe reported "significant growth" in applications as compared to nearly a quarter of programs from the Asia Pacific (23%), Canada (24%), and the US (28%).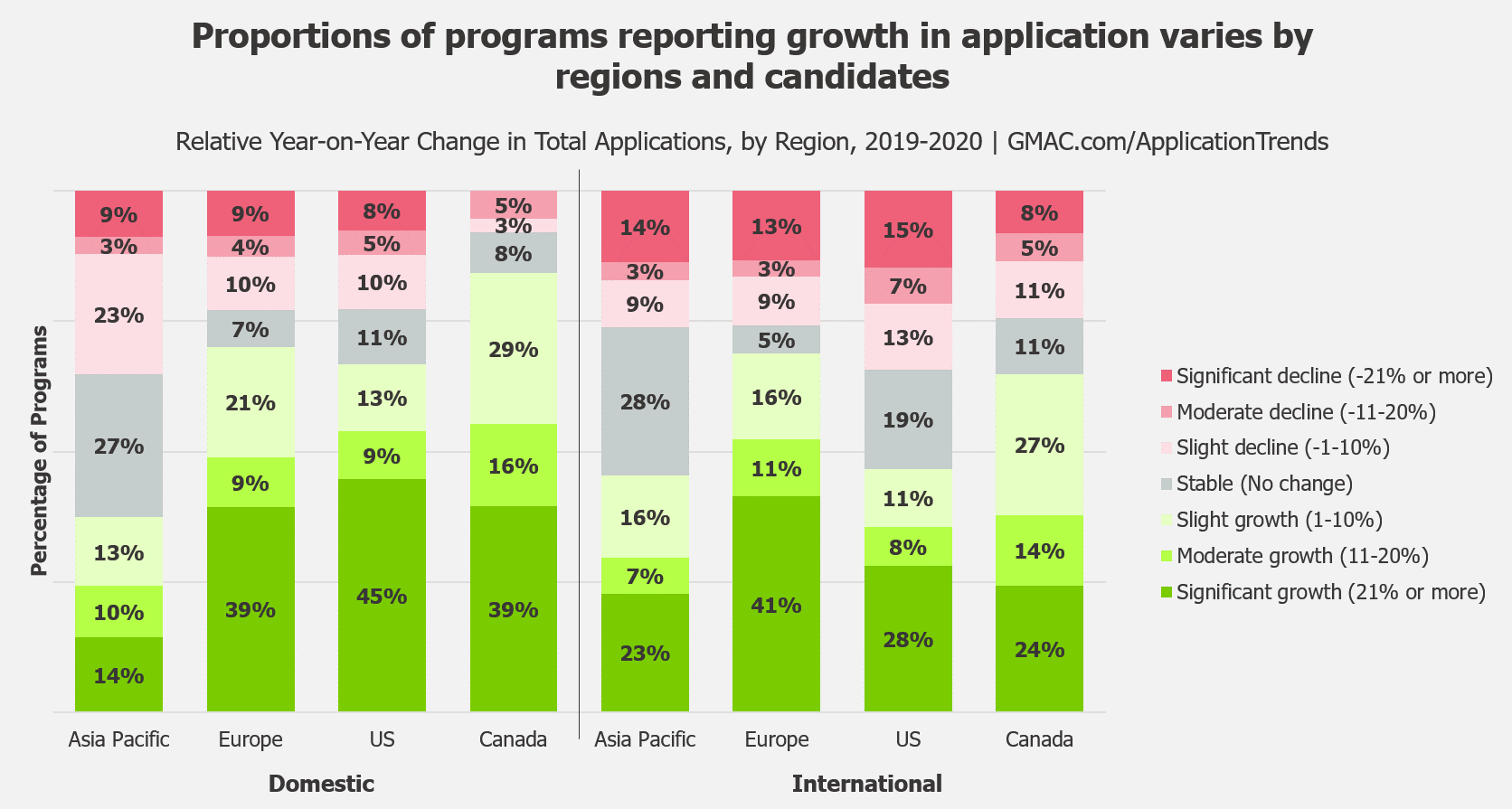 A related webinar with a global panel of experienced admissions professionals also exemplified some of the variations by schools and regions. For example, Andrea Flores, Head of Admissions & Enrollment–Graduate Programs, IE University, shared that applications from international candidates from Europe increased, while they decreased from Latin America and the Middle East. Jennifer Larson, Director, Recruiting & Admissions, Graduate Programs, Gies College of Business at the University of Illinois, reported a significant upswing in applications from domestic and international candidates for their online MBA program, with a decline in applications for on-campus programs. Finally, Rodrigo Porto, Director, Recruitment & Admissions, Sauder School of Business at the University of British Columbia, highlighted the increase in applications for residential programs and remains cautiously optimistic about matriculations in January as the School decided to delay the start of the program.
One of the key takeaways from the report and the panel discussion was that the 2020 application season was unlike any other, compelling prospective students and business schools to make decisions with highly imperfect and uncertain information. This decision process reconfigured the enrollment funnel and disrupted some of the previous assumptions and predictive models related to deferrals and yields.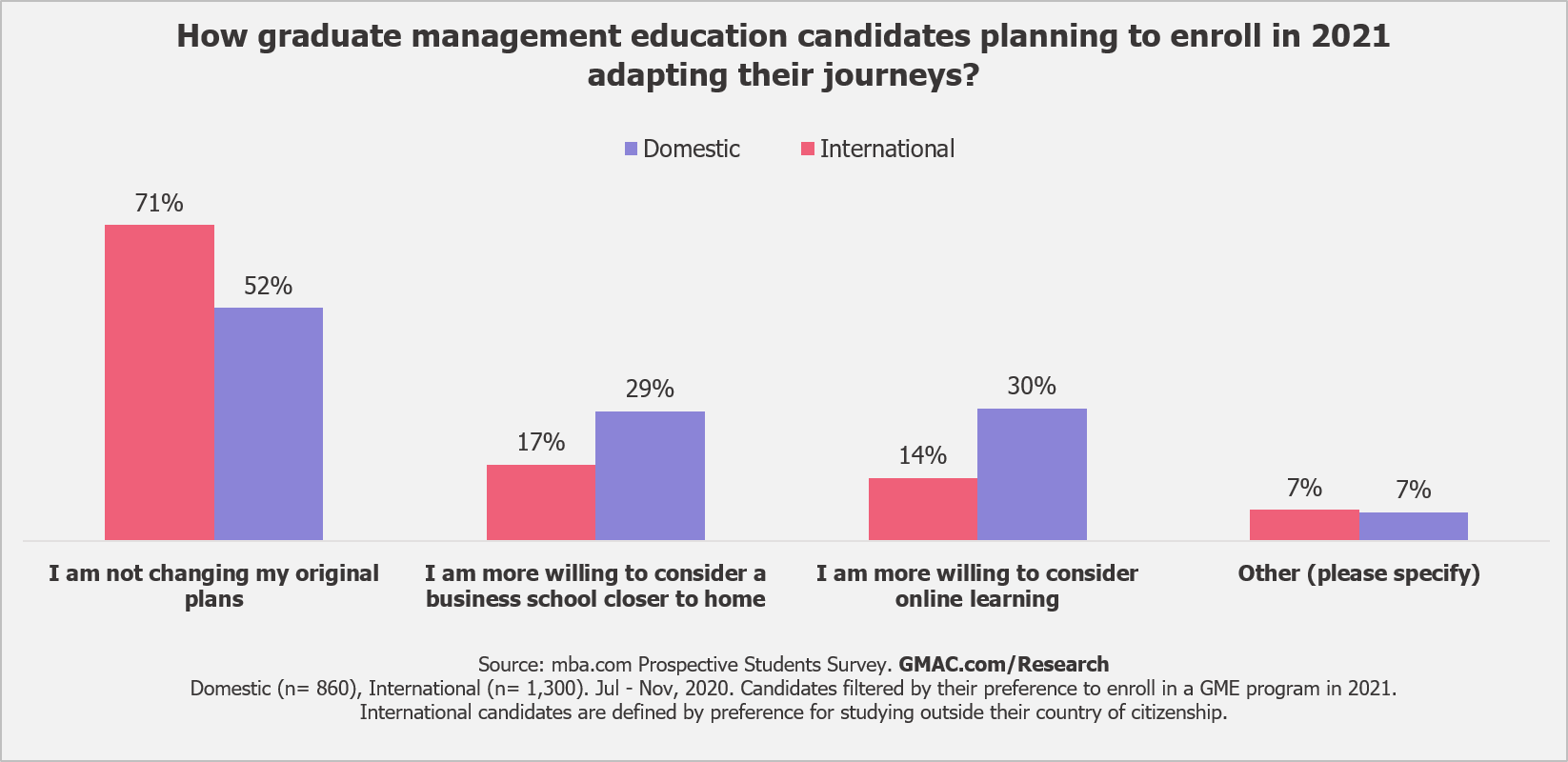 Looking ahead, the pandemic-induced demand for GME is likely to continue to reshape the candidate journey. According to the GMAC survey of prospective students considering enrolling in a graduate management program in 2021, international candidates (71%) are more likely to report that they are not changing their original plans than domestic candidates (52%). Much of the change among domestic candidates is driven by a desire to stay closer to home (29%) or adopt online learning (30%). Also, a pre-election survey poll of international candidates indicates a likely shift in global student mobility caused by the results of the US presidential elections.
This evolution of candidate journeys suggests that sustaining the enrollment momentum in 2021 will demand continued adaptation and innovation from b-schools. Flores mentioned the focus on ensuring their educational model's relevance through a "liquid learning" approach. Larson highlighted ways to meet students' needs where they are, such as providing housing/dorm options for international students in their home country to enhance the student experience and learning. Porto asserted that the relationship-building and onboarding experiences with candidates would have a high impact on future enrollments.
In sum, while COVID-19 is a global pandemic, it is essential to recognize the divergent impact by regions, schools, and candidates. In times of uncertainty, it is even more critical to monitor and track the shifting landscape of graduate management education and adapt to candidates' journeys.
***
Related Coverage of the 2020 Application Trends Report