With application trends and candidate dynamics evolving across the globe and COVID-19 bringing new challenges, there is a pressing need to amplify the voice of the graduate management education (GME) industry. GMAC has been advocating on behalf of business schools and helping to shape the narrative among candidates, influencers, stakeholders, media, and public policy through the Calling All Optimists program and leveraging earned media.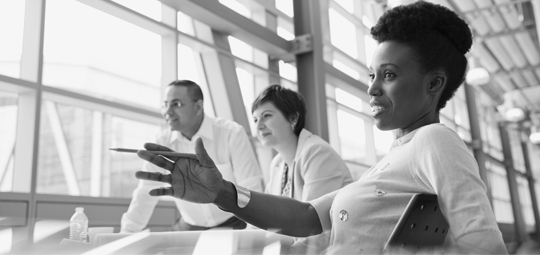 The Calling All Optimists marketing program targets students and working professionals earlier in their journey to inspire and engage them in considering an MBA or business master's degree as a viable option for them. First piloted in 2017 and 2018, the program was relaunched in June, showcasing a younger brand presence, more engaging content, and three distinct professional paths designed to inspire future business leaders to consider GME as a viable option. In July alone we reached over 10,000,000 students and working professionals, resulting in over 150,000 website visitors. These promising early results give us confidence in our ability to have a positive impact on prospective students at the very beginning of their GME journey.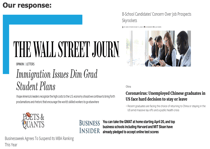 Engaging the Media - GMAC continues to seize opportunities to advocate on behalf of the graduate management education community, leveraging the latest market intelligence, data trends, and stakeholder insights gleaned from our close relationship with business schools around the world. We are active with partner organizations and groups aligned with our purpose, to help inform conversations on legislation and policies, and work to help shape and illuminate the narrative around geopolitical trends and policies that impact business schools and candidates. Year-to-date, GMAC and GMAC research have been featured in 2,250 publications, with a reach of 5.3 billion; this includes top tier publications such as the Financial Times, Wall Street Journal, The Guardian, Times of India, South China Morning Post, U.S. News & World Report, Bloomberg Businessweek, Forbes, Reuters and Poets & Quants.

Leveraging Partnerships to Benefit GME - One of the most prominent recent initiatives has been the business school rankings outreach to formally request the delay of rankings publications in light of the unprecedented impact of the global pandemic on the admissions process. GMAC leveraged the strength of our community, partnering with AACSB, EFMD, and MBA CSEA. Read the letter to the rankings organizations.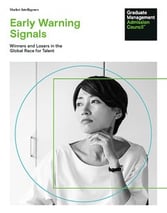 Student Mobility - Although COVID-19 has impacted the free flow of talent across borders, GMAC continues to focus on student mobility and the global economy as a part of our advocacy work. This subject was the topic of a widely publicized white paper (released in October 2019), "Early Warning Signals: Winners and Losers in the Global Race for Talent" and media effort. The paper highlighted market insights and perspectives on the impact of policies, legislation and environments in which the free flow of talent is restricted.
Leveraging market intelligence from GMAC's data remains a core of our work to advocate on behalf of business schools, and we have published multiple pulses this year that reflect the changing impact that COVID is having on candidate's behavior, and using these insights to help inform media coverage.
Our commitment to supporting our industry is a dynamic effort, and GMAC's advocacy program will continue to work on providing a cohesive, informed, and positive voice for GME. To learn more about GMAC's advocacy program initiatives and sign-up for updates, please visit gmac.com/advocacy.