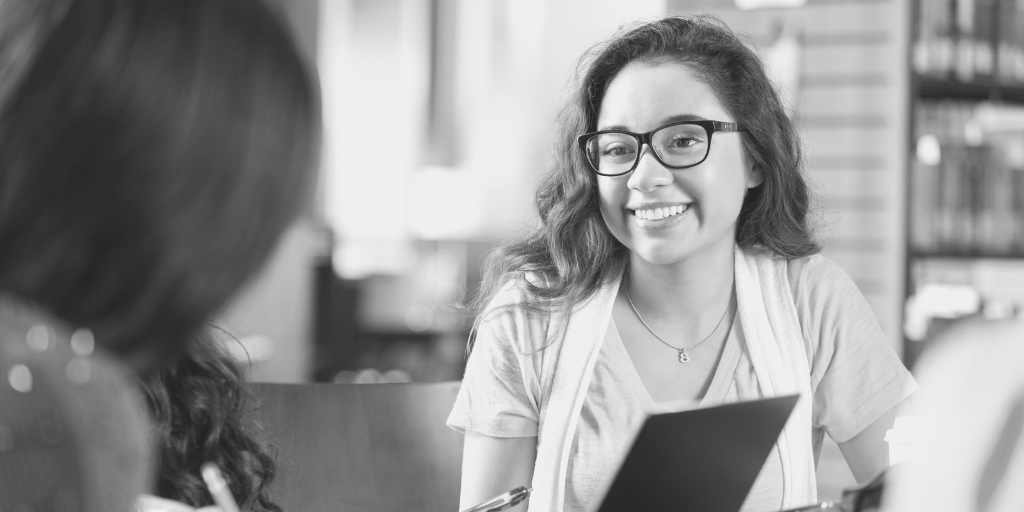 The Hispanic population of the United States is large and growing larger. The number of self-identifying Latinx citizens in the US topped 62 million in 2020, and Latinx students account for a staggering 15 percent of all bachelor's degrees awarded.
"The Chicanx/ Latinx/Hispanic population is the largest ethnic group in the country, so if we're not actively trying to bring them into the fold, we are missing out on this talent and failing to adequately serve this population in business," says Élida M. Bautista, Chief Diversity, Equity & Inclusion Officer at the University of California at Berkeley's Haas School of Management.
"By including underrepresented populations, the benefit to our MBA programs and students as a whole is that the conversation in the classroom and co-curricular activities then reflects the critical perspectives and unique lived experiences reflective of the population at large."
Drawing on data from GMAC's Prospective Student Survey (PSS), in addition to GMAT™ test-taker data and outside research, our new Diversity Insights Series report on Latinx candidates aims to create a fuller picture of the factors influencing candidates from under-represented groups to apply to business school, to better inform your outreach.
So, what do you need to know about recruiting Hispanic and Latinx candidates in 2022?
Who are Hispanic/ Latinx candidates?
First, it's helpful to define our terminology. Here, the terms "Hispanic" and the gender-neutral term "Latinx" are used interchangeably to refer to US citizens who trace their roots to Mexico, Puerto Rico, Cuba, Central America, South America, and other Spanish-speaking or Latin American countries.
Latinx candidates are one of many under-represented populations ("URP") in the GME pipeline, constituting a disproportionately small percentage of those enrolled at institutions compared to the general population.
The term non-underrepresented populations ("non-URP") by contrast refers to US citizens identifying in racial or ethnic groups including Asian Americans and white (non-Hispanic).
So, now we know who Hispanic and Latinx candidates are, what has our research revealed about their application patterns?
They are less likely to aim for C-Suite success -
One of the most striking differences between Hispanic candidates and their non-URP peers is in their stated career objectives.
While over a quarter of non-URP candidates are hoping to land a C-suite position after graduating from business school, just 18 percent of Latinx applicants say the same. A similar gap is observed at the executive level with 33 percent of Hispanics and 37 percent of non-URP students aiming for executive positions.
There are many possible explanations for these differences. Our research shows that Hispanic candidates are more likely than non-URP students to want to change their function or occupation post-GME, which would likely affect the seniority they expect when starting out on a new career path.
It's also possible that Latinx candidates are more interested in opportunities outside of the corporate structure.
They are 5 percent more likely to want to pursue entrepreneurship or self-employment after business school, a trend which aligns with movements seen outside of GME – according to the Latino Business Action Network (LBAN), Latino-owned businesses have had a 44 percent growth rate over the last 10 years compared to just 4 percent for non-Latino-owned firms.
They rely on third-party sources for information about business schools -
One finding of particular interest to business school admissions professionals is that, overall, Hispanic candidates prefer to access information about programs through third parties, rather than through official school channels.
Mba.com is a very popular source, with over half of respondents saying they have used the site for research (exceeding even rankings websites!)
They also particularly rely on friends and family, as well as current students and alumni. For Petia Whitmore, former Dean of Graduate Admissions at Babson College and founder of admissions consultancy My MBA Path, this reflects what she's seen in her work with Hispanic candidates, while also representing a unique challenge.
"[Latinx candidates] are more likely to put a significant premium on the opinion of sources they feel a strong affiliation with – friends, family, professional peers," she says. "But as a population that is still underrepresented in MBA classrooms, this limits their access to information.
"Schools might need to ensure their Hispanic or Latinx clubs are visible and active so prospective students can find them easily."
The Latinx achievement gap exists, but is closing -
Another area in which Petia observes a particular challenge for Hispanic students is standardized testing.
"I have found that quite often, Hispanic students don't perform spectacularly on standardized tests – but they still shine in the classroom and their MBA community," she says. "For that reason, the notion of holistic admission is particularly relevant when it comes to this audience."
This is borne out by the data: At first glance, the gap between Latinx and non-URP GMAT scores is startling, with Hispanic candidates half as likely to receive scores of 700 and above and almost twice as likely to score less than 500.
They are also more likely to have a low or average GPA, with 18 percent reporting a GPA of 2.9 or lower compared to 11 percent of non-URPs.
This reflects the so-called "achievement gap" that exists in the United States, which sees Hispanic students drop out of high school at higher rates than non-URP students – however, it is not the full picture.
Compared with last year's figures, although the proportion of Latinx test-takers scoring over 700 on the GMAT has halved, this echoes the drop year-on-year for non-URP students, too.
Scores between 500 and 690 have also been steadily increasing year-on-year, and the number of Latinx candidates reporting GPAs of 3.6 and higher has risen since last year, while the number of very low GPAs has fallen.
The academic disruption caused by the Covid-19 pandemic may not make itself felt in the GME pipeline for another few years, but for now, this gap is closing.
The Covid-19 pandemic has widened funding gaps -
One area in which the effects of the pandemic are real and immediate is funding for MBA programs.
Hispanic students consistently demonstrate more frequent reliance on financial aid, loans, and employer sponsorships than their non-URP peers, and they also expect to depend more heavily on these sources than non-URPs. Hispanic candidates allotted, on average, 27 percent each to financial aid and loans compared to just 20 and 23 percent respectively from non-URP applicants.
Our research shows that while this gap has always been severe, it has widened even further as a response to the stressors of the pandemic.
Pre-pandemic, 61 percent of Latinos and 53 percent of non-URPs expected to use loans to finance their degrees; that gap has now widened to 64 percent and 50 percent respectively.
Hispanic candidates are also now 5 percent less likely to plan to use personal savings for their GME journey, and they are turning to parental support for funding in greater numbers than previously. This change comes despite research that shows Hispanic families have less generational wealth than white families with the same educational level, suggesting that Hispanic candidates are having to dig deeper to find funding.
For school professionals, this means advertising financial aid opportunities front and center for URP candidates.
Learn more:
Further details on these insights can be found in our full Latinx Research Report, including: