How to quickly pivot your messaging to make it relevant for the candidates in real-time.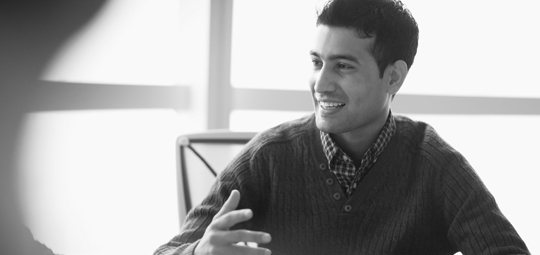 The coronavirus pandemic poses an unprecedented challenge to graduate management education, disrupting marketing and recruitment plans at a crucial stage of the admissions cycle for many global business schools.
In a climate of unprecedented change, business schools should look to continually re-evaluate and adapt their marketing messages in line with the changing behaviors and priorities of prospective students.
In the GMAC Connect webinar, How to Pivot Your Marketing Messages Amidst Constant Change, we shared an overview of the shifts in student choices in the context of COVID-19 and identified three key takeaways when it comes to adapting your marketing messages in a crisis.
1. Rapid insights can inform and shape your marketing messages during complex times
Having candidate data and market insights at hand is critical when it comes to forming a marketing plan. This is heightened in a time of constant change, when it's even more important to tap into the latest research insights to stay in tune with the changing needs and behaviors of candidates.
Between early-March and mid-April 2020, GMAC surveyed over 1,000 prospective students in three waves of data collection to show how study preferences and concerns are changing over time due to coronavirus.
Between March and April, concern over the jobs market grew, with the percentage of prospective MBA students reporting the jobs market as an area of concern in their pursuit of GME increasing from 13 percent to 53 percent. The percentage of MBA prospects considering delaying the pursuit of GME due to COVID-19 went up from 18 percent to 55 percent in that same time frame.
However, the majority of candidates have not abandoned their plans to go to business school—92 percent of MBA prospects and 94 percent of Master's prospects still plan to go to business school—even if their journey there has been a little disrupted.
Pivoting your messaging in line with insights about the candidate journey will help you secure a better return on investment from your marketing campaigns.
Find out how to pivot your marketing messages in a crisis in five simple steps, by completing the form below to read more.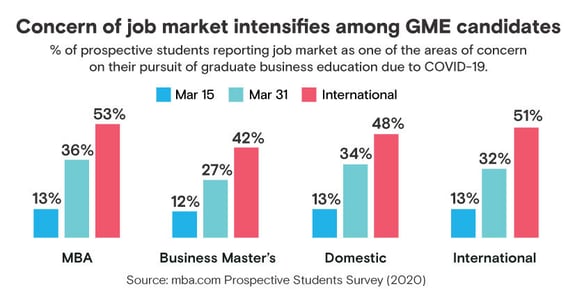 2. Be confident and be visible—the audience is out there and will remember brands that help them.
With the majority of candidates still actively considering GME, pausing your marketing activities during this time is counterproductive. Instead, business schools should stay present to keep brands top of mind for prospective learners.
The trick is to be conscious of the climate you're operating in; to adapt quickly to the changing situation and find the right balance in your messaging, adjusting what you say and how you say it.
Understanding the candidate audience and their changing behaviors is key, whether that's something as simple as a change in the time of the day prospective students are online or whether they're using mobile or desktop devices to engage with your marketing messages.
In this difficult time for candidates, showing that you are in tune with them and understand their changing needs can help instill a lasting sense of trust and value.
3. Balancing short and long-term marketing needs will increase your flexibility and impact
For GMAC too, responding to the coronavirus pandemic has been a learning experience.
In light of the crisis, candidates were initially confused about testing options and changing application deadlines. We had to balance a new short-term marketing need—to inform candidates about the latest developments and alleviate as much confusion as possible—with our long-term need to help candidates make informed decisions about GME.
And to support that long-term need, we had to quickly pivot our messaging to make it relevant to the audience of today. This continues to be an invaluable experience during which we are faced with a constant need to experiment, test, iterate, and be flexible to get the best results.
For business school marketing teams, learning lessons from this turbulent time will help you make a greater impact in the future.
Find out how to pivot your marketing messages in a crisis in five simple steps. Complete the form below to read more: