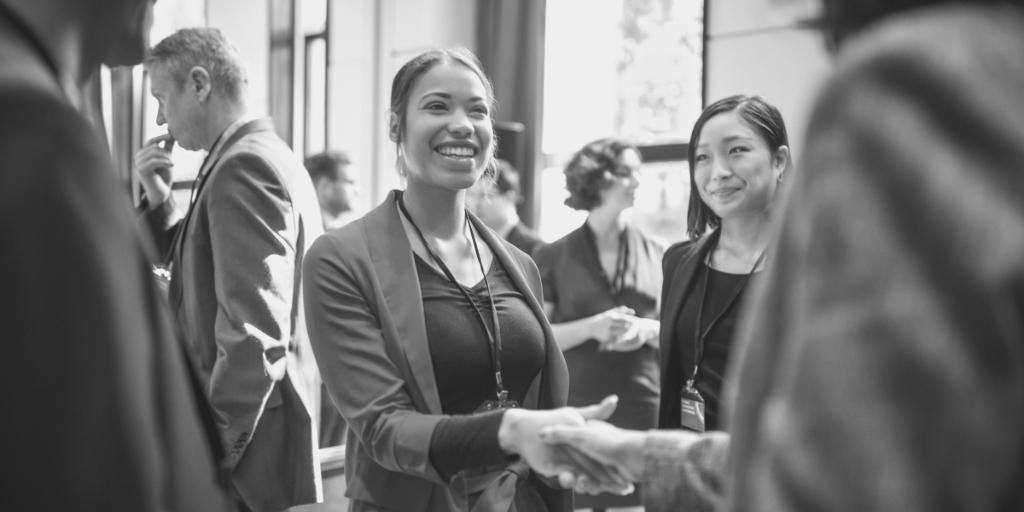 After the pandemic forced business schools' recruiting activities online in 2020 and 2021, in-person events have returned with a renewed focus. GMAC Tours' summer and fall program saw over 4,000 candidates attend in-person events across 28 cities.
In our recent webinar, GMAC Tours' managing director Danielle Boland sat down with Florizza Martinez, MBA recruitment and admissions manager at the University of Oxford's Saïd Business School, and Marissa Morgan, associate director of graduate admissions at Boston University.
They discussed the changes to in-person events since the pandemic and how schools can best engage candidates in this new environment. Here are their insights.
First, what's different about the candidates at in-person recruitment events post-lockdown?
The last three years have wrought many changes in our social and professional lives, so it is no surprise that this has altered not only candidates' preferences for GME, but the cross-section of professionals we are seeing at in-person events. Here are the headlines.
1. Candidates are more experienced
While the average age of applicants attending events has held roughly steady worldwide at around 28, regional trends show there has been a slight increase in average work experience, particularly in the US and Europe. In Europe for example, the average work experience is now around 5.3 years.
2. More undergraduates are seeking out in-person events
Although the majority of attendees remain in the mid-career age bracket and expect to apply to their chosen program within a year, the number of attendees who are still in undergraduate education is slowly rising, evidence of greater engagement earlier in the pipeline.
3. More women are attending events than pre-pandemic
A major jump worldwide can be seen in the number of women attending in-person events. In Canada, this figure has risen from 40% pre-pandemic to 46% in 2022; in Europe, 33% to 41%; in India, 29% to 31%; in Latin America, 39% to 44%; the US holds stable at 45%. Particularly for schools looking to improve gender equity on their programs, in-person events are a great place to do it.
4. Candidates are less decided on their desired career outcomes
There has been an overall increase in the number of candidates expressing no strong preference for any post-GME industry. In fact, allegiances to traditional MBA industries like strategic planning and management consulting have slightly waned.
5. Candidates are looking for an experience they can't get online
Above all, the biggest change to in-person events since the pandemic is that prospective applicants are more focused in their goals for the event itself. They are looking for experiences that they cannot get through virtual events like webinars, for instance:
Networking with admissions professionals

One-to-one advice about which programs to consider

The ability to freely browse between schools and courses

Development opportunities like GMAC's resume clinic
How can business schools engage candidates at in-person events in 2022?
With the ways in which in-person events have evolved over the last few years, how can business schools best present themselves to new candidates? Florizza and Marissa are seasoned attendees of GMAC Tours, and they provided their insight.
1. Email candidates before the event
Engaging candidates at an in-person recruiting event starts before they even set foot in the event venue.
Before your GMAC Tour stop, all schools are provided with contact details for the registered attendees. Ensuring that you reach out to these candidates and that they have information about your school is a key part of putting your program on their agenda.
But the candidates who've already signed up aren't the only ones you should reach out to. Florizza and Marissa both recommend also reaching out to the candidates already in your pipeline who are in the vicinity of your upcoming tour stop.
For Florizza, what works best is sending separate emails to each group in her pipeline:
Those already registered for the event through GMAC

Those registered for the event and with an expressed interest in Oxford Saïd

Those in her own pipeline who are nearby and planning to apply
Marissa keeps things simpler with one notification email for all candidates – unless she is organizing a meetup at the event, in which case she emails these candidates separately.
2. Experiment with product types based on your goals
There are many ways for schools to make their presence felt on GMAC Tours, from meetups to presentations to delivering a keynote address.
Both Marissa and Florizza recommend experimenting with different formats and sticking with what works.
"If you've never participated in an event, get familiarized with the products on offer – you do have different options," says Florizza.
She particularly recommends the keynote address for generating brand awareness as it gives you access to a wider audience. As an ambassador for Oxford Saïd, her goal on many tour stops is to raise awareness of Oxford as an achievable goal for ambitious professionals, so she has delivered keynote speeches on the topic of finding your best fit at business school.
Pay particular attention to not just which formats generate interest for your school, but where they are most effective.
"Sometimes the presentation goes better in a country in Southeast Asia and not in Latin America," Marissa expands. "Give each one a try if you're just getting started and see what works for you."
3. Don't put a barrier between yourself and the candidates
When it comes to enticing candidates toward your booth, Florizza and Marissa's advice is simple: Don't stand behind your table, stand in front of it. This makes you more accessible to candidates and enables you to spark more organic conversations. In fact, practice open body language at all times.
"Don't sit down during a fair, and put your phone away," says Marissa. "Don't just wait for people to come by the table – you need to be engaged in your body language."
This chimes with trends we have seen of candidates looking for an experience they can't get online. It's impossible to catch an admissions director's eye across a crowded Zoom call, but it is possible in-person, and candidates are actively seeking out these opportunities.
4. Speak to many people at once
Both Marissa and Florizza recommend maximizing efficiency by speaking to as many people as you can at one time. It might get overwhelming at times, but there are ways you can prepare.
"Peru was busy – there were over 400 people there, and a group of 20 to 30 came over," recalls Florizza.
"If you do find yourself in a situation where more than five people are at your table, prepare a five-minute speech covering the basics of the program and get them to stand around you."
Marissa agrees. "Try to speak to as many people at a time as possible and not have a line of people waiting for one-to-one conversations because everyone has similar questions," she says.
5. Send follow-ups
Just as engaging candidates starts before the fair, it also continues afterwards. Both Marissa and Florizza emphasize the importance of reaching out to candidates after the event, both by emailing a mailing list and in personalized communications.
Boston University offers application fee waivers for applicants from in-person fairs, and Marissa sends personalized emails to candidates with whom she had specific or deeper conversations – for example, introducing them to relevant faculty members.
At the event itself, Florizza also invites candidates to connect with her on LinkedIn and continue their conversations there.
We encourage you to watch our webinar recording for more information about how to attract an audience at in-person events. You can also visit our website to learn more about exciting changes coming to The MBA Tour and view the schedule for the 2023 spring Tour events.