Today it might sometimes seem like there's more data available than you can handle. With candidate leads coming in from a variety of sources, it can be hard to take the time to search for and make genuine connections with prospective business school students.
Doing so, however, is a key part of converting a potential candidate to an enrolled student. It requires a sophisticated data search system, allowing you to target prospects with personalized emails and nurture campaigns, all of which brings you closer to the candidate.
In the GMAC Connect webinar, Hidden Gems within the GMASS Search Service, we explained how to use GMASS to its full potential and identified three steps to take to better understand and connect with your candidate pool.
Step 1. Learn more about your candidate pool with GMAC insights
GMASS provides access to around 500,000 qualified candidates globally. You can target these candidates at each stage of the application journey, from those considering graduate management education to those who have already taken the GMAT exam and are ready to apply.
To do so effectively, you need to know more about your candidates, their professional backgrounds and future goals. Using GMASS, you can filter your search for candidates using over 30 categories, including current and post-degree industry and function, with over 2,000 unique combinations of search parameters available to you.
In this way, you can identify the specific candidate audience you want to target for a specific program. Once you've done that, understanding the kind of content those candidates are interested in will help you construct the most effective marketing emails.
In GMAC's 2020 Prospective Students Survey, candidates explained what prompted them to start considering graduate management education. Nearly half of the candidates surveyed told us they lacked the skills needed to move forward in their career, so it's a good idea to communicate how your program will help candidates develop those skills in your marketing emails.
Through reader surveys and audience data insights, GMAC-owned publishers BusinessBecause and mba.com have also identified key content areas of interest for candidates today.
These include the value of pursuing an MBA or master's degree, return on investment (ROI), practical admissions information, salary and career-focused content. Timely content—updates on visa changes or travel opportunities—as well as news related to the impact of COVID-19 can also attract a candidate's attention.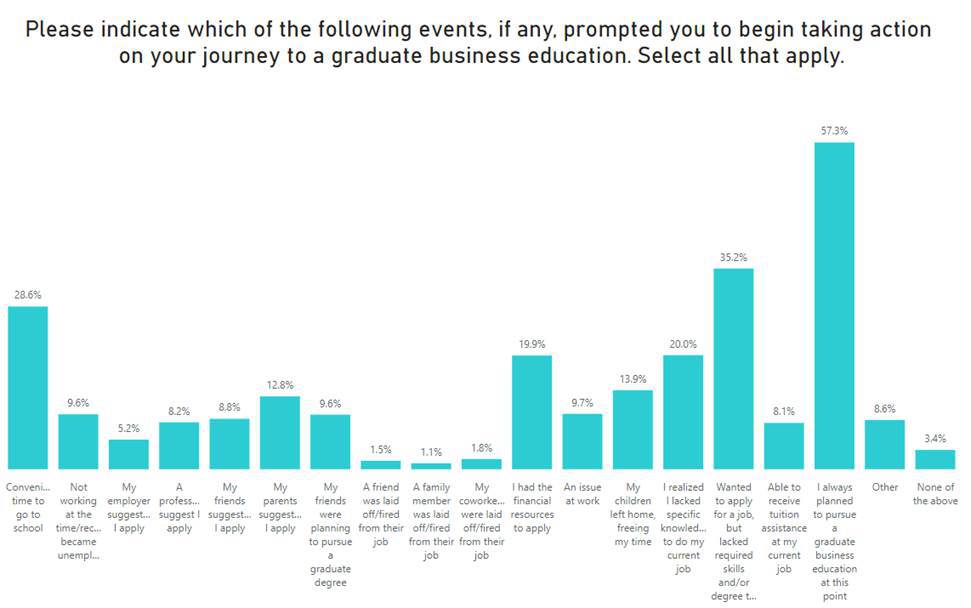 Step 2. Use data to personalize your messages
Betsy Kacizak, Director of MBA Admissions and Recruitment at the University of Wisconsin Madison School of Business, explained in the GMAC Connect webinar how she used GMASS to target candidates when promoting the school's MS in Supply Chain Management.
First, she searched for people who had expressed an interest in supply chain management as a post-degree industry. She then customized her marketing messages to focus on supply chain career outcomes, testing different emails and subject lines to achieve the best results.
When promoting a part-online, part-in-person Professional MBA program, Betsy increased the GMASS search criteria to reach a broader group of candidates, focusing on those that preferred a blended learning format.
When constructing your marketing emails, you should think about what makes your program unique and segment your marketing messages for your specific audiences. Think: Is your content fresh and relevant? Does it address your candidates' wants and needs? Does it match up with what you understand about your audience?
If you're targeting candidates interested in working in a certain industry, consider whether you can highlight a story of an alum in the same industry in your marketing email.
If you're targeting international candidates, know that the impact of COVID-19, travel restrictions, and visas are crucial factors for them. Tell international candidates what you're doing to help them in your nurture emails.
Step 3. Pivot your approach today and improve candidate engagement
There's a lot of competition for candidates, so how do you start taking some of these insights and better engage with potential candidates?
Here's some changes you could action today to fine-tune your marketing and recruitment approach:
Create look-a-like audiences from your GMASS leads for social media marketing campaigns.
Use LinkedIn In-mail for GMASS leads that you believe stand out from the list.
Target pre-test candidates with an upcoming GMAT appointment by sending them messages about why they should send their score report to your program.
Spend time improving your landing pages with one clear call to action, directly relevant to the candidates you're targeting.
If there are certain employers you know offer tuition reimbursement, or you have alumni tied to the employer, or the employer frequently recruits from your school, you can target candidates based on their employers too.
An average of 500 new candidates join the GMASS search service each day. Connecting and nurturing potential candidates is a continuous process: you need to understand candidates' changing preferences, test emails, pivot, and tailor your messaging accordingly.
Follow these three steps and ensure you don't miss the opportunity to engage with your next set of prospective students.
If you are interested in learning how to better connect with your candidate pool, please let us know how we can help, visit gmac.com/connect or email gmacconnect@gmac.com.