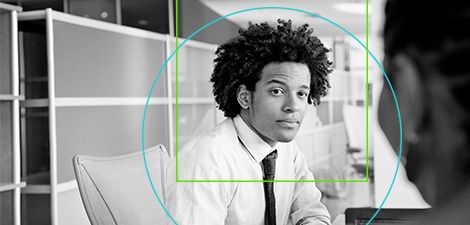 Texas Christian University (TCU) saw a need to not only grow its application pipeline, but also attract more diverse, out-of-state students. Director of MBA Admissions at TCU, Peggy Conway, needed creative ways to reach candidates. She turned to the Graduate Management Admission Search Service® (GMASS®) database to help her achieve the program's recruiting goals, including:
Using the GMASS database to identify and connect with strong candidates interested in studying at TCU.
Expanding geographic diversity of class and attract students from outside the region.
Increasing overall number of applications and growing class size.
Located in Fort Worth, Texas, TCU is an ideal location for MBA candidates. It neighbors over 20 Fortune 500 companies, more than 10,000 smaller headquarters, and the Dallas-Fort Worth metropolitan area, which has the largest concentration of corporate headquarters in the United States.
The university's student pool is diverse, and Texas ranks only second to California as the most common state from which students emanate. Its class of 2017 consisted of 20 percent undergraduate students coming from Texas, 45 percent from outside of Texas, and 35 percent from outside the US.
Conway was tasked with growing the diversity of the class from outside the immediate region while also increasing enrollment. "I wasn't just looking for candidates who would be a good fit, but for candidates who were more likely to be familiar with the school–whatever characteristics you can use to find a warm audience," Conway said.
Identifying and reaching candidates using recurring searches
Conway used the GMASS database to identify and connect with students who most likely want to study at TCU. She set up recurring searches to reach the newest candidates and received automated weekly reports.
"GMASS recurring searches are great because you get students coming in as they are most interested," Conway said.
Audiences were segmented using specific GMASS categories that targeted candidates based on where they went to undergraduate school. She also began recruiting students earlier by targeting GMAT® pre-test candidates at the start of their decision-making process.
Subsequently, Conway used weekly, recurring searches to engage with a smaller, more targeted group, using personalized, tailored messages based on where the candidate was in the process.
"Pulling the GMASS list for each week, including the [GMAT exam] pre-test candidates, was highly effective because the earlier you can talk to them, the better, and it's less expensive," Conway said.
The results
Using the GMASS database, TCU was able to increase ROI and drive a sizable portion of their incoming class."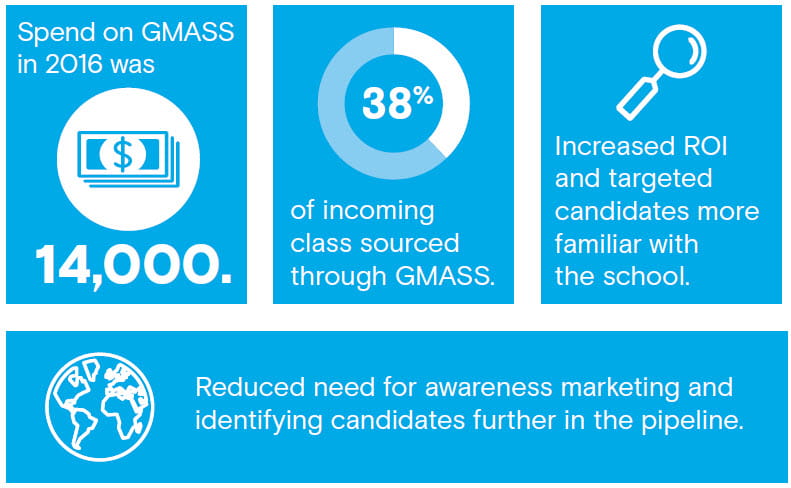 How Can the GMASS Global Database Help You?
Find the right mix of candidates to recruit for your program.
GMASS is an easy-to-access database that connects admissions and marketing professionals to the largest global source of qualified candidates interested in graduate management education.
With 500,000+ prospects who want to hear from business schools and more than 2,000 unique combinations of search parameters in 37 categories, you can target searches specifically for your recruiting and marketing needs.
Create awareness about new programs
Set up recurring searches
Find the right mix of candidates anytime, anywhere
Recruit early, before candidates have taken the GMAT exam
Enjoy a cost-effective way to reach candidates