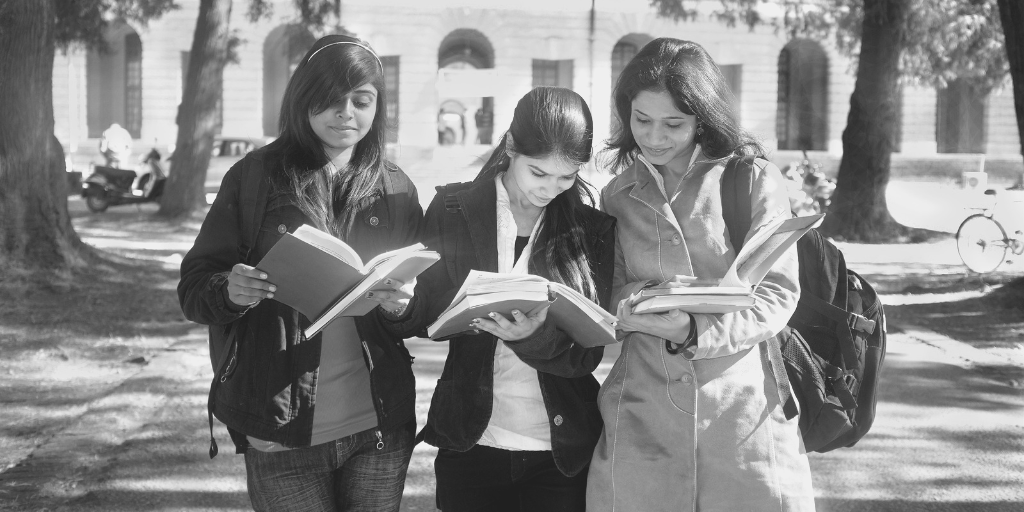 The report, "Indian Women Pursuing Graduate Management Degrees Domestically and Abroad – Insights and Inroads for Business Schools" is now out. It has important pointers on how business schools can bring down entry barriers for Indian women and offer them a level playing field in the GME arena, both at home and abroad.
Ancient India was known for its gender parity in all walks of life, including education and higher education. However, contemporary trends show a retraction and it reflects in India's 2019-2020 gender parity index, which stood at 1.01. In the MBA context too, India is behind the global average of 41 percent female representation. A renaissance in this respect is possible, the survey infers, and business schools can return better enrollment numbers of Indian women in graduate business programs, both domestically and abroad.
Report Roadmap
The narrative of this report is data-driven, supported by GMAT™ exam data and GMAC Prospective Students Survey. It firstly draws a comprehensive student profile of this cohort, offering policymakers a bird's-eye view of the target group. The demographic, economic, and other dimensions of this profile enable stakeholders to understand the issues and topical concerns that hold back Indian women from pursuing graduate business degrees. The brief illustrates candidates' academic backgrounds, their aspirations and expectations from a graduate business degree, their choice of subjects and curricula for the GME program, and their post-GME wish list in terms of preferred industries and work destinations. The latter part of the survey offers actionable solutions for business schools to engage more Indian women in the GME community.
The data points and analyses throughout the survey have the Indian and international segments juxtaposed, for a better contextual understanding of these two GME markets, which are often at a crossroads. For example, the below chart showing Indian candidates' post-GME preferred job functions poses stark contrasts to the interests of many international candidates. Strategy, missing from the top-5 list in the domestic category, hits the top spot in the international segment. And overall, the domestic segment, with general management and human resources management as the top two choices, creates a more "generalist" type of job function aspired for, while in the international category, a more "professional" profile emerges, with strategy and consulting as the top two preferences.
GMAC believes, such innovations in the survey will help domestic and international business school policymakers to form separate enrolment strategies, curricula, and recruitment initiatives for the two segments, where needed.
Post-GME preferred job functions (2021)
Distinctive Aspects
Apart from the mainstream elements, this survey also covers associated and fringe issues that influence Indian women's decisions on pursuing a graduate management degree. Some of them are marriage, motherhood, women's safety and security on campuses, inclusiveness in campus and decision-making activities, gender issues in recruitment, affordability, cost-effectiveness, and return on investment of graduate management education, and above all, maintaining work-life-home balance. Ms. Radhika Deb Roy, a career woman who postponed her MBA study at Wharton in 2020 due to the pandemic, does not wish to delay it further. She is concerned that such a move would disrupt her career, MBA study, and motherhood plans. "Your career cycle is running in tandem with your biological cycle. Friends and I have spoken about freezing our eggs," she quipped, adding that an opportune MBA will get her into a senior managerial role before she starts a family. Ms. Darsha Kikani, an IIM Ahmedabad alum with an illustrious management career behind her, has contributed to the survey with her experiential insights on improving Indian women's enrollment in GME.
With such marquee cases and contributions, the survey is primed to become a go-to resource for stakeholders who want to facilitate better representation of Indian women in domestic and global graduate business schools.
Summary
The theme for International Women's Day 2022 in India was, "Gender equality today, for a sustainable tomorrow." Like in many other domains, its ethos resonates in the business management universe across boundaries. The CEOs of Chanel, Gap, Vimeo, Capgemini Canada, IBM India, and other bellwether corporations are headed by Indian or expat Indian women leaders. Business schools can continue adding to this illustrious list by transforming their campuses into breeding grounds for Indian women talent. In many ways, this report tells how it's time to transform problems into possibilities and how it's time for femme-BAs, not just MBAs.