A new report examines the skills corporate recruiters say matter most to the roles they plan to fill with b-school talent.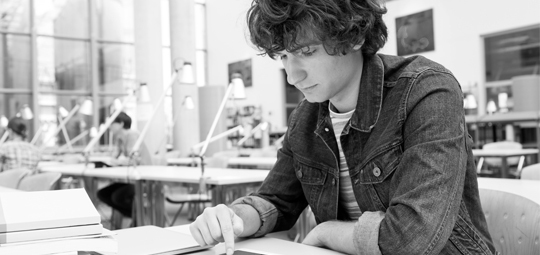 Central to the value proposition of graduate management education (GME) is that students who earn a degree will improve their employability—the capability to gain initial employment, maintain employment, and obtain new employment if required. For business schools to deliver on this promise, it's critical that school professionals in a variety of functional areas understand the skills today's employers are looking for in hiring recent graduates.
For program leadership and faculty, having a feedback loop from employers is vital to assessing their curriculum's relevance against current market demands. For career services, knowing what matters most to employers in making hiring decisions can provide actionable insights to help position their students for success as they apply for competitive jobs. What aspects of a student's resumé or business school experience should be put front and center to get an interview? Having good data on what employers in different types of companies think are the most important skills for their job openings is essential to business schools in delivering on the promise of improved employability.
A new report published last week to the research library of gmac.com provides timely insight into what today's employers look for in hiring recent business school graduates, how they make their employment decisions, and how they judge business schools on preparing their graduates for success.
Based on data from more than 1,200 responses to GMAC's annual Corporate Recruiters Survey, the new report shows that by a wide margin, problem solving and working with others are the skills that recruiters say are the most important for the job openings they plan to fill with business school graduates. From a list of 10 skills, the majority of recruiters select these two skills as among the top three most important.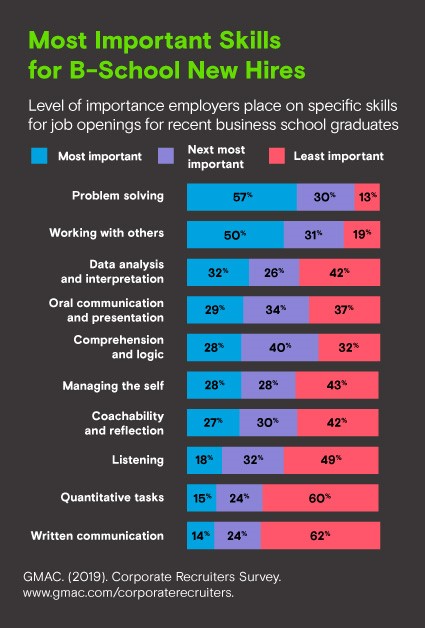 Across company characteristics—including world region, company type, industry, and company size—these two skills are identified as the most important. There are, however, some interesting differences in skill demand by company characteristics, all of which are detailed in the report. For instance, Asia Pacific companies tend to rate the importance of data analysis and interpretation skills as more important than companies in Europe and the United States.
Compared with larger companies, smaller companies rate written communication, managing the self, coachability and reflection, and listening as more important to their current job openings. Larger companies rate the skills of data analysis and interpretation, working with others, and oral communication and presentation as more important. Similarly, startups tend to rate several soft skills as relatively more important to their current job openings, including coachability and reflection, managing the self, and listening. Companies in the Fortune Global 100 and 500 tend to rate several hard skills as relatively more important, including data analysis and interpretation and oral communication and presentation. Recruiters in the technology industry place the most importance on the skills of problem solving, working with others, and comprehension and logic. Compared with the technology industry, employers in the consulting sector place more importance on quantitative tasks, oral communication and presentation, and written communication.
Survey respondents were also asked to evaluate how well recent business school graduates are prepared with the same set of skills. The vast majority of recruiters say graduates are adequately prepared or very well prepared in the 10 skills. By a slight margin, recruiters give their most favorable review to graduates' skill preparation for quantitative tasks and oral communication and presentation.
The graphic below—taken from the report—plots the level of importance employers place on skills for job openings they plan to fill with business school graduates against employers' evaluation of how well business school prepares graduates with those skills. Skills in the top right quadrant are skills that employers say are both important to their job openings and skills that they say business school graduates are well prepared in. For more, access the report.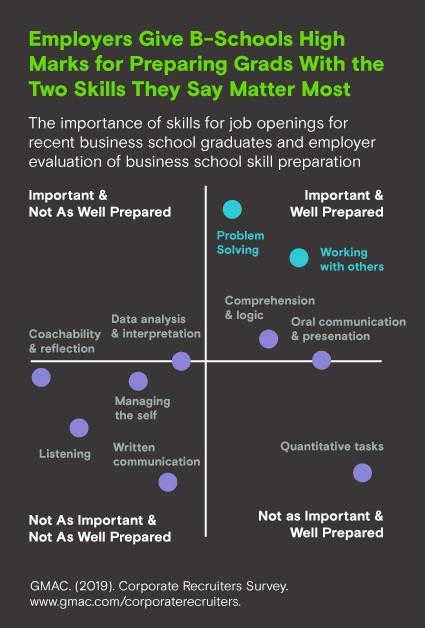 For more from the Corporate Recruiters Survey, including trends in hiring and compensation for MBA and business master's graduates, access the Business School Hiring Report: Corporate Recruiters Survey 2019 in the GMAC Research Library and read coverage on GMAC Advisor.