Now available as a recording, last week's webinar broke down the current state of the market for European programs.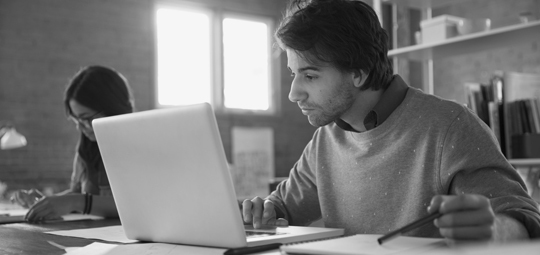 On November 6, GMAC Research digitally hosted business school professionals from across Europe for the European Application Trends Survey 2019. Based on the findings detailed in our Application Trends Survey Report 2019, the 30-minute presentation discussed global demand for GME and did a deep dive into the state of the market for European programs. The webinar recording, slides, and transcript are now available to school professionals in the gmac.com Research Library (requires login).
Here's a quick recap of what we covered:
Global Demand for GME
Though total applications to graduate management education (GME) programs declined slightly year-on-year (-3.1%), global GME remains selective, programs continue to seat classes with highly qualified talent, business school graduates continue to be in-demand with employers, and alumni express high levels of satisfaction.
For instance, 90 percent of European employers agree that business school graduates are well prepared to be successful in their company and about 7 in 10 European companies planned to hire Master in Management (MiM) and MBA talent this year. Nine in 10 alumni agree that their GME was personally and professionally rewarding and would still pursue their degree again knowing what they know now.
International Student Mobility
Ongoing mobility shifts continued to take hold in the market this year. A growing number of Asia-Pacific candidates opted to stay either in-country or in-region, and internationally minded candidates sent more applications to Europe and Canada and fewer to the United States.
Looking specifically at Europe, the percentage of international business school candidates that planned to apply to a European program increased from 63 percent in 2017 to 69 percent in the first half of 2019. Most responding European programs report year on-year increases in international applications (56%), though half of those programs indicated they were up only slightly. International applications were up 0.9 percent at programs that responded to both this year's and last year's surveys.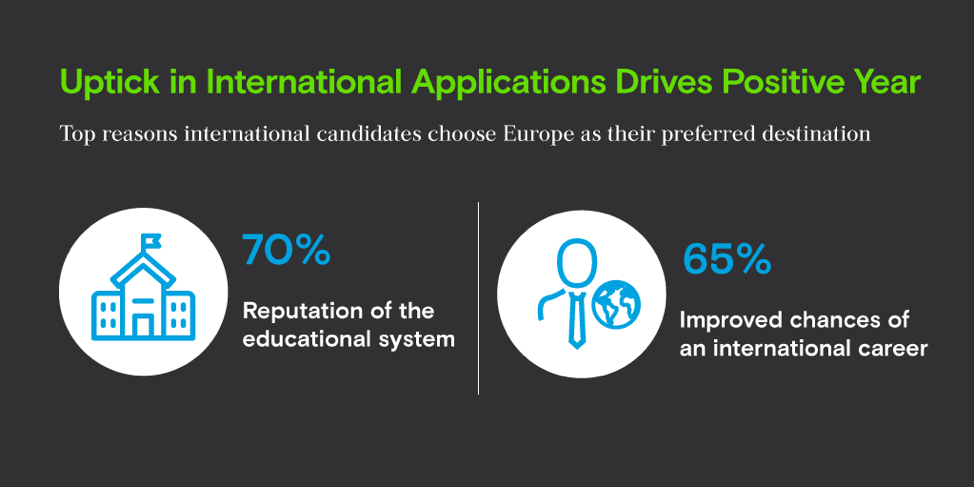 Europe Deep Dive
Like past years, the vast majority of applications to European programs came from international applicants (79% on average this year), mostly from non-European citizens (59%). Among programs that responded to both this year's and last year's surveys, total applications were up 1.0 percent, domestic applications were up 1.3 percent, and international applications were up 0.9 percent.
Nearly 2 in 3 European full-time one-year MBA programs report total application growth this year (63%). Consistent with past years, the applicant pool for these programs was heavily international (88%). Sixty percent of programs grew their international application volume this year.
Despite strong application volumes from international candidates, most European business master's programs report total application declines. Consistent with past years, the vast majority of applications to European Master in Management and Master of Finance programs were international this year (81% and 87%, respectively). Despite the majority of programs reporting year-on-year increases in international applications, it wasn't enough to prevent most programs from reporting declines in total applications. Fifty-two percent of Master in Management and 53 percent of Master of Finance programs report total application declines.
To close the deep dive, we discussed how UK programs have yet to see significant negative impacts to their international applications as a result of Brexit. Three in 4 UK MBA programs report that their international application volumes either grew (64% of programs) or held steady (11%) compared with last year. Only 25 percent of programs received fewer international applications than last year, and most of them were down slightly (18%). As detailed in our March Brexit report, survey responses from late last year of non-UK citizens who sent a GMAT score report to a UK business school program show that 54 percent say Brexit has no impact on their decision to study in the United Kingdom, up from 46 percent two years earlier.
Making the Most of Your Participation
To round out the presentation, we reviewed how school professionals in Europe can get the most out of their programs' survey participation by leveraging two data tools made available exclusively to participating programs:
The data report provides users with the ability to explore and filter the survey data by program type, world region, and program start date
The benchmark report allows users to compare your program with five or more other programs that responded to the survey
All participating programs received a custom link to these tools via email from research@gmac.com. If you need your program's link resent, please send us an email.
For more on the Application Trends Survey, visit gmac.com/applicationtrends to access the 2019 report and the infographic series, including the Europe infographic.