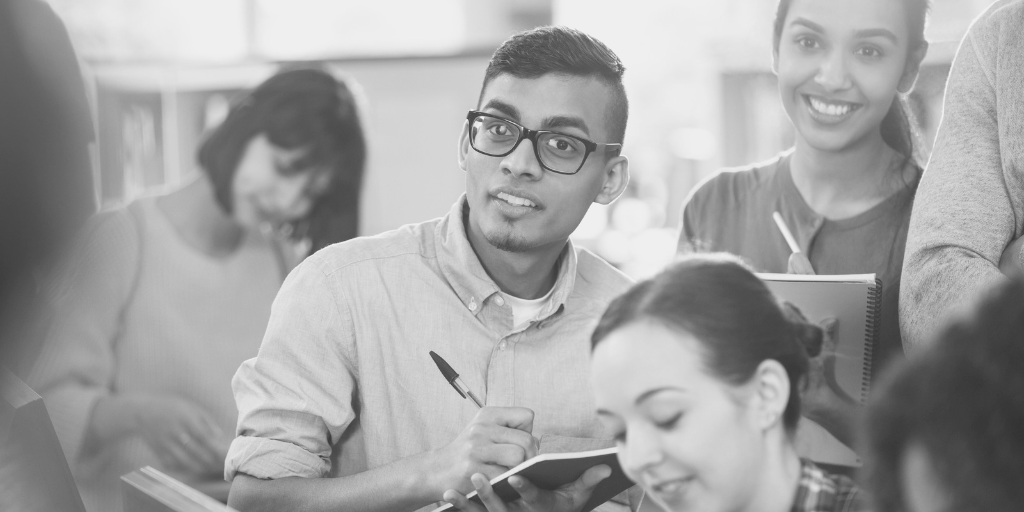 Graduate management applications are down, but business schools are continuing to attract underrepresented populations to GME programs worldwide. These are the latest findings of the Graduate Management Admission Council's (GMAC) Application Trends Survey, an overview of application trends to business school programs worldwide.
This year's edition of the report features insights from 950 business programs at 264 institutions, across 33 countries. Above all, this year's survey highlights the challenges that business schools have endured in 2022.
Most noticeably, the survey results show that global GME applications are trending down in comparison to previous years. However, there are positive results, too; for example, international applications and applications from underrepresented populations increased.
In the most recent GMAC Research webinar, GMAC Application Trends 2022: Measuring the Market, we took a detailed look at the results of the survey, uncovering the most important insights in global application trends.
Here are the top three takeaways from the report.
1. Globally, GME applications are declining after their pandemic boost, but applications for pre-experience business master's programs are on the rise.
One of the starkest takeaways from the survey is the decline in applications to GME programs worldwide. Total applications dropped 3.4 percent year-on-year, and 54 percent of programs globally reported year-on-year reductions in applications.
This trend was also consistent among global MBA programs. Overall, MBA program applications dropped 6.5 percent year-on-year, the largest annual decline since 2019. As with global applications, a higher proportion of MBA programs reported application declines than growth (60 percent vs. 37 percent).
In part, this global trend can be attributed to a gradual return to a more stable job market. Applications to GME programs tend to increase during periods of job market instability, as proven by the relative uplift in GME applications in 2020 during the Covid-19 pandemic.
However, with economies returning to their pre-pandemic stability, many prospective students are choosing to remain in the job market rather than obtain a GME degree.
However, this trend was not apparent for pre-experience business master's programs this year. These degrees resumed their year-on-year rise, with applications increasing 3.2 percent overall. A slightly higher proportion of business master's programs this year also reported application growth compared to 2021 (48 percent vs. 42 percent).
2. International applications are increasing across all GME program types.
While overall global trends point to a reduction in GME application rates, the same can't be said for international applications. Instead, while most MBA and business master's programs are seeing a decline in domestic applications, international applications have seen increases.
For example, 75 percent of full-time two-year MBA programs saw reduced applications in 2022, while 64 percent of those same programs reported rises in international application rates. The same trend was reported for all other MBA program types, though the largest discrepancy was for full-time two-year MBAs.
Among business master's degrees, a significant number of Master of Finance and Master of Management programs reported domestic application declines (71 percent), while international applications for these programs increased by 48 percent and 44 percent respectively.
Master of Information Technology programs saw the smallest proportion of global programs reporting declines in domestic applications (43 percent), possibly pointing towards global growth in the industry as a whole.
The growth in international student applications can also be tracked across global regions, in particular those regions that have previously struggled with international numbers.
For example, 60 percent of GME programs in Latin America reported increased rates of international applications. Similarly, international applications to programs in Greater China (encompassing mainland China, Taiwan, and Hong Kong) rose by 44.3 percent year-on-year.
3. Business schools globally are growing applications from underrepresented populations, namely women.
As well as growing international applicant numbers, business schools also reported an increase in applications from women. In U.S. business schools, women make up an average of only 41 percent of the MBA student population, yet the results from the Application Trends Survey show that worldwide progress is being made.
Over half of business schools in MEA, APAC, and Europe either grew or maintained the numbers of women applying to GME programs. Across Europe and the Asia-Pacific region, for example, growth in women's applications has generally trended upward since 2019.
Significantly, programs in the Middle East and Africa also reported a 75 percent increase in the number of female applicants. In Greater China, there was a 69 percent increase in the number of female applicants.
While female application numbers were down in the U.S. year-on-year, certain GME programs in this region did report increased application numbers from other underrepresented populations. These programs include the Master of Data Analytics, Master in Management, and Flexible MBA.
A challenging year for GME?
Based on the decline in global applications alone, it's easy to conclude that GME programs have experienced a challenging year.
However, as additional data from the report demonstrates, applications for particular programs, and for particular demographics, are rising. On the whole, then, the report reflects a gradual return to economic stability globally and demonstrates the progress being made by business schools in widening access to GME.
To learn more about our research on this year's application trends, watch our latest webinar recording entitled GMAC Application Trends 2022: Measuring the Market.