GMAC is launching the first ever virtual MBA Tour this summer, and it's poised to be a gamechanger for student recruitment.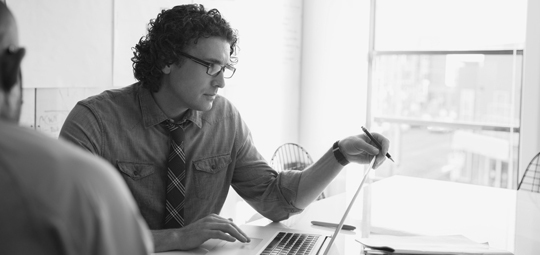 Delivering education and recruiting students in person stopped abruptly this spring, which presents an enormous challenge to business schools. Prospective students are cautious right now as they consider whether they want to study online. At the same time, they have questions, and they are eager for answers. Though schools cannot address these concerns in-person, virtual events can bridge that void.
GMAC is launching the first ever virtual MBA Tour this summer, and it's poised to be a gamechanger for student recruitment.
Prospective students are still considering business school
In spite of the pandemic, a recent mba.com Prospective Student Survey found that prospective business school students remain determined to pursue a graduate management education (GME) degree. Only five percent of the nearly 500 respondents said they would no longer pursue a graduate business education due to the impact of COVID-19. A majority said they are not considering alternatives (54%) and another 29 percent said they would only delay the pursuit of GME.
This highlights the need for graduate business schools to continue to actively connect with prospective students, address their concerns and inform them of their options. Prospective students are wondering if online classes will as valuable and rich as the in-person experience. They are deciding if they should delay and apply next year. Those who have accepted are deciding whether to show up in person or not. A dialogue that allows business schools to address these questions is critical for reinforcing the value of GME.
Virtual events open up new opportunities
In some ways, going virtual is even better than meeting in-person. In-person events always pose logistical challenges. A business school from the US might visit South Africa once a year but only have time to stop in Johannesburg due to the expense. A virtual event allows anyone in South Africa to attend, thus making events much more inclusive. It also allows us "to ensure talent never goes undiscovered." Even after the pandemic ends, The MBA Tour will continue to host virtual events.
GMAC's new matching algorithm, which was designed to help a candidate expand their horizons and connect them to schools or programs they might not know about, is a big gamechanger.
Very often, candidates don't have the right tools to assess what programs are the best fit for their aspirations. They only look at brands they know, and they may miss the schools that are a better fit. The algorithm analyzes and measures demographic, psychographic and behavioral data to provide recommendations. Candidates can now easily find schools that are looking for candidates like them and that have the program features they are looking for, such as a strong alumni network in a specific industry or a program that focuses on marketing.
This level of matching has never been done in-person or online. The algorithm just happened to launch when we had to pivot to virtual events. It will be used to match schools and candidates for MeetUps, thus allowing for more effective discussions between business schools and candidates.
The MBA Tour virtual platform itself is user-centric with a content-rich environment to make the virtual experience fun and meaningful. And the platform makes it easier to include alumni and current students, to whom prospective students are especially interested in connecting. A May 2020 survey of MBA Tour event registrants found that while prospective students rely on admission representatives for details about the application process and how to finance a degree, they have a strong preference to hear from current students and alumni on topics such as assessing fit and international study.
Virtual events provide a high level of added convenience to include these constituents, as schools are no longer restricted by geography. A graduate of the Kellogg School of Business at Northwestern University in Chicago who now lives in Miami can attend an event for Seattle-area residents.
Welcome to the virtual MBA Tour
When the MBA Tour began to re-imagine our in-person events, we tackled two questions – what kind of experience will serve prospective students best, and what can we provide that schools can't easily do on their own?
We were keenly aware that the students pursuing GME today have high standards for their digital interactions – they are called digital natives for a reason – so we created an event experience that is interactive, intuitive and rich in value. GMAC and the MBA Tour made a significant investment in a platform that provides ample opportunities for replicating valuable components of in-person events, such as MeetUps. But we also went a step further. Recognizing that students come to us at different stages in their journey, we upped the ways in which they can interact and access content to ensure we engage them individually. We also increased the ways in which a school can capture their attention and start the dialogues that lead to a strong candidate pipeline.
In addition, we know that students are bombarded with individual invitations to connect with schools. By bringing all relevant parties under one roof – schools, alumni, current students, even faculty, as well as GMAT, test prep, admissions consultants – we have created a "one-stop shop" that will help students move forward in their pursuit of GME.
The MBA Tour is launching on July 7, and virtual tours are taking place in 48 cities across the United States, Latin America, Asia-Pacific, Europe, the Middle East and Africa. GMAC continues to monitor the impacts associated with COVID-19 and will make future event determinations based on health, safety, and travel considerations. Registration is now open for schools and attendees that wish to participate.
Candidates and schools can visit thembatour.com/virtual-events to learn more about The MBA Tour virtual events.