Three-quarters of the world's female full-time MBA candidates are citizens of just three countries.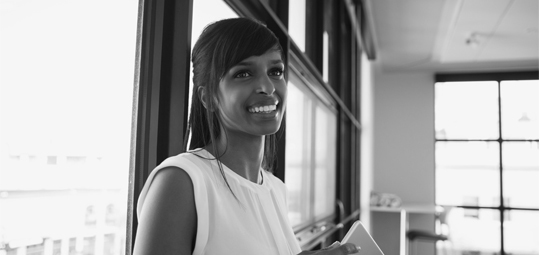 By some measures, women's interest in business school is at an all-time high. For example, in the most recent testing year (TY), women accounted for 46.3 percent of the total number of GMAT exams taken, up from 39.5 percent 10 years ago and the largest share in the history of the exam. But while women's representation in the overall GME pipeline nears parity, data from GMAC's annual Application Trends Survey demonstrates that the full-time MBA pipeline still has a way to go. Though multiple pre-experience business master's program types have reached gender parity or near parity in their applicant pools—including Master of Accounting (54% of applications from women in 2018), Master in Management (50%), and Master of Finance (43%)—women accounted for 38 percent of applications to full-time MBA programs in 2018.
To be sure, progress has been made. Ten years ago, women accounted for just 32 percent of full-time MBA applications, and among full-time MBA programs ranked in the Financial Times top 100, the median percentage of women's enrollment has increased from 30 percent to 36 percent between the 2010 and 2019 editions of the ranking. While this is promising, clearly more work remains to be done. In an effort to spark ideas and help school professionals develop new perspectives on this issue, earlier this year GMAC Research published a brief titled Women and the Full-Time MBA: Continuing the Push for Progress, which blends GMAC research findings with the perspectives school professionals in discussing four topics related to women's full-time MBA recruitment.
Examining the latest GMAT testing data also provides useful intelligence for business school admissions and recruitment professionals on what are the key country markets to focus on to grow their number of full-time MBA applications from women. Among global unique female GMAT examinees that sent at least one score report to a full-time MBA program in TY 2018, the top three countries by citizenship account for nearly 3 in 4 female MBA candidates (74%): the United States (39%), India (18%) and China (17%).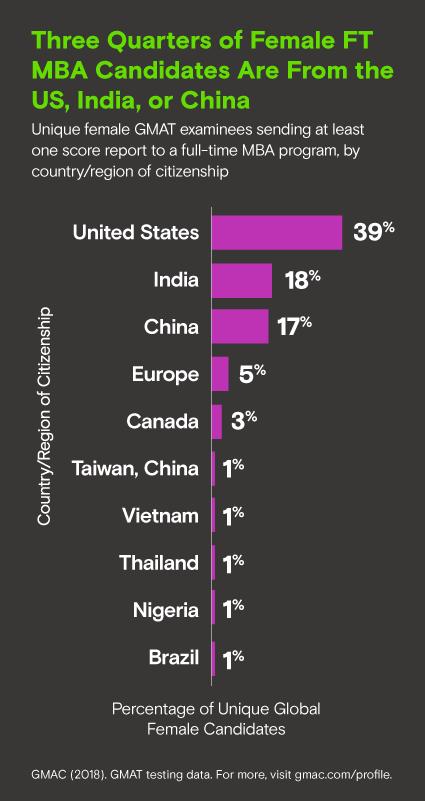 Understanding key differences between these country markets can further inform your approach to recruitment. For instance, female candidates from China are on average one year younger than those from the United States and India (25 vs. 26) and have on average one less year of professional work experience (2 vs. 3). Chinese candidates, however, have a higher median GMAT total score (641) compared with Indian candidates (607) and US candidates (564). Most female candidates from India were engineering majors as undergraduates (54%), while Chinese candidates were mostly business majors (55%). Among US female candidates, 45 percent were business majors, 22 percent were social science majors, and 9 percent were science majors. Humanities and engineering majors account for 8 percent each of US female candidates. More demographic details about GMAT examinees can be explored in the GMAT Geographic Trend Report: Testing Year 2018 – Excel File (requires login).
Another way to view country markets for female full-time MBA talent is to look at countries not by their total number of female candidates, but to identify the country and regional markets with the highest proportion of female MBA candidates. In viewing the data among country markets with at least 50 unique female full-time MBA score senders, a trend emerges that multiple country markets in East and Southeast Asia are majority female, specifically Vietnam (64% of full-time MBA candidates are female); China (61%); Taiwan, China (55%); and Thailand (54%). Also majority female is Nepal (53%).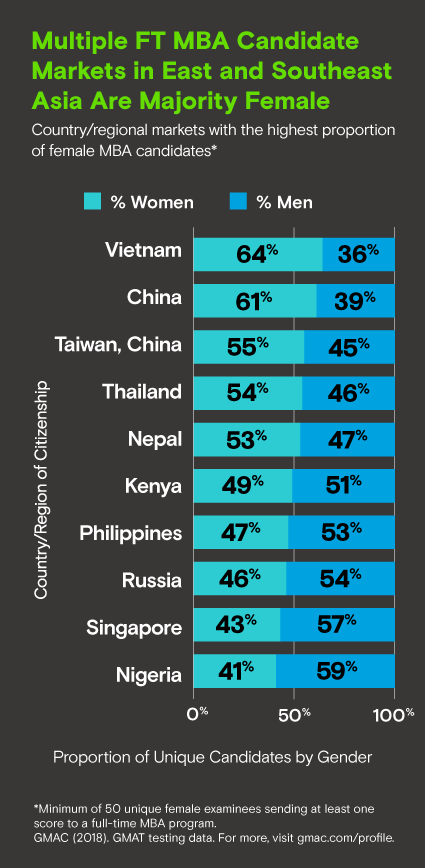 GMAC recognizes the critical importance of gender diversity in GME and is committed to continuing to provide the industry with timely market intelligence to inform school's recruitment initiatives. You can access past research publications related to women's recruitment in the gmac.com research library, under the topic diversity enrollment, including the white paper, What Women Want: A Blueprint for Change in Business Education and a research brief on aspiring female entrepreneurs in the business school candidate pipeline.