A new report details employers' level of requirement for, and level of difficulty in finding, 29 skills among recent graduate business degree earners.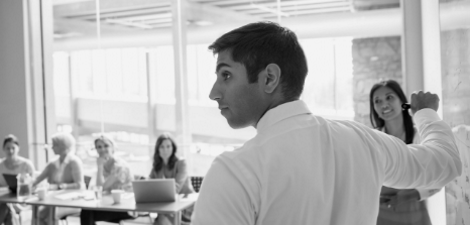 The knowledge, skills, and abilities (KSAs) companies require from their employees are in a constant state of evolution, and today's rapidly shifting business landscape puts significant pressure on graduate management education to keep up with changing needs. Business school programs and their students require timely insights from employers to ensure the skillsets they focus on are in sync with current market demands.
A new report from GMAC Research based on the results of the 2018 Corporate Recruiters Survey highlights the KSAs companies most frequently require from new business school hires and identifies the KSAs that companies have the most difficulty finding in the talent pool of recent business school graduates.
Specifically, employers were asked to rate their company's level of requirement for, and level of difficulty finding, ten general KSAs and 15 specific skills and attributes, as well as the four specific skills measured by the Integrated Reasoning (IR) section of the GMAT exam, which together measure examinees' ability to synthesize, interpret, and make judgements on data from multiple sources. Those four skills are:
Evaluate – The ability to evaluate relevant information from different sources
Organize – The ability to organize information to see relationships and to solve multiple, interrelated problems
Combine – The ability to combine and manipulate information from multiple sources to solve complex problems
Synthesize – The ability to synthesize information presented in graphics, text, and numbers
Overall, the survey findings show that employers most frequently require that new business school hires have the skills of working with others (required by 93% of responding companies), self-management (89%), problem solving (87%), adaptability/flexibility (86%), and listening (86%). The findings also demonstrate how some skills are easier for employers to find than others. Overall, the skills employers most often say are difficult to find are the IR skill of combine (55% of employers say it is difficult to find), the IR skill of organize (52%), leadership (48%), and strategic planning (44%).
The skills that employers most often say are both required and difficult to find have the greatest value in the marketplace because they are in high demand and scarce. The report details how across all word regions and industries, the two skills employers most frequently report as being both required and difficult to find are the IR skills of combine and organize. The report details differences in the intersection of skill requirement and difficulty of finding skills across world regions and industries.
Business schools may want to use this information to assess their curriculums' relevance to current market demand. Schools and faculty can use these insights to assist their students in developing skillsets that employers value. Career services offices can use this information to coach students in the development of their resumes and provide guidance for the hiring process. Similarly, business school students and recent graduates can use this information to determine areas for which they may require additional instruction or preparation. In addition, they can use this information to guide their job search and tailor their resumes to stand out in a competitive labor market.
The 2018 Corporate Recruiters Survey was conducted in February and March 2018 in association with career services offices at 96 participating graduate business schools worldwide. Analysis is based on responses from 1,066 employers in 42 countries worldwide who work directly with participating business schools. For more, access the 2018 Corporate Recruiters Survey Summary Report.