The Application Trends Survey Report 2019 analyzes demand for graduate management education globally and by program type and location.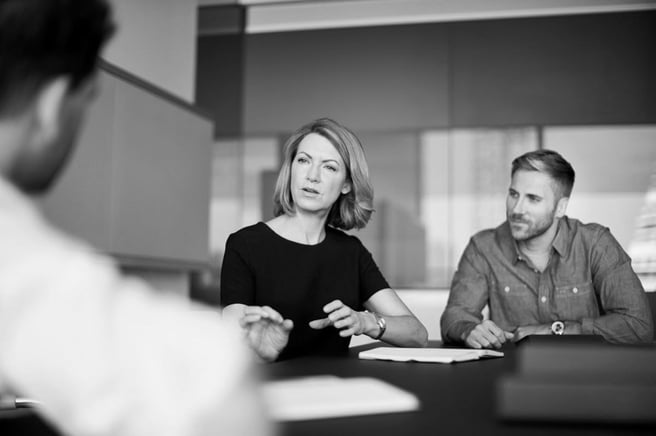 Despite a dip in total applications, graduate management education (GME) remains selective and programs continue to seat classes with high-qualified talent, according to the findings detailed in the Application Trends Survey Report 2019, which published on gmac.com yesterday. Based on survey responses collected from 1,145 programs at 336 business schools worldwide, the report offers timely insights on global demand for GME as well as application volume trends by program type and world region.
While overall about half of responding programs received fewer applications than last year (52%), and a weighted average of responses shows a 3.1 percent dip in total applications, the median number of applications per seat was about the same as last year (2.5) and nearly 9 in 10 programs say their applicant pools were equally or more qualified compared with last year's pool of applicants.
Analysis of survey responses by program location show the continuation of the shifts in international student mobility that have taken hold in the evolving GME landscape, which has been a boost to Asia Pacific, European, and Canadian programs and a detriment to the United States. As detailed in the key findings of the report, the data reveals that more Asia-Pacific candidates are opting to stay close to home for business school, and those that do apply outside the region are increasingly exploring opportunities in Europe and Canada. International applications were down at nearly half of responding US programs this year (48%), with 23 percent of programs reporting significant declines. International applications were down 13.7 percent at US programs that responded to both this year's and last year's surveys.
These themes are explored in depth in a new GMAC white paper titled Early Warning Signals: Winners and Losers in the Global Race for Talent, which was also published yesterday. Created in partnership with the Fuqua School of Business at Duke University, the paper explains the importance of mobility to economic development using Application Trends Survey data as an indicator of the global flow of talent. By drawing attention to this issue, GMAC hopes to encourage policymakers in different world regions to take steps to improve talent mobility, offering policy recommendations to help governments better facilitate the cross-border movement of students and workers in the modern knowledge economy. Visit gmac.com/talentmobility to access the white paper and learn more about how you can help drive awareness of this initiative.
Additional findings of this year's Application Trends Survey include:
STEM-certified US programs were more likely to report growth in international applications.
Large, highly-ranked US full-time MBA programs saw the steepest declines in applications.
Online options tended to see more application growth than part-time and flexible MBA programs.
Master of Data Analytics continues to be a bright spot, but their growth is slowing.
UK programs have yet to see significant negative impacts to their international applications as a result of Brexit.
A mostly favorable outlook in Asia Pacific this year was driven by more candidates staying in-country or in-region.
For more on the Application Trends Survey, join GMAC Research for one of our three regional webinars in which we'll discuss our analysis of global demand for GME and do regional deep dives into the state of the market in the United States, Europe, and Asia Pacific.
US Application Trends 2019 – Wednesday, October 30, 2019, 12 pm ET
European Application Trends 2019 – Wednesday, November 6, 2019, 2 pm GMT
Asia-Pacific Application Trends 2019 – Wednesday November 13, 2019, 12 pm HKT
These complimentary webinars will be of particular interest to business school professionals in each respective region that work in the functional areas of admissions, recruitment, and marketing, in addition to business school leaders generally.
To access this year's report infographic and prior year's reports, visit gmac.com/applicationtrends.