Ten years of data from the mba.com Prospective Students Survey reveal insights and trends on candidate decision making.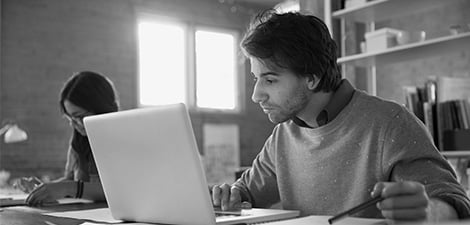 Over the last 10 years, graduate management education has evolved in a number of meaningful ways that have expanded candidate choice. Beyond the traditional program options, candidates now choose from an expanded portfolio of more specialized offerings, including programs available in a variety of different formats and delivery methods. At the same time, the number of high-quality business school options around the world is greater than ever before, expanding the geographic scope of many candidates' program search.
Over this period, GMAC Research has been surveying mba.com registrants with a consistent slate of core questions to gain an inside look into the candidate decision-making process along the journey to graduate management education. A new report published this week on gmac.com titled Demand for MBA and Business Master's Programs: Insights on Candidate Decision Making analyzes these survey responses over time and provides insights into candidate considerations, preferences, and attitudes related to their business school choices.
The findings detailed in the report show that to narrow their GME choices, about half of candidates say their first consideration is determining the type of degree program they want to pursue (47% of candidates). The findings also demonstrate that even as program options have expanded, the MBA remains the most popular offering in GME among mba.com registrants. Overall, 4 in 5 candidates are considering an MBA program type (79%), and 3 in 5 candidates prefer an MBA program type (61%). In fact, consideration of both full-time one-year and two-year MBA programs has increased in recent years. Among business master's program types, the Master of Finance is the most considered (24%), followed by Master of Data Analytics (19%), which has grown its consideration each year since it was added to the survey in 2013.
While the percentage of candidates who plan to apply to international programs (programs outside their country of residence) has held steady over the past five years, their study destination preferences have recently shifted. Among candidates who plan to apply internationally, preference for the United States as their study destination has declined sharply over the last two years in an acceleration of the long-term, gradual decline seen over the previous eight years. After declining from 54 percent to 48 percent between 2009 and 2016, preference for the United States declined to 44 percent in 2017 and 40 percent in 2018—a trend likely driven in part by the current political climate. Between 2016 and 2018, preference for Western Europe as a study destination among the same segment of international candidates grew from 31 percent to 40 percent.
A separate supplemental report provides detailed breakdowns of 2018 candidate survey responses by a number of variables of interest to school professionals, including by program type, candidate country of citizenship and residence, and candidate preferred study destination. School professionals at GMAT score-accepting institutions also have access to the interactive data research tool, which allows them to customize data searches by multiple survey response variables such as candidate segment, citizenship/residence, gender, age, preferred program type, and more (requires gmac.com login).
How do schools use the mba.com Prospective Students Survey to stay up-to-date on trends in candidate demand? Watch this short video.
In May, GMAC Research will publish another report based on the findings of the mba.com Prospective Students Survey focused on candidates' post-graduate management education career interests, including goals, industries, and job functions. Visit the mba.com Prospective Students Survey homepage at www.gmac.com/prospectivestudents for more information about the survey and to view past research reports.