"Commiserate, Ideate, and Celebrate," Sabrina White, vice president of market development at GMAC, kicked off the conference with this powerful phrase. Over the next few days, I would connect with hundreds of colleagues from across the globe who spoke my language of graduate management education like never before.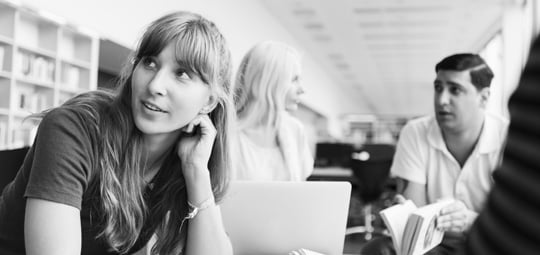 I have worked in admissions for about seven years and have been at the Carlson School of Management for the last two and a half years. I hold a bachelor's in history and a master's in school counseling, so my transition to graduate business education came with a steep learning curve. In my first year, I attended GMAC's Admissions Institute for New Professionals (AINP) program. Now, a year and a half later, I was lucky enough to gain additional professional development by attending GMAC's Annual Conference. To use an MBA analogy, AINP was like my core courses and the GMAC Annual Conference has been my specialization—a way for me to add on to my foundational knowledge of business and to learn more information specific to my role, institution, and the MBA landscape.
There were several sessions to choose from each hour and a half, and to be honest, it was a bit overwhelming. I wanted to make sure I was picking sessions that were relevant to my role and our programs. The session I found the most informative was Attracting Women to MBA Programs: A Case Study, which explored The University of St Gallen's endeavor to increase women enrollment in their MBA program. I found it fascinating to learn how they went about identifying their "pitfalls," but also how they turned them into opportunities and increased female enrollment by 10 percent in just one year. With this being a hot topic across MBA programs, and a definite goal of the Carlson School, I learned both tangible suggestions I could implement immediately and long-term strategies to drive more institutional change.
I also really enjoyed Life Beyond Admissions: Alternative Career Paths for Admissions Professionals. Now don't get me wrong, I love my job. The question I ask myself often, however, and the question posed to kick off this session was, "Do I want my boss' job?" For me, it's a yes; But there is a small part of me that is interested in potentially exploring different industries. The panel was filled with higher education graduate business professionals that have moved into a variety of industries. They were genuine, funny, and transparent. This session gave me a new perspective on future opportunities from graduate management education, and I was pleasantly surprised that I was able to sprinkle in some personal development at the conference as well.
Beyond sessions, I found that the conference was a great opportunity to network with others in the industry. I attended the conference as one of two from the Carlson School of Management. To my surprise, I found that many schools sent several professionals to the conference and they mostly stuck together. I realized, however, that if you are brave enough to walk up to a cluster of strangers, everyone is happy to meet you. I was able to catch up with my peers from AINP, colleagues from my recruitment travels, and to meet new professionals to expand my network.
Overall, I found that the sessions were relevant and informative. But even more so, I found it invaluable to see old colleagues and learn from new ones. It was a great professional development experience, and I hope I'm able to represent the Carlson School of Management next year.
Check out a slideshow of the event: