This year's GMAC™ Annual Conference in Denver, Colorado brought together more than 600 school professionals to take part in the premier event for professionals in the graduate business and management industry.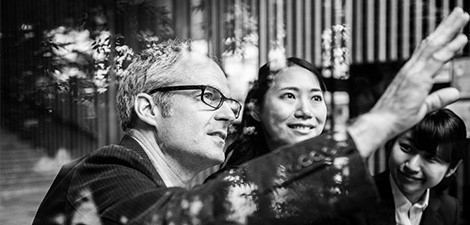 Each year, the Graduate Management Admission Council™ (GMAC™) convenes a diverse network of graduate management professionals for our largest event of the year. The event provides them with the opportunity to make connections and to gain and share insights, knowledge, and market intelligence for the future of graduate management education (GME). The 2019 GMAC Annual Conference, held from June 19-21 in Denver, Colorado, convened 685 school professionals and more than a hundred speakers from around the world.
Throughout three action-packed days, conference participants engaged in a variety of workshops, keynotes, concurrent sessions, receptions, activities, and networking events. Notable topics covered this year included: attracting women to MBA programs, CRM & marketing automation,
Highlights from just a handful of sessions:
The conference began on Wednesday with a full day of pre-conference sessions. During "Lights, Camera, Action!" Learn the Do's and Don'ts of Video Production, MBATube led an interactive session that taught participants the do's and don'ts of video production, and then gave them the freedom to create their own video, using an iPhone and microphone. What resulted was impromptu, hands-on learning about b-roll, framing, writing scripts, narration, and other aspects of video production.
"The session exceeded my expectations because of the hands-on aspect," Serena Healy, assistant director of graduate business programs at Chapman University, said. "It allowed us to take on different roles—actor, director, cameraperson—and quickly learn how to function in those roles to make a real video."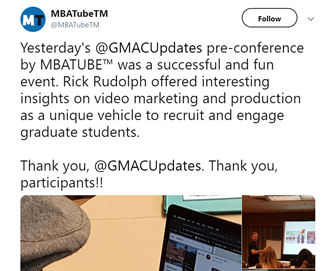 The Admission Symposium and related peer-facilitated sessions provided learnings on how to communicate ROI to prospective students, engage candidates virtually in a meaningful way, stay in touch with early admits, and more.

On the second day, GMAC CEO Sangeet Chowfla led the opening session with a discussion about the changing GME landscape.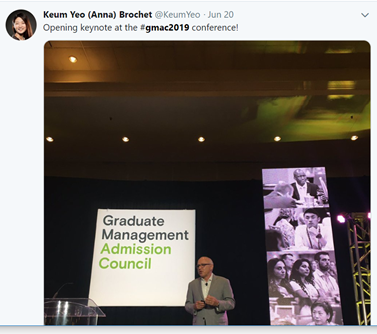 During the opening sessions, Dr. Vivienne Ming, a theoretical neuroscientist and artificial intelligence (AI) expert, discussed the impact AI will have on education and the workplace.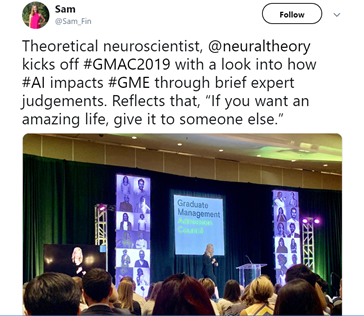 The concurrent sessions offered eight tracks: admissions, diversity, recruiting, program management, student and career services, marketing, content and digital marketing, and master's programs. During Attracting Women to MBA Programs: A Case Study, the University of St. Gallen in Switzerland with insights from GMAC Research discussed how it identified "pitfalls" that resulted in low female enrollment and offered solutions for each.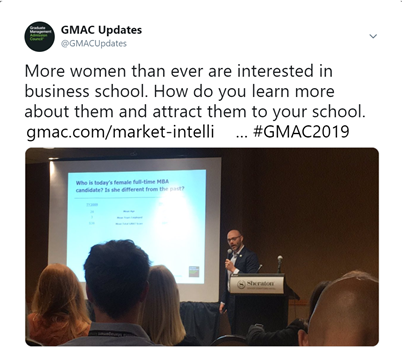 Location, Location, Location: Using Your Unique Place in the World to Differentiate Your MBA Program, featured a panel of program and admission directors from Copenhagen Business School, the University of Texas at Austin, and Dartmouth College who shared how they developed a unique value proposition based on their location.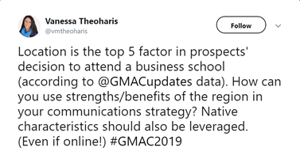 During the Idea Lab: Communication Strategies to Engage Diverse Audiences, members of the University of Texas at Austin's recruitment team explored current strategies to engage key audiences and identified nuanced opportunities to reach diverse, prospective talent. The interactive session allowed participants to form small groups and discuss ideas to better speak to and attract diverse candidates.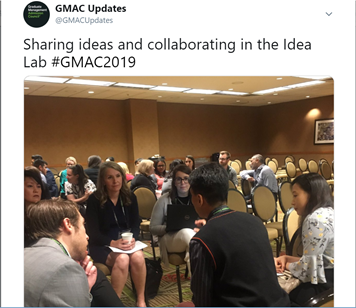 At the CRM & Marketing Automation Implementation Do's & Don'ts session, school panelists from Georgetown University and Carnegie Mellon University shared the steps and pre-planning it took to implement their systems.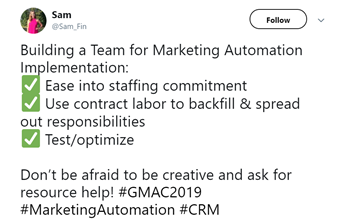 Cultural Do's and Don'ts at International Recruiting Events, which was offered in a new shorter, more targeted flash session format, had members of The MBA Tour offering advice for new recruitment professionals to prepare them for the nuances of traveling internationally.

On Friday morning, GMAC introduced The Reciprocity Ring, a new facilitated networking activity led by Wayne Baker, a senior faculty member of the University of Michigan Ross School of Business, that combined meeting people with solving business problems and paying it forward.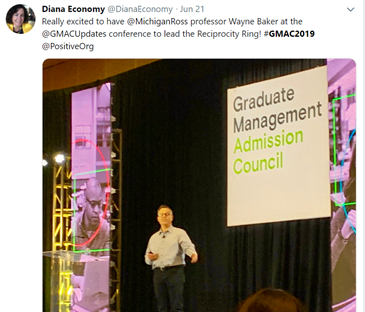 The conference concluded with a closing session by Jodi Glickman, CEO and founder of Great on the Job. Glickman talked about shifting the mindset from searching for work we love (and advising students to do the same) to becoming beloved in our workplace.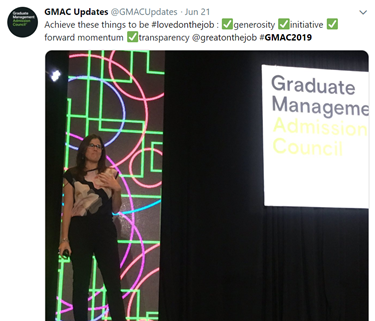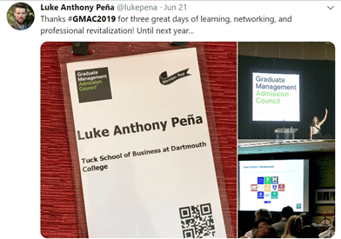 Bringing together graduate management professionals from 31 different countries, the 2019 GMAC Annual Conference served as a place for colleagues and experts to learn, network, sharpen skills, and explore the future of GME. So long Denver! We'll see you in Baltimore next year!
Don't miss other opportunities to stay sharp and up to date in graduate management education. To receive event emails, login to your gmac.com profile and select the Professional Development email subscription. Due to privacy laws, even if you registered to attend a conference, we cannot send you emails about future events unless you have opted in to these emails from GMAC.
---
2019 GMAC Annual Conference by the Numbers:
685 Attendees (School Professionals)
From 31 Countries
244 First-Time Attendees
48 Educational Sessions & Opportunities
---