GMAC is leveraging data science to empower schools to find a strong pool of candidates with diverse backgrounds. Our mission is to advance the art and science of admissions by providing the products and services that help schools and candidates discover and evaluate each other.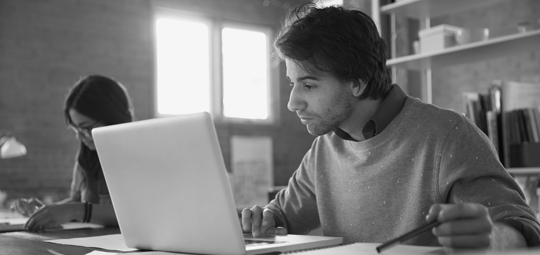 Graduate management education (GME) recruitment has grown increasingly complex over the past several years. More than ever selection is a two-way process. Candidates are now carefully scrutinizing schools during the selection process, knowing that the program they select will impact their careers for years to come.
Candidates have more choices than ever – overwhelmingly so. At GMAC, we work with more than 7,000 programs at leading business schools around the world. The number of options a candidate might consider has been further amplified by the rise of high-quality online programs during the COVID-19 pandemic. Online MBA applications increased a stunning 43.5% in 2020.
Meanwhile, demand for a GME degree continues to be strong. The number of programs reporting growth in applications for 2020 as compared to the previous year has increased across all regions. Each candidate must navigate through this competitive environment in the hope of being admitted into a program that fits their skills and interests and will advance their career.
With so many options for candidates on the table, it is becoming far more likely that a candidate might not have the information needed to build the right consideration set of schools for them and that schools and programs are at risk of overlooking talent. Schools must leverage all the tools at their disposal to help candidates navigate the consideration and selection processes so that "no talent goes undiscovered."
Data science can uncover hidden talent
As an industry, we often talk about the art and science of recruitment. At GMAC our mission is to advance the art and science of admissions by providing the products and services that help schools and candidates discover and evaluate each other. We believe leveraging data science can empower schools to find a strong pool of candidates with diverse backgrounds. While we have heard some concerns to the contrary, when used as an augment to existing practices, we believe it is the perfect complement to the art of selection. That's where we enter the picture.
At GMAC, we often say that we are in the Graduate Management Education match-making business. In this role, we curate potential options – a consideration set – for both schools and candidates who make their own ultimate match decision. Through GMAC's collective intelligence, we are looking for ways along the candidate journey to introduce schools to candidate profiles that fit their program requirements and to introduce candidates to school and program information that fit their aspirations. This curation process is especially important during consideration because candidates often only look at brands they know and overlook schools that might offer a better fit. Likewise, schools appreciate being introduced to new, diverse sets of high-quality candidates.
GMAC programs that enhance recruitment
GMAC has a long history of leveraging data science to connect schools and candidates who might not otherwise find each other. "My GMAT Recommendations" introduces candidates to schools and programs that fit their skills and interests. A proprietary in-house algorithm compares a candidate's GMAT performance, score sending patterns, and study preferences with peers who are similar. We then provide the candidate with a list of schools they might want to research and consider.
The MBA Tour Meet Ups is another example of how we have used data science to complement existing services. Here we built a recommendation algorithm comprised of all the data points that schools and candidates provide through their interactions with GMAC's products and services, including work experience, concentration, functional units, and decision-making factors. We began using the algorithm last summer to strengthen the quality of the candidates that schools meet with at our events. The candidate rating of Meet Ups quality sits at an astounding 4.4 out of 5. And while not all attributable to Meet Ups, roughly 50% of tour participants have told us they were considering applying to a school they had not considered prior to attending our event.
We continue to experiment with how to apply science to aid in finding a likely match. Currently, we are running a pilot leveraging a new algorithm that predicts the likelihood that a candidate will engage with a particular program. This resulting lead score provides schools with visibility into candidates that are likely to take action so that schools can begin to nurture that candidate earlier and make sure they do not get lost along the way.
While we are continuing to learn and look for new ways to use data science, I believe that our efforts to date are examples of how it can be used as a strong complement to the art of recruitment. I am optimistic that as we continue to grow our understanding, data science will become an even more versatile tool for each school to wield in its admissions process. If you are interested in learning more about our use of data science or potentially participating in a future pilot, please reach out to us at gmacconnect@gmac.com.