I recently came across this term—2020ne. It's the logo of the Tokyo Olympics but it also describes the year to come, a transition from 2020 to 2021, for never has there been a time when so much of our hopes and plans for the year depends upon the legacy of the year that's passed. We are mixed up in our feelings. Hope mixed with concern. Hope in the almost daily news about progress in the development and approval of vaccines for Covid-19—light at the end of the proverbial tunnel. Concern at the ever-increasing numbers of new infections hospitalizations and fatalities. A recognition, that while there is light at the end, the tunnel still exists and may be with us for a while.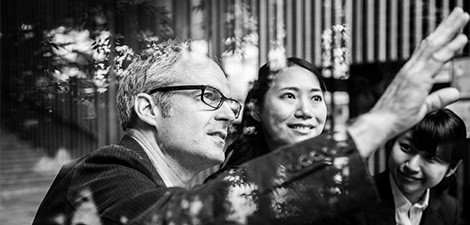 The duality exists within GME. There is renewed interest in business education. Applications are surging at many business schools across the world. But there is also a recognition that, mostly, these applications are not being pulled by us—driven by secular demand for our services but being pushed to us—driven by economic disruptions and the safe haven status of higher education in recessionary times. No matter what is driving this surge in demand, we cannot sit on our laurels but must continue to evolve and adapt, giving students the experiences and career development that they want and trigger a new cycle for management education. We must respond to the demands for relevance, for fairness, for making a positive contribution to our societies or we will be perceived as creating elites and contributing to endemic inequality. We must use what we have learnt about the deployment of technology to bring the benefits of management education to a broader audience in more affordable ways. We must expand our audience in a sustainable, secular manner.
Business schools are dealing with the implications of the virus. Keeping students safe yes, but also giving them the valuable career changing experience that we talk about—something that goes beyond a class on Zoom. Creating the cohorts and networks where students can learn from the diverse experiences of each other and build those personal connections, even if they must do so in alternative formats. Ensuring that we give equal access to all candidates that fit our programs, minimizing subjectivity and bias from the process.
As your global association of business schools, dedicated to our Mission—providing the tools and information that allow schools and talented individuals to discover and evaluate each other, we continue to look for ways to support and build upon the tremendous efforts schools make to bring in talented, diverse classes each academic year. We do so by informing prospective students about the options available to them, help you reach out to these prospects to communicate your brand values and proposition, helping you assess the talent to establish right-fit; building a cohesive and compatible cohort. And, importantly, give GME professionals a platform to meet and learn from each other.
Like for many of our partner schools, the pandemic forced us to rethink how we deliver on this Mission. We retooled our digital properties—mba.com, businessbecause.com, callingalloptimists.com with content specific to candidates' questions about the impact the pandemic could have on their plans. The volume of unique visitors to these sites grew by about a quarter to over 12 million, reflecting the hunger for such information. We pivoted The MBA Tour to a fully remote model with a 30 percent increase in candidate attendance over the 48 tour events – and with 80 percent checking the top box of satisfaction. GMAT, Executive Assessment and NMAT all started online delivery and even though over 90 percent of test centers are now open around the world, we continue to provide this online testing option to students who wish to use one. Testing volumes in this hybrid model have rebounded sharply and, in November, the number of unique test takers for the GMAT were at pre-pandemic levels. We expanded our research program to measure the changing student perceptions about mobility during Covid-19, starting to report on changing preferences and on yield and deferments, we worked with rankings agencies to get them to suspend or delay their rankings and we moved all of our conferences to an online format.
You recognized the contribution. Member schools increased their net satisfaction ratings about their relationship with GMAC by 5 percentage points to 83 percent in our 2020 annual survey.
Looking ahead, and thinking about tomorrow, a lot still needs to be done. We must continue to provide candidates with the information that they need to guide them through their journey to GME. We must continue to build best-in-class recruitment solutions for schools. Applications may be plentiful this year, but they come at a risk that these higher volumes, without objective test data underpinning the holistic process, can result in riskier decisions that are less transparent. Admissions tests are like diagnostic tools in medicine. They are vital inputs and though an experienced physician can make an accurate diagnosis without them—the risk of error is increased.
This brings us back to our Mission: To provide the tools and information that allow schools and talented individuals discover and evaluate each other, by utilizing our data and our scale in a way that better prepares candidates and schools for more meaningful discourse. Our focus at GMAC is to do so with a sharper emphasis on diversity, in our candidate pipeline—gender, race, identity, origin and educational background but also in modality—physical, online. Ultimately, we strive to give business schools and candidates more options, better data, greater choice, so that they can establish what we call "right-fit"; executing on our organizational purpose, to ensure no talent goes undiscovered.
I wish you a safe, happy, and impactful 2020ne!
Sangeet