GMAC CEO Sangeet Chowfla looks back at the ups, downs and constant change that happened to the GME industry in 2019.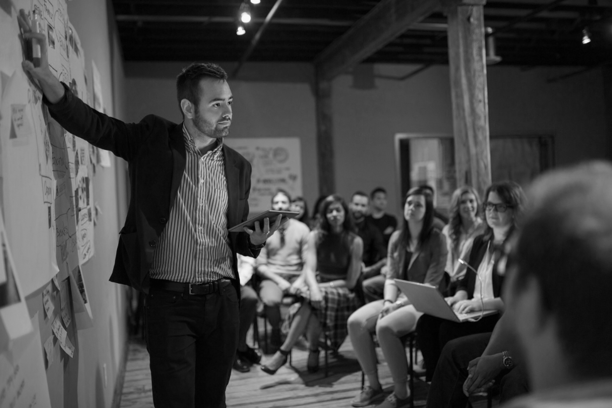 I was listening to an old recording of this '90's musical (yes, I'm weird that way) and it struck me how apt the title is to how some interpret today's state of graduate management education (GME). High alumni satisfaction, employer demand across diverse industry sectors and business types, record high starting salaries for MBAs in the United States, and tremendous growth in quality business schools around the world that continue to grow in popularity with international and domestic students. These indicators of value and relevance don't always come out in the headlines. In fact, news coverage at times gives the impression of a degree on the way out, like the style of bridesmaids' dresses we laugh about in DiPietro's musical.
No industry is perfect of course and change is constant. Amid high graduate satisfaction and employer demand there are real challenges.
But for the past couple years much of the good happening in GME is lost amid the story of shifts in supply and demand, what I've described as "horse race" coverage with an emphasis on who's up and who's down, versus the what and the why. Yes, the United States has a mobility problem that is at least in part rooted in harsh government rhetoric and visa challenges, yet US b-schools continue to seat highly qualified classes. Recent graduates' value their degree greatly, start-ups, tech companies and consulting firms are still hiring MBAs in large numbers and starting salaries in the United States are at an all-time high. Yet media coverage focused on the business school narrative often questions value and relevance, when key indicators tell a much different story.
GME is a valuable investment and both candidates and recruiters recognize that. In a recent Graduate Management Admission Council™ (GMAC™) survey of GME grads, 79 percent stated that their experience was outstanding or excellent (the number was even higher for full-time two-year MBA graduates at 82%). And an impressive 93 percent said that they would do it again. There may be some wish fulfillment here, but these numbers are large by any measure. Hiring firms express similar sentiments. In the United States, 77 percent of employers that participated in our annual Corporate Recruiters Survey said that they planned to hire MBA talent in 2019. Also of note from the report, 62 percent of those defining themselves as start-ups planned to hire MBA graduates in 2019, up from 45 percent that made such hires in 2018, mirroring an increase in MBA hiring by the more established technology companies, like Microsoft and Amazon.
GMAC data also shows that the median MBA staring salary in the United States at $115,000 was, adjusted for inflation, the highest since the Council started collecting such data. Despite declines in application volumes over the last two years, b-schools comprising the top 50 MBA programs in the U.S. News & World Report rankings reported a median of six applications for every seat available and most report that their applicant pool was equally (67%) or more (11%) qualified compared with last year (Application Trends Survey Report 2019). All indicators of a robust product: I love you, you're perfect.
Yet, the media and industry conferences are full off discussions about decline. Why all this angst? That's where the "… now change" comes in.
For, while the headline indicators described above remain strong, others are more disturbing.
The first is about perception. Leading GME programs have built selectivity as a proxy for quality. We only admit one of many applications the story goes, so I must be in high demand and of quality. This scarcity effect is reinforced by the rankings that use selectivity ratios as an indicator of program quality. Once on this treadmill, it's hard to get off and schools are concerned about drops in application volumes even if, as the data shows, there is no impact on their ability to admit a class of equivalent quality.
The second is about choice and location. Ten years ago, 68 percent of candidates preferred to study in the United States and 15 percent preferred to study in Europe. In our most recently published data, preference for the United States dropped to 53 percent while Europe rose to 28 percent. While part of this was the result of changing perspectives towards jobs and visas in the United States amongst international applicants, a bigger factor is the international recognition gained by schools around the world. In 2000, 38 of the top 50 global MBA programs rated by the Financial Times were in the United States. Last year, only 25 were—others had caught up, and students had more choices.
A third factor is program cost. Years of above inflation tuition increases created sticker shock but little impact on applications. If you aspired to study at a top-rated business program you had few options. That may be changing and 2019 may be the seminal year for this change. One factor is the emergence of Europe and the other is the acceptance of lower cost online programs from premier schools. As European schools are gaining prominence, their shorter one-year MBA and business master's programs are as well. It is not surprising then that in our most recently published data' candidate consideration for one-year MBA formats (47%) exceeded that of two-year formats (45%) and that international candidates who prefer a business master's program type are more likely to select Europe as their preferred destination over the United States by a 25-percentage point margin (54% to 29%). Worryingly for US schools, we are beginning to see anecdotal evidence that US students are starting to recognize the cost/benefit advantages of European programs and are considering these as well.
At the same time, low cost online programs are starting to establish demand at new price points. Earlier, pure online programs from established institutions were largely focused on the convenience of online and priced similarly to their classroom or hybrid counterparts. New entrants have taken a different approach. For example, the online MBA from the Gies School at the University of Illinois lists a tuition of just $22,000 and boasts an enrollment of 2,500 students. The Questrom School at Boston University has announced a similar program at $25,000. It seems that demand exists at this radically different price point.
This then is where the angst comes from—perception about declining value of the GME degree, competition from alternative locations and competition from alternative price points from shorter or online formats.
As a global association of business schools, GMAC must continue to find ways to enhance and add services that support and build upon the effort that business schools make to bring in talented, diverse classes each academic year. Our goal: to help GME generally, and our partner schools specifically, build a stronger and more diverse, candidate pipeline. In this world of changing perceptions, greater choice and concerns about costs and value, we believe that we must focus on three areas.
Advocacy for GME: The need for GME to have a collective voice is pressing. We must counter the narrative against the value of GME and higher education. We need to tell the story, about the alumni satisfaction levels described above, the incredibly good works that business school graduates do and the impact of GME to business and society. GMAC started this effort by sponsoring the initiative whereby 55 business schools' deans and over a dozen CEOs signed a letter to US political leaders about the positive impact of foreign business students on economic development and job creation. Our goal is to build upon this with a multi-tier effort: digital campaigns directed specifically to potential students communicating the value of GME to their careers and future; outreach to policymakers about the value of GME to innovation, growth and job creation; and an active program to counter anti-GME messaging in the media via articles, letters, op-eds, and fact sharing.
Pipeline development: In a much more complex world, where prospective students face more choices, we need to simplify and demystify the discovery and selection process. Having convinced a prospective student of the value of GME, we now need to guide them through the process and avoid the "abandoned cart". To do this, we have created an integrated suite of services from content marketing to advertising, lead capture, social media outreach, tours, fairs and personalized meetups. These services use targeted data models to ensure that the right school is speaking to the right candidate to the mutual benefit of both.
Talent evaluation: Lastly, we recognize our role in building assessments that help schools evaluate talent. We do this, not with a single assessment, but with a suite of secure, valid and reliable tools that enable a range of programs to make admissions decisions that ensure program quality, cohort fit and completion. We continue to enhance the candidate experience; building upon a shorter GMAT™ exam with pricing in local currency in Europe. Additionally, the Executive Assessment (EA) has moved beyond its initial test phase and is now used by over 80 programs around the world and the NMAT™ continues to expand its footprint and is now available in 10 countries in Asia and Africa, nurturing a greater universe of potential talent interested in GME. GMAC prep products have also been moved to new digital platforms creating a more compelling candidate experience.
2019 is behind us. As we look ahead in 2020, and think about tomorrow, we continue to position ourselves to expand our Mission: To build the tools that help schools and candidates discover and evaluate each other, by utilizing our data and our scale in a way that better prepares candidates and schools for more meaningful discourse. Ultimately, we hope to give business schools more options, better data, more diversity, in a more cost-effective and efficient platform to further strengthen their recruiting efforts while continuing to execute on the most critical aspect of our organizational purpose, to ensure no talent goes undiscovered.