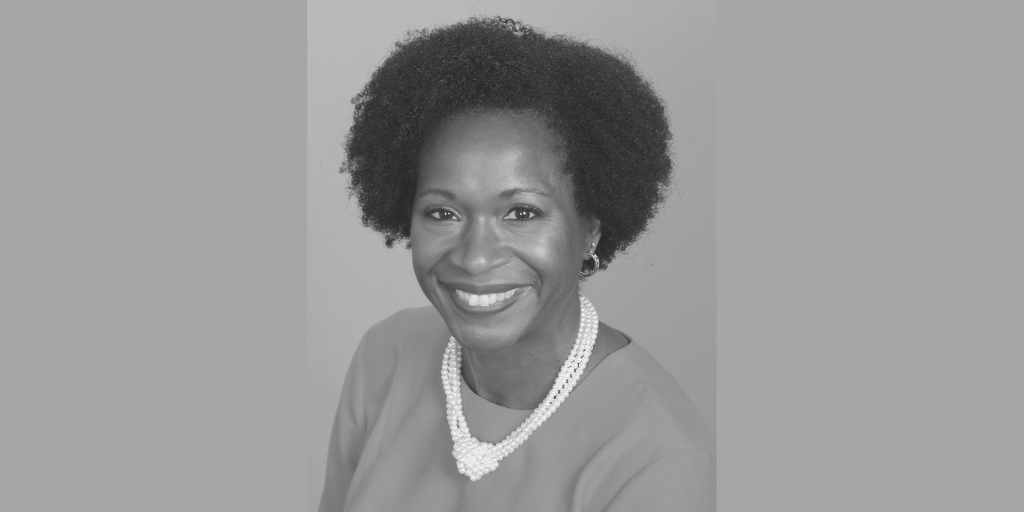 On August 8, 2022, GMAC announced the appointment of Joy Jones as the organization's next CEO. Joy, who joined GMAC in July 2017 as chief product officer and general manager of assessments, was unanimously elected by the GMAC board of directors and officially took over as GMAC's fourth CEO on October 1, 2022.
As a nonprofit organization of leading graduate business schools, GMAC—founded in 1953 and soon to commemorate its 70-year history─ has experienced much change within the graduate business education industry and stands at the crossroad of challenging times ahead. In the spirit of celebration and transparency, Joy shared her vision and hope for the future at the helm of GMAC.
Q: You were the chief product officer at GMAC for five years before taking over as the new CEO last month. How do you think your experience managing GMAC's assessments, including the flagship GMAT exam, helped prepare you for this role?
A: Over the past five years as chief product officer, I've seen us accomplish incredible things. We've successfully integrated new businesses, created unique value through our research programs, conferences, and events, piloted new initiatives, debuted significant new products and services that foster a greater connection between schools and candidates, and we've continued to navigate through the COVID-19 pandemic by successfully operating dual online access to all of GMAC's in-person solutions. Our work isn't always easy, but when I hear positive feedback from schools, our board of directors, and the prospective students we serve, I know that we're on the right track and living up to our mission. These achievements give me confidence as the leader of GMAC that we're ready and able to take on the next challenge as we continue to play our central role of uniting the industry to solve common problems and create shared opportunities.
Q: It's only been a few weeks, but could you share with us your vision for GMAC and GME as a whole?
A: It's truly an honor to be steering this organization—a mission-driven association of leading business schools worldwide—over its next horizon. Our vision is a world where every talented person can benefit from the best business education for them. And toward that end, I view GMAC as a key advocate working in partnership with a greater community to support and uplift the value of graduate management education. Our success is in connecting the right-fit school and program to the right stage of a candidate's professional development. We're dedicated to the success of the GME industry. It's evolving at an accelerated pace, which makes it an exciting time for us to identify and deliver more advanced tools and information for schools as well as the next generation of talent to discover and evaluate each other. We see that there is a richness of choice, and our purpose is to ensure talent never goes undiscovered by connecting motivated people with opportunity through higher education.
Q: Next year marks the 70th anniversary of GMAC's origin. What do you think is the strength of an organization with such longevity and legacy?
A: I am proud of who we are as an organization, where smart thinkers work well as a team and are committed to delivering high-quality products and services. We're resilient, adaptive, and we take our values to heart. That's important because it's an extraordinary time for graduate business education. As I am visiting campuses and meeting with school leaders, they are sharing their priorities and perspectives on what's going on in the market, which is invaluable to building a more complete picture of the rapid advancement that's taking place in our space. Without a doubt, there are many opportunities for GMAC to continue to grow our relevance and enhance our impact in the graduate management education community, and it's a great time for collaboration and innovation. I am confident that with our best work, we'll be up to the task of achieving our mission on behalf of our school and candidate stakeholders.
Q: What brings you joy (pun intended) at the helm of GMAC as the graduate management education community emerges from the momentous events of the past few years?
A: We find ourselves facing new headwinds but also new opportunities. Each year brings unforgettable change and challenge, as well as the growth and evolution of our industry. Throughout all the challenges our community has faced, I am especially proud of the fact that business schools remained committed to helping more people achieve the life-changing benefits of an MBA or business master's degree. I've embarked on a listening tour in the past few months to understand where the business school community we serve foresees how the industry will grow and evolve. I very much appreciate their openness and high engagement. It brings me joy—and hope—to know that we as a community are not shying away from the tasks and trials ahead. We are willing to pull together like never before, bringing our best efforts to ensure that talented people, sharpened through business school programs, are prepared to tackle society's biggest challenges and be a positive force in the world.