Findings from this year's Application Trends Survey highlight shifting application patterns for international candidates in 2018.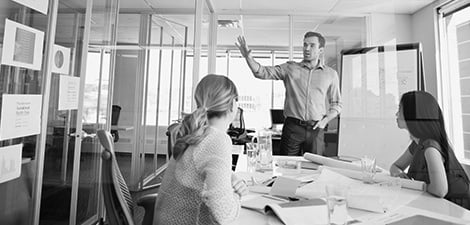 While overall demand for global graduate management education in 2018 is stable compared with 2017, regional shifts in demand are continuing to shape the market, according to the findings of GMAC's Application Trends Survey Report 2018, published on gmac.com last week. Analysis of the survey responses of 1,087 graduate business school programs around the world demonstrate how international student mobility remains a key determinant for business school programs' overall application volumes.
This is the focus of the October Chart of the Month, which displays the percentage of programs reporting international application growth, by program location. Strong overall application volumes in Canada and Europe this year are driven primarily by increased international demand. More than half of programs in these regions report international application increases this year, compared with less than half that report domestic application increases.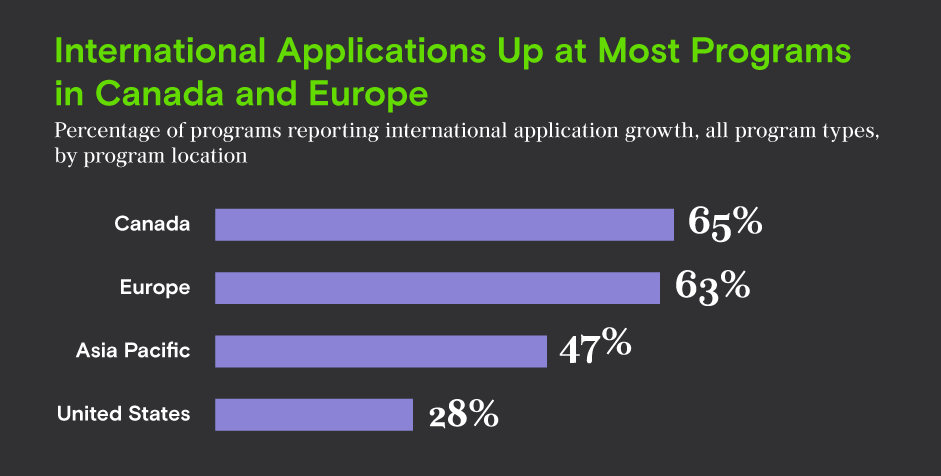 On the other end of this trend are programs in the United States, the majority of which report declines in international applications this year (53% of programs), and less than 1 in 3 programs report international application increases (28%). Among 400 US programs that provided domestic and international application volumes in both last year's and this year's surveys, international applications are down -10.5 percent and domestic applications are down -1.8 percent.
For more from the 2018 Application Trends Survey, including the summary report, Research Snapshot infographic, and previous year's reports, visit gmac.com/applicationtrends. Professionals from GMAT-accepting business schools can also view the slides and watch the recording of the annual Application Trends webinar, which was recorded last Wednesday (requires gmac.com login).