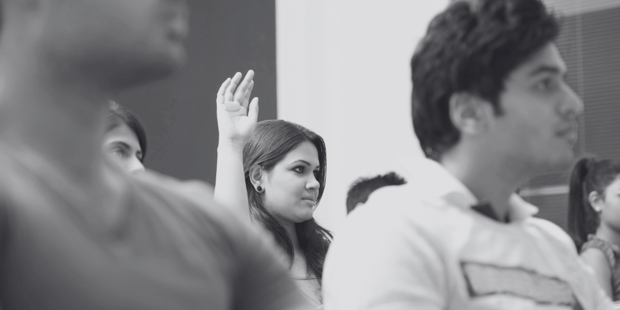 Recovery from a prolonged global pandemic. Inflation-prompted economic uncertainty. Slowing job market. These are just a few worries business school graduates are contemplating as commencement season came and went. Alternatives to graduate management education (GME), or higher education in general, have no doubt entered the mind of many business school aspirants. For those graduating this summer – and those thinking about or are going back to school this fall, the road ahead to career satisfaction and success can seem conflicting as ever before.
In an interview with Ambition, the monthly magazine of the Association of MBAs (AMBA), GMAC CEO Joy Jones acknowledged the pressing challenges the GME industry faces today. However, "we expect economic conditions and desires for meaningful career options and advancement to draw people back to education. The question for business education is, therefore, how we attract and funnel prospective candidates to the right-fit programs at the right stage of their development to remain a trusted and valuable resource on their path toward career and life success."
The Art and Science Behind GMAC GradSelect
That's where GMAC GradSelect comes in. Formerly known as the Graduate Management Admission Search Service, or GMASS, GMAC rebranded the match-making service earlier this year to better serve the business school community and prospective candidates. Every year, more than 12 million prospective students visit GMAC's websites, including mba.com, to learn about MBA and business master's programs and connect with schools worldwide. Indeed, many of them use our sites to prepare and register for exams GMAC administers, but beyond that, people at any stage of their business education journey can get advice on school applications, program information and comparison, scholarship opportunities and career development, just to name a few.
The GradSelect Search Service is therefore well equipped to become a source for a deep and diverse pipeline of candidates engaged in or committed to pursuing an MBA or a business master's degree. With over 2,000 unique combinations of search parameters using more than 35 categories, the GradSelect database provides a unique opportunity to connect directly with over 560,000 candidates that have expressed interest in hearing from business school programs. GMAC GradSelect can help schools develop targeted campaigns with comprehensive candidate profiles while building meaningful connections early and continuing throughout the decision process. Candidates receive exclusive information on school programs, financial aid, and scholarships through GradSelect and enjoy access to nearly 8,000 programs of more than 500 leading schools across the globe and discover new program options that they may not have been exposed to or familiar with.
Adapt to Lifelong Learning
"I believe the biggest change in business education will be the development of lifelong learning systems of programs and experiences that are attractive and relevant to people at each and every stage of their career," Jones continued in the interview for Ambition's June issue. "Lifelong learning will compel us to have smarter means of increasing awareness of available options and more personalized approaches to helping people find the best path for them."
Today, GMAC uses various AI techniques to support our assessments program and to perfect and inform our matching service, growing our relevance and enhancing our impact in the changing space of higher education and lifelong learning. We are fully aware of the growing need to cast a wider net to tap into the global candidate pool and understand that business schools stand ready to meet prospective students wherever they may be in their career and life journey. Through GradSelect, we expect to offer additional insights powered by proprietary algorithms to allow schools to conduct more tailored outreach to active GME candidates who may or may not have taken GMAC-administered exams but are making their decisions on whether and where they'd like to apply.
GMAC, an organization celebrating its 70th anniversary this year for representing leading business schools from around the world, is proud of our long-standing purpose to ensure that talent never goes undiscovered. In the end, Jones shared her confidence in achieving our mission of providing the tools and information necessary for schools and talent to discover and evaluate each other. We invite our colleagues in the business school community to explore GMAC GradSelect today and join us in realizing our vision, a world where people with talent and aspirations can benefit from the best business education for them.