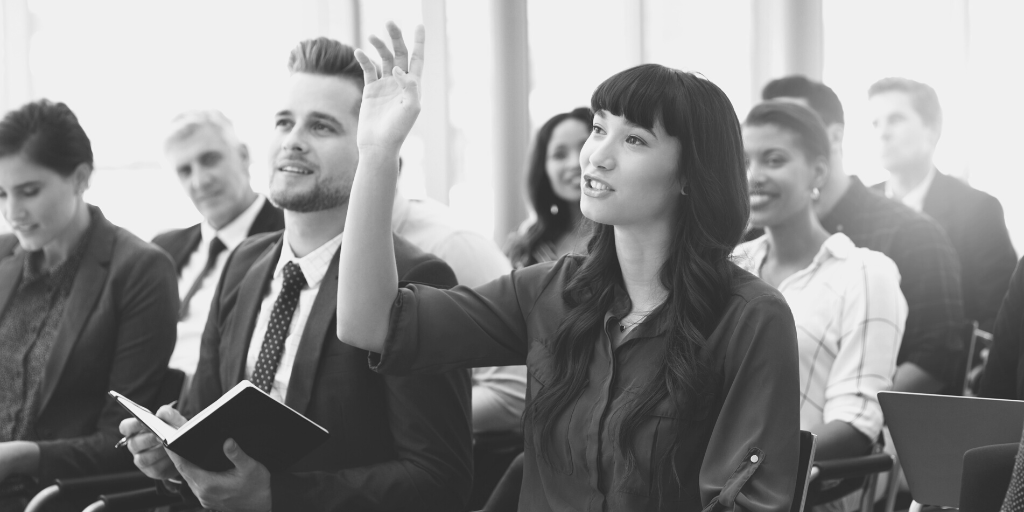 MBA students this year are facing a job market so hot that offers are already being made before they even set foot on campus, reported the Wall Street Journal earlier this month. With record-level openings created by the COVID-prompted "Great Resignation" in the United States, recruiters recognize the unmistakable talent in the incoming cohort of business schools and rush to secure the employment of these candidates, among whom women and underrepresented minority groups are especially the targets of intense recruitment competition as companies shift their focus to build more diverse and inclusive workforces.
Against the backdrop of this incredible hiring phenomenon and a potentially brewing global economic storm, close to 500 program and admission officers of business schools around the world gathered in Baltimore on June 15-17 for the GMAC Annual Conference. Attendees were reflective of the successes of the past two years and contemplative about the future of graduate business education. After nearly three years of the pandemic-induced hiatus when the conference was offered online, the in-person conference, sponsored by GMAC local member Johns Hopkins University Carey Business School, returned to mark the 50th anniversary of the GMAC annual meeting during a period when our community is deep in rethinking business education in the post-COVID world.
As Carey Business School Dean Alexander Triantis duly noted in his opening remarks, living through the pandemic together as a society underscored the shared responsibility we have for the planet and highlighted the need for business education that focuses on social impact. Despite the restrictions on student mobility, the challenges to public and mental health, and the abrupt transition to remote learning, business schools played an imperative role in the continued education of future business leaders who are well reputed, equipped, and credentialed. For that, GMAC President and CEO Sangeet Chowfla commended the business school professionals gathered in the room ─ and encouraged a well-deserved round of applause for each other in the audience ─ for their tireless efforts in the past three challenging years in connecting with, supporting, evaluating and onboarding business talent – often in record numbers.
While acknowledging the achievements of the graduate management education (GME) community, Chowfla did not shy away from the potential trials ahead. As online MBA and business master's programs are becoming more popular and acceptable among students and recruiters, higher-ranked schools are likely to monopolize this pipeline. Coupled with reduced international mobility due to the pandemic, admission officers in U.S. business schools could turn to underrepresented groups as the pathway to build a diverse and sustainable pipeline, suggested Chowfla. GMAC research indicates that Hispanic Americans represent a unique opportunity for growth, projected to increase the GME pipeline by 14.5 percent if enrolling in business education at an average rate of other populations.
Throughout the conference, building a diverse and inclusive pipeline was a strong theme weaved through not just the keynotes but also individual education sessions. A session titled "Designing and Developing Rubrics for Holistic and Inclusive Decision-Making" featured a panel of schools that have created new assessment rubrics to provide numerical weight and value to specific candidate qualities to guide and support a holistic candidate assessment process with the goal of reducing bias. In another session about getting diversity right for Master's programs, speakers representing schools from Europe, Canada, and the U.S. gathered to share how they are approaching the diversity and delivering classes and programs to improve the inclusive nature of their programs by taking advantage of unique coursework, corporate partnerships to community engagement. Tino Elgner, head of recruitment and enrollment at EBS University, shared his insights on recruiting in Africa to help demystify the market and understand regional nuances in a session aiming to enhance recruitment in the continent that represents a great opportunity with growing candidate interest in pursuing GME.
Looking to address another form of diversity that is often overlooked in the business community, Associate Professor Katherine Breward of the University of Winnipeg discussed neurodiversity ─ diversity of all people but often used in the context of autism spectrum disorder and other neurological or developmental conditions such as ADHD or learning disabilities ─ and how business schools can gain a competitive advantage by removing common barriers, innovating curriculum, and improving the overall program experience. In the session "Discover and Engage Underrepresented Minority and Women Candidates with GME," GMAC's own Chief Marketing Officer Maite Salazar and Associate Manager of Survey Research Alexandria Williams drew on rich data collected from GME candidates and graduates, recruiters, and GME program officers and shared a closer look at underrepresented minority and women candidates. They spoke to a standing-room-only audience who were eager to hear about the profiles, motivations, career aspirations, and expectations of these groups towards GME to inform their recruitment, positioning, and marketing strategies.
In a fireside chat among Chowfla and incoming GMAC Board members Bruce DelMonico of Yale School of Management and Catherine Duggan of the University of Capetown, they exchanged candid views on how GME has evolved and continues to evolve in the new post-pandemic landscape. When asked about how standardized tests like the ones GMAC administers contribute to the debate about diversity and inclusion, Chowfla addressed the elephant in the room, stressing that diversity and inclusion are incorporated in every matrix of what we do as an organization.
To start, GMAC strives to make the test items as fair as possible by involving numerous subgroups directly in our test design processes. However, we all recognize that there are gaps and work to be done to improve equity. Affirming the fundamental socio-economic environment contributing to this gap, Chowfla believes that removing an objective instrument like standardized testing that could level the playing field is not the answer to this complex issue in the hope of eradicating racial inequality in business education. In fact, many in the minority groups who are most affected by the no-test movement have been the most vocal in lobbying for standardized testing. In response, GMAC is committed to continuing to develop solutions that provide a deeper understanding of each segment of the population and facilitate an evaluation of the totality of a candidate's talent. GMAC services like the GMASS search service and The MBA Tour invest greatly in highlighting and connecting schools with niche audiences, with successful Spotlight events allowing schools the opportunity to reach diverse audiences and showcasing a wider range of program types to ensure the needs and interests of all candidates are being met.
The GMAC Annual Conference will return on June 28-30, 2023 in San Diego, California, commemorating another key milestone ─ the 70th anniversary of our association. Expect more candid conversations and stimulating sessions that help enrich school professionals in their admirable work of nurturing business leaders of tomorrow.