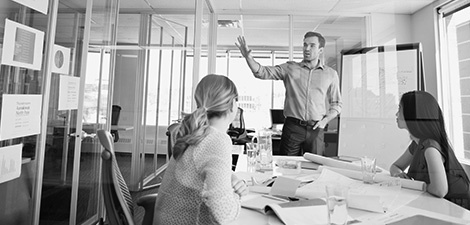 Business schools must to continue to provide a global view to position students for long-term career success.
The term "Go west, young man" was a phrase popularized in America during the westward expansion in the late 1800s. It was used for those seeking opportunity in the new frontier of America that was yet to be harvested and cultivated. Today, we can replace "Go west" with "Go global."
I encourage students considering graduate management education options to consider international business schools or local business schools with a strong global focus. Going global significantly broadens students' potential opportunity set. Although the recent wave of populism that has swept up the world and arguably defamed the notion of globalization, preparing students for globalization is one of the best ways to ensure long-term professional relevance.
According to the International Monetary Fund,1 global GDP growth is expected to be 3.4 percent and 3.6 percent in 2017 and 2018, respectively. Emerging markets and developing economies (EMDEs) are driving the lion's share of this growth, as advanced economies such as the United States and Europe are only expected to grow at 1.9 percent and 2.0 percent, respectively, in 2017 and 2018. EMDEs are expected to grow at 4.5 percent and 4.8 percent over the same period.
Given that there is more than twice the growth expected in the EDME world, it is reasonable to think that there are substantially more growth opportunities from a career perspective in the EMDE world. Salary trends data reported in the 2016 and 2017 Financial Times MBA Rankings support this notion. Alumni from MBA programs in Europe, the United States, Canada, and Australia saw their salaries increase by an average of 3.4 percent in that time period. Schools in growth markets such as Asia, Africa, and Latin America, however, saw average salary increases of 8.5 percent. Such high salary growth is a strong indicator of a lack of supply of the necessary management talent to capture growth.
As students consider international business schools to secure the best opportunities, many elements will determine which schools are best for facilitating a global career. In Asia and Latin America, many of the top schools have launched business case centers to provide more content in the classroom related to current regional business issues. Many of the top schools in these regions have also joined consortium networks like the Global Network of Advance Management (GNAM) or the CEMS Global Alliance to extend their reach and access for students. These consortia provide opportunities for short- and long-term exchanges, while also providing extended networks and communities beyond one's home school.
The top regional schools continue to emphasize international diversity of the student body to introduce different perspectives to the classroom. Having a Brazilian, South African, and Chinese student debate a solution for a case focused on the expansion of a product into the Indian market adds tremendously to the richness of the educational experience. International programs also have become more accessible as more schools in China and other parts of the world launch English language instruction of MBA and specialized master's programs.
Without a global perspective, students will not be able to capture the best career opportunities. Fortunately, many top business schools are doing a fantastic job of providing experiences inside and outside the classroom that give students the necessary theoretical fundamentals, applied know-how to get things done, and the cultural sophistication to help them excel in different environments. "Go global" is more real and tangible than it has ever been for today's MBA students.
1 World Economic Outlook (WEO) Update: A Shifting Global Economic Landscape, International Monetary Fund, January 2017.