What is the impact of COVID-19 on aspirations of prospective business school students? GMAC survey snapshot suggests that aspirations to pursue MBA or business master's degree remain strong among domestic and international students.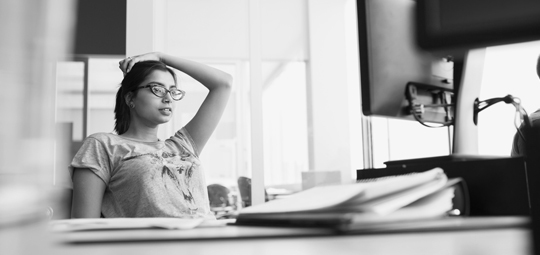 Business school professionals recognize the complexity of the prospective candidate journey in terms of considering and applying for graduate management education. This complexity results from an interplay of many individual and school characteristics which, in turn, shapes candidates' choices. The COVID-19 pandemic has reset the relationships of these characteristics, resulting in a new reality for candidates and business schools.
In spite of this new reality, prospective business school students remain determined to pursue a graduate management education degree, according to a recent survey by GMAC. Only 5 percent of the nearly 500 respondents in a recent snapshot of the mba.com Prospective Students Survey say they would no longer pursue a graduate business education due to the impact of COVID-19. A majority of the respondents say they are not considering alternatives (54%) and another 29 percent say they would only delay the pursuit of graduate management education.
This strength in aspirations suggests that despite the disruption created by the pandemic, business schools must continue to inform and adapt strategies according to the shifting needs of diverse pools of candidates. The survey data demonstrates these different needs when comparing international and domestic candidates or MBA and Business Master's candidates.
International candidates are buying more time
From the perspective of international candidates, the first impact of the pandemic was on travel restrictions—followed by the closure of test centers and visa offices. The concerns of international candidates—defined as candidates whose preferred study destination is not their country of citizenship—are understandable as the uncertainty created by COVID-19 grows. As a result, 28 percent of international candidates report that they are very concerned or extremely concerned about the impact of COVID-19 on their pursuit of a graduate business education as compared to 15 percent of domestic candidates.
However, similar to domestic candidates, international candidates do not intend to abandon their plans to pursue graduate management education (4% vs. 6%). They are more likely to report delaying their plans than domestic candidates (35% vs. 23%). International candidates are also more inclined to consider alternatives than domestic candidates (64% vs. 46%).
This suggests that, given the visa concerns and travel constraints, international candidates are in search of more time and information to clarify their decisions. Business schools should adapt their communication and engagement strategies with this difference in mind, perhaps by increasing the frequency and enhancing the content to address the most pressing concerns. This will allow both international and domestic candidates to progress in their decision journey.
Business Master's candidates are expecting more flexibility
Prior research has indicated that MBA and Business Master's students differ in terms of their characteristics such as prior work experience and age. These differences, in turn, shape their overall decision processes and expectations given the uncertainties triggered by the pandemic.
In this survey, 20 percent of candidates preferring MBA report they are very concerned or extremely concerned about the impact of COVID-19 on their pursuit of a graduate business education as compared to 26 percent of candidates preferring Business Master's. Despite this difference in intensity of concern, few candidates preferring MBA or Business Master's plan to abandon their aspirations for graduate management education (6% vs. 4%) or even delay it (30% vs. 29%).
However, there are key differences at two levels. First, candidates preferring MBA (6%) are less likely than candidates preferring Business Master's (15%) to report applying to schools/universities in a different geographic area. Second, candidates preferring MBA (56%) are slightly more likely not to consider alternatives as compared to candidates preferring Business Master's (49%). Both these differences suggest that candidates preferring Business Master's are more likely to be flexible with their destination choices and alternatives as compared to candidates preferring MBA. Given this, business school professionals may need to create more targeted strategies for keeping Business Master's candidates in the enrollment funnel.
Conclusions
The uncertainty and crisis caused by the COVID-19 global pandemic will influence the choices and expectations of graduate management education candidates. At the same time, survey indicators suggest that prospective candidates are not giving up on their aspirations. There are also key differences for international and domestic candidates and also for MBA and Business Master's candidates. These differences are important for business school professionals to keep in mind as they adapt their strategies while maintaining quality and diversity of student body.
Our next blog will investigate differences by regions. Do you have any questions or suggestions related to this blog or other GMAC Research? Please click here to reach us.
About the Survey
Collected between March 4 and 31, this analysis is based on a total sample of 482 survey respondents, composed mostly of candidates who are actively applying (29%)--most of whom have already taken the GMAT exam--and candidates who are currently researching programs (41%) –most of whom are planning to take the exam. Nearly 9 in 10 are 30 years old or younger, about evenly split between those younger than 24 (45%) and 24 to 30 (42%). A third of respondents are US residents (33%), 17 percent from Western Europe, 13 percent from East and Southeast Asia, and 13 percent from Central and South Asia. The COVID-19 survey questions on which this analysis is based will remain in the field for the duration of the pandemic, and the analysis will be updated and shared on gmac.com periodically.
Find the most up-to-date information on GMAC's Response to Coronavirus (COVID-19) here.
***
An interim online GMAT exam will be available in mid-April. Read more about it and receive updates related to other assessments, testing center closures, GMAC's Annual Conference, the MBA Tour, and more at gmac.com/coronavirus.