Jackie Joyner-Kersee, former UCLA track star and winner of three gold, one silver, and two bronze Olympic medals said, "It's better to look ahead and prepare, than to look back and regret." After a tumultuous four years, President-elect Biden's victory in the US presidential election stands to greatly alter America's future, not just at home, but abroad as well.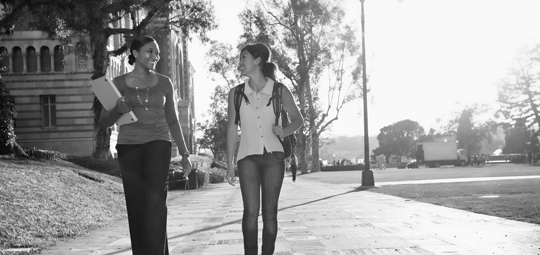 While there are many contrasts between President-elect Biden and outgoing President Trump, evident even in how they carried themselves while the votes were being counted this week, perhaps none is more important to America's business schools than the one on immigration and visa policy. The victory for the Biden campaign carries the promise of fresh perspective and a change in tone that could very well be the difference for international students thinking about the United States as not just a place for school, but a place to build a career, grow a business, start a family, and become one with the community.
As business schools have become increasingly competitive around the world, providing candidates with a wide array of quality choices to consider, other factors have become increasingly important when it comes to which nations attract and retain the best and brightest students. This includes the political environment and the perception of a destination as a "welcoming environment." Although GMAC™ began to observe changes in where international students were studying before President Trump took office in January 2017, data suggests that the harsh rhetoric associated with his administration has indeed exacerbated those shifts in demand to places like Canada and Europe; to study closer to home; or to defer their graduate program.
Put more bluntly, America's reputation in the international community has suffered while President Trump was in office.
The impact of Trump's tone and immigration policies certainly transcends America's higher education system. There have also been consequences to American businesses, particularly in the technology and STEM sectors as they rely heavily on foreign skilled workers to fill key positions. As I've discussed before in blogs focused on the Trump Administration's immigration proposals and policies, if American firms are unable to fill key positions as a result of decreased talent supply, other jobs also go unfilled, or worse they're not created at all.
These two dynamics, international students and where they study and businesses (big and small) having access to global talent, are greatly impacted and influenced by the political environment and the rhetoric students observe across different geographies and governments.
I often use Brexit as an example. Both the United States and the United Kingdom have experienced their own unique political turmoil in recent years. Brexit has been a very public, and often messy process that one might surmise would cause uncertainty for international students examining Great Britain as a potential study destination. Similarly, since 2016 the United States has gone through its own political circus with a bombastic leader who often appeased his political base by lambasting immigrants in a message focused on American exceptionalism. While there are clear differences between the United Kingdom leaving the European Union and America's political leadership these past four years, it stands to reason that both might lead to similar impact on the sentiment of international students considering both countries as a study destination.
However, the impact has been quite different. In a Brexit report released in March 2019, GMAC noted a majority (54%) of international candidates pondering the United Kingdom as a study destination for business school said Brexit would not impact their decision. When you analyze that with sentiment toward the United States, you see very different outcomes.
The 2017 GMAC Application Trends report noted that b-school programs in Europe and Canada were about twice as likely to report growth in international applicants compared to the United States. Across all program types that year, just 32 percent of US-based programs reported growing international application volumes, compared with 49 percent in 2016. In that same report, a b-school professional from Canada noted, "The US presidential election has had an impact on our application numbers. Many international students choose Canada as their first choice."
That narrative also held true in the 2018 Application Trends report. Strong application volumes that year for Canada and Europe were driven primarily by international demand. More than half of programs in those regions reported international application increases that year. Meanwhile, most programs in the United States reported declines in international applications (53% of programs) and of the 400 US programs responding to the 2017 and 2018 reports, international applications were down 10.5 percent.
Why? Simple analysis would point to the United Kingdom's efforts to be proactive (and positive) when it comes to visa policy and their government's public comments about the importance of international students. In addition to its diverse array of quality business schools throughout the United Kingdom and Europe.
By contrast, while quality business schools have continued to emerge globally, the world observed the exact opposite posturing in the United States over roughly the same time period. From images of a wall and parents being separated from their children to unsettling and inconsistent visa policy, business schools in the United States were forced to work extra hard marketing their product to prospective students and their parents, again in a global context where candidates are presented with an abundance of high quality choices for b-school across Asia Pacific, Canada and Europe.
The result of the 2020 US presidential election means the decision-makers responsible for those policies and regulations are exiting stage left while a new team moves in. And while it's not always possible to know what exact changes will occur with a new administration, it's a safe bet that industry watchers will observe a divergence in approach when President-elect Biden begins his job on Wednesday, January 20:
"Immigrants are essential to the strength of our country and the U.S. economy. When immigrants choose to come to the U.S., they bring their unique traditions and contributions to the rich cultural tapestry of our country. They are also a key driver of economic growth. The Congressional Budget Office found that the 2013 comprehensive immigration package would have, over time, increased the size of the economy by more than 5 percent. Currently, we are not taking advantage of America's ability to attract the best and brightest workers in the world. A modern immigration system must allow our economy to grow, while protecting the rights, wages, and working conditions of all workers, and holding employers accountable if they don't play by the rules." – US President-elect Joe Biden
I'll have more on President-elect Biden's immigration and visa proposals in the coming days, so please look out for that. And finally, please be sure to register for the GMAC webinar on November 17, during which a global panel of experienced admissions professionals will discuss the latest global b-school application trends and findings from this year's GMAC Application Trends report, set for release on November 10.