Participants of this year's GMAC Research pre-conference workshop worked through an applied example of how to put data to work in understanding the market for talented candidates.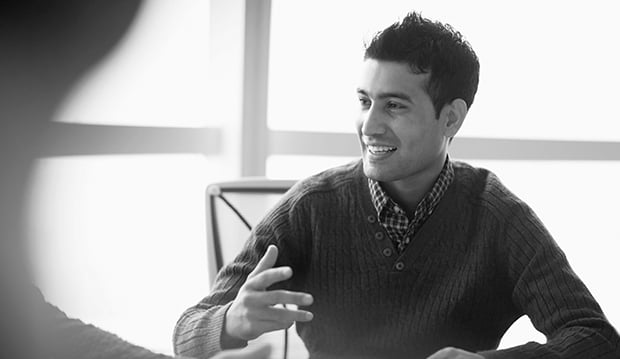 In several interconnected and meaningful ways, the landscape of global business schools has seen notable shifts in the last decade. Program portfolios have expanded, and in turn the candidate pipeline has expanded to new types of candidates, who bring diverse motivations and expectations for their student experience. At the same time, the competition for top talent is heating up—around the world more programs than ever before accept the GMAT exam, and they are competing for a limited pool of qualified candidates.
In this dynamic and competitive environment, timely and reliable market intelligence is essential for business school professionals to stay ahead of the curve and find success. The data resources and insights produced by GMAC Research can be tremendous assets to support your programs' strategic planning and decision making…if you know what's available, where it get it, and how to apply it.
This is the premise for the workshop I led with my colleague David Svancer at this year's GMAC Annual Conference in Denver. What we often hear from school professionals is that they value our research and understand that it can be an asset to them, but they don't always have full awareness of what's there and how to use it. By providing workshop attendees with highlights of global market trends, an overview of GMAC market intelligence tools and other reliable data sources, and working collaboratively through an applied example of market-driven decision-making, the more than 30 attendees walked away from the experience empowered to leverage these tools on their campuses.
David and I began the workshop with highlights of the latest trends currently unfolding in GME. First, we covered demographic shifts unfolding in the candidate pipeline: more women, younger test takers, and increasing geographic diversity. Next, we discussed how candidate choice has never been greater: not only do candidates have more program type and delivery format options than ever before, but high-quality options for GME now exist the world over. In addition to shifts in where candidates are coming from, we've seen shifts in where candidates are sending their GMAT score reports. While the global proportion of score reports sent to programs in the United States had been in a slow decline for an extended period, this decline has accelerated in the current political climate. Survey data shows that among candidates with international application plans, preference for the United States and Western Europe is now even (40% each). While the total number of applications to GME programs globally was stable in 2018, there have been notable shifts by program location. In 2018, application volumes to most US programs were down, driven by declining international applications, while most programs in Europe and Asia Pacific saw increases, driven by international and domestic volumes, respectively.
Following the trends discussion, David and I provided attendees with an overview of GMAC market intelligence resources. After a quick discussion of the various publications we produce—which are outlined in the Market Intelligence 2019 Booklet—we did a deep dive on GMAC market intelligence tools that enable users to understand market trends as they relate to your specific programs and tools you use to manipulate the data yourself and uncover insights. Participants were shown where to access these resources, how to use them, and we discussed their possible applications.
Detailed on this resource guide provided to workshop attendees, these tools include:
David then led a discussion of data sources external to GMAC that can also be leveraged to understand market forces that impact GME, including the United States Census Bureau International Database, CIA World Factbook, IPEDS, UNESCO Institute for Statistics, and World Bank Open Data.
Then came the fun part: participants were presented with a scenario in which the dean of their business school wants to increase the geographic diversity of students enrolled in their full-time two-year MBA program. To work toward this goal, the dean has asked that you establish recruitment inroads in a new country market: Brazil. The task of workshop participants was to collect market intelligence to inform their recruitment strategy.
Attendees then worked collaboratively through a worksheet answering questions about the Brazilian candidate pipeline using the GMAC market intelligence tools discussed prior. For instance, using the GMAT Geographic Trend Report Data File, participants uncovered important marketing sizing data about the Brazilian candidate pipeline. Using the GMAT Benchmarking Tool, participants were able to put context to Brazilian candidates' GMAT scores. And using the mba.com Prospective Students Survey Interactive Report, participants revealed market insights to help them connect with Brazilian candidates, such as what social media platforms they use, their career goals, and their key influencers. By actually using the data resources together and leveraging them as a part of an applied example, participants grew their familiarity with the tools and could envision how they might use them in similar situations on their campuses. Participants walked away with a clear sense of what data is available, how to access it, and practical experience in applying the resources toward answering important questions about the market.
Do you need a refresher on all that GMAC Research has to offer? Reach out to your GMAC representative to talk about everything that's available to you. Do you want to participate in a workshop like this? Keep an eye out for upcoming GMAC events and look for workshops led by the GMAC Research team. Want to stay up-to-date with all the latest from GMAC Research? Follow us on Twitter at @GMACResearchers.