The changes we see in graduate management education can lead to great opportunity.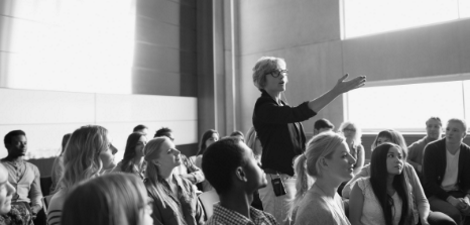 Many of you know me as a fan of Bob Dylan. A portrait of him – done by no other than Ronnie Woods of the Rolling Stones – hangs on my office wall but that's another story, and one that dates me. When I think of graduate management education (GME) today, I think of his iconic anthem song "The Times They Are Changing". Not because of the title, which would indicate that the industry is changing and that this is disruptive to many of us (we know this to be true), but because of the deeper meaning that these unsettling changes can also mean opportunity.
"And keep your eyes wide, the chance won't come again,
And don't speak too soon, for the wheel's still in spin,
And there's no telling who that it's naming
For the loser now will be later to win
For the times they are a-changing" – Bob Dylan
My job takes me all over the world and I get to meet with diverse groups of business school professionals, current and prospective students, and employers of GME talent. What always strikes me is the passion and belief in the value of management education that is expressed in these interactions. Regardless of where I am, or whom I am speaking with, talented students want a management education, talented people want to educate them, and forward-thinking organizations want to employ them. The naysayers will always be there.
New technologies will force us to change. But the underlying skills that we impart and the language of business will continue to have value. It was not long ago that conventional wisdom said that the technology companies of the new era would not have need for management graduates. Today, Amazon is one of the largest recruiters from many business schools. Scale creates challenges and they require management discipline to resolve.
This is not to say that GME does not have its own challenges to deal with. Demand for GME in mature markets is slowly declining, which is a function of slow economic growth, declining demographics, and a changing industrial structure. This is particularly acute in the US where many schools are facing sharp declines in application volumes, particularly from international students. Many in Canada and Europe have the problem of plenty while Asian business schools are struggling to internationalize their classrooms. Each has different and difficult challenges.
Dylan's wheel is still spinning, and we do not know who will be "later to win", but one common thread emerges: Building a strong, healthy, and diverse pipeline is a critical need for business schools around the world. In a recent survey we conducted of program directors, 79 percent strongly agreed and a further 20 percent agreed with the statement that "Increasing the size of the candidate pipeline is an important initiative for my school."
In the same survey, 88% expressed a desire for GMAC to play a more active role in providing services that help schools reach and recruit candidates.
As a global association of business schools, we have been examining ways to enhance and add services that support and build upon the tremendous effort that business schools put forth to bring in talented, diverse classes each academic year. Our goal is to help GME, generally, and our partner schools build a stronger, more diverse, candidate pipeline. We are the stewards of mba.com, the most visited site in GME, and of the GMAT exam, the most widely used admissions assessment in GME, as well as of regional market development teams that operate around the globe.
Together these assets host 14 million digital interactions with 6 million unique visitors and give us a marketing database of around 2 million interested candidates, many of whom remain interested in GME but do not take the final step due to insufficient information about the options that are available to them. We must unlock the latent potential of these databases and enable a deeper connection between more schools and a wider pool of potential candidates to expose them to the full array of GME options, resulting in a faster flow through, and eventually, more applications and enrollments.
We started this journey by rebuilding and launching mba.com this year to provide more personalized and impactful information about GME and not just about the GMAT exam. We expanded that with the acquisition of BusinessBecause last spring, giving us the ability to create and disseminate compelling content and share stories about your programs that help them stand out. We continue to look for ways to create more effective channels to introduce candidates to the GME options available to them.
At the same time, we recognize our role in building assessments that help schools evaluate talent. In 2018, we were able to shorten the GMAT exam by 30 minutes, making a significant contribution to reducing test taking effort and candidate anxiety. New methodologies enabled us to do this with no loss in test quality and reliability. The Executive Assessment (EA) has moved beyond its initial test phase of six schools and is now used by over 50 EMBA programs. The NMAT continues to expand its footprint and is now available in 10 countries within Asia and Africa, nurturing a greater universe of potential talent interested in GME. Our prep products have been moved to new digital platforms, creating a more compelling candidate experience.
We also measure our contribution by what we do for the GME community, through our research and our conferences. We had record attendance in our conference programs this year and continued to build the research platforms that you rely upon to keep you informed of trends in the industry. We are in our second year of the Calling All Optimists campaign – raising awareness of the benefits of GME – and acquiring new insights about what it takes to move candidates through their journey.
Looking ahead, and thinking about tomorrow, we continue to position ourselves to expand our mission: To build the tools that help schools and candidates discover and evaluate each other. We will do this by utilizing our data and our scale in a way that better prepares candidates and schools for more meaningful discourse. Ultimately, we hope to give you more options, better data, more diversity, in a more cost-effective and efficient platform to further strengthen your recruiting efforts while continuing to execute on the most critical aspect of our organizational purpose, to ensure no talent goes undiscovered.
We all must keep moving forward. As Dylan also said:
"Don't stand in the doorway, don't block the hall,
For he that' gets hurt, will be he who has stalled,
There's a battle outside and it's raging"
I think he's telling us to keep moving forward. What we do is valued. How we do it will make a difference.
I wish you a happy, prosperous and impactful new year!