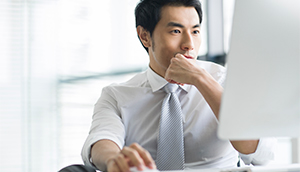 The Executive Assessment Online is here to keep your 2020 executive or part-time MBA goals on track in the time of coronavirus.
While the new reality of COVID-19 and social distancing has undoubtedly disrupted many of your 2020 plans, your goal to enroll in an executive or part-time MBA program doesn't have to be one of them. To ensure your ambition isn't put on hold, the makers of the Executive Assessment have adapted the exam to a new online format so you can meet upcoming application deadlines and stand out to business schools in the admissions process.
Now accepted at nearly 100 top business schools, the Executive Assessment is the preferred admissions testing option for busy, experienced professionals like you who want an assessment that fits both your priorities and your experience. The Executive Assessment requires minimal preparation, provides maximum convenience and flexibility, and values your knowledge and real-world experience—all while giving you the opportunity and insights to sharpen your skills before your program begins.
Are you ready to take the Executive Assessment at home? Registration is now open!
Here are six things you should know: