Enrolling in an Executive MBA at an elite school like UCD Smurfit in Dublin is a goal for many professionals who want to take their careers to the next level. An EMBA holds exceptional value for mid-career candidates and can lead to promotions, salary increases, and greater leadership responsibilities. Our own research, for instance, shows that 89% of EMBA graduates find their business school experience to be professionally rewarding.
If you're considering pursuing an EMBA or a similar program, the Executive Assessment can help you get there. We spoke with Ruairi Williamson, EMBA student at UCD Smurfit, to hear about his experience with the Executive Assessment, business school, and how an EMBA is setting him up for success.
How Ruairi prepared for the Executive Assessment exam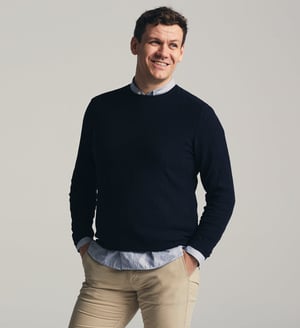 UCD Smurfit is one of a growing number of business schools that accept the Executive Assessment as part of its executive business masters requirements. Like many people who take the Executive Assessment, Ruairi found it especially attractive due to its convenience. As he says, "The Executive Assessment gave me the opportunity to balance study with my personal and professional life." Because the Executive Assessment requires only modest preparation, it was easy for Ruairi to incorporate it into his daily life.
However, the assessment still requires some preparation. For Ruairi, the official prep materials were an excellent way to help him get ready. "I used the official textbooks and online resources and completed lots of practice questions whilst commuting, traveling or during downtime. The online resources were a fantastic representation of the style, difficulty, and layout of the exam questions and gave me great self-assurance when I sat my test. The Executive Assessment really challenges your ability to manage time well, the sample exam papers online were great preparation to ensure I managed my time correctly."
That preparation for the Executive Assessment exam paid off. As Ruairi says, "I scheduled my test date, set my target test score and set a study structure to ensure I was best prepared for the test. I passed, overachieving my target score, on my first attempt."
UCD Smurfit's MBA Admissions Manager, Jessica Dowling, also recognizes that the Executive Assessment "allows our EMBA applicants to demonstrate their ability and readiness to undertake our EMBA whilst also allowing them to balance their work and home-life throughout their preparation. The official guides available are an excellent resource and we have found that candidates who sit the EA are just as prepared for their EMBA journey as those who sit the GMAT exam."
Wondering how you can balance work with study? Check out Too Busy for School? Find Out if an Executive Business Program Could Help.
For Ruairi, the EMBA is both challenging and rewarding
UCD Smurfit has made a name for itself as one of Europe's top business schools. Having been established over a century ago, it is today consistently ranked as the best business school in Ireland and was among the first in Europe to offer an MBA. For Ruairi, his time at UCD Smurfit has been especially fulfilling. As he says, "My EMBA class is a dynamic group with skills and experiences across a wide range of industries; healthcare, financial, technology, FMCG and engineering amongst others. The case study discussion can uncover very interesting points of views that I wouldn't uncover alone, you will learn just as much from your peers as you will from your academics."
As one of Europe's best business schools, the program can occasionally be challenging. But even those challenges have payoffs. According to Ruairi, "balancing my EMBA study and work can be tricky but it's improving my time management skills. Typically sacrifices need to be made, and you develop prioritization skills to manage this as effectively as possible."
Our research shows that the main reason people choose EMBA programs is because it prepares them for more leadership roles. That is also what Ruairi expects to get out of his EMBA after he graduates. As he says, "I look forward to using the skills learned and honed from business school in my day-to-day work life. I hope to progress within my organisation with further responsibilities. The EMBA gives you the skills to operate successfully in a global context, and I look forward to entering into new international markets armed with the tools to succeed."


Want to learn more about how you can get into an EMBA?
Find out how a graduate business school evaluation like the Executive Assessment can help.